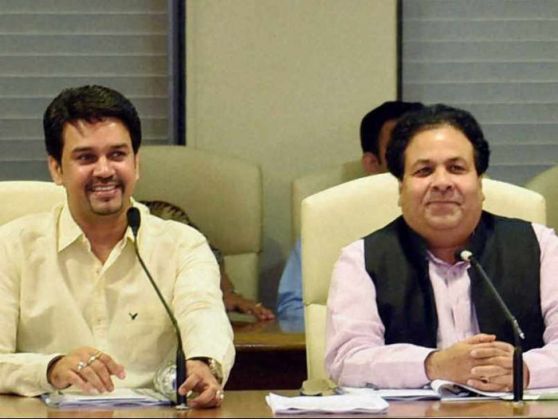 Anurag Thakur, BCCI secretary, on Sunday, 20 September, said that the board is not averse to having different coaches for different formats in future just like Virat Kohli and Mahendra Singh Dhoni captaining teams in Tests and limited-overs format respectively.
Teams like Australia, England, Sri Lanka and South Africa have different leaders in Tests, ODIs and T20Is, but India only recently saw different skippers after Mahendra Singh Dhoni retired from Tests and Virat Kohli took over the reins. Thakur insists that they are not averse to this theory in regards to captain and coach.
"Now, we are also thinking about having coaches for two different formats, not just different captains," Thakur said at a press conference after the announcement of the T20I and ODI teams for the upcoming South Africa series.
Thakur said that it will depend on what the team requires at a particular juncture. " (It all) depends on what is your requirement. If such situation arises, and if that helps Indian cricket, to have different coaches for different formats, why not, considering the number of matches that we play today," he said.
"I hope they don't have different selectors also," chief selector Sandeep Patil sitting alongside the secretary said in jest.
Thakur also confirmed that the current set up will continue till WorldT20 before the board starts looking at alternatives.
"The same set of people including the coaches and Team Director will continue till the T20 World Cup," said Thakur.
Also responding to a question Ishant Sharma's unwanted aggression in the Sri Lanka Tests, which cost the lanky pacer a one-Test ban, Thakur said, "We have a young team, aggression is part of it. But if any message has to be conveyed, we have right people within the team to convey that message to the players. We don't convey that through media."
Meanwhile, Patil also took the opportunity to wish BCCI President Jagmohan Dalmiya a speedy recovery from his recent bout of heart attack, "Good health and speedy recovery to our president Mr Jagmohan Dalmiya, who is recovering in Kolkata".
-PTI