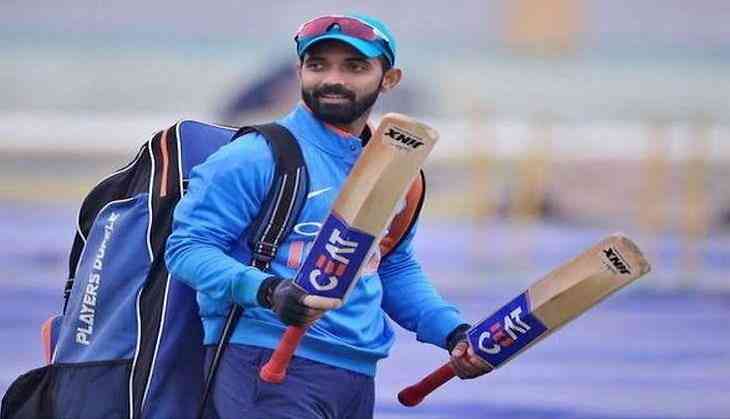 Ajinkya Rahane scored 81 and 102 in the two innings he played in the first Test against the Caribbean side, in which the men in blue secured a win by mammoth 381 runs. "I was a little bit emotional," Rahane told reporters on Thursday. "I thought 10th hundred was really special. I wasn't thinking about any particular celebration, it came out automatically. It took me two years to get that 10th hundred.
AlsoRead:http://www.catchnews.com/cricket-news/watch-virat-kohli-s-kind-gesture-leaves-fans-delighted-171248.html
"As I said the process always matters to me a lot. Preparations before each and every series is very important. I was actually doing that throughout the two years, and so [this hundred] was really special," he added.
During the first Test in Antigua, Ajinkya Rahane came to the crease when the team was struggling at 25/3 in the first innings and in second innings when the team needed to build a lead. Ajinkya Rahane stated that he wasn't thinking about personal records and was playing according to the situation.
AlsoRead:http://www.catchnews.com/cricket-news/vivian-richards-falls-ill-during-pre-match-show-gets-carried-off-the-field-171256.html
"We were under pressure [in the first innings]. I thought West Indies bowled really well in that session, throughout that day. It was an opportunity for me to do something special for my team. I think because of the situation I wasn't thinking about myself because it was important to get that partnership going — one player has to stay and bat and we knew that," Rahane said.
This was Ajinkya Rahane's first Test hundred in two years. He also went on to received the Man of The Match award for his brilliant performance.