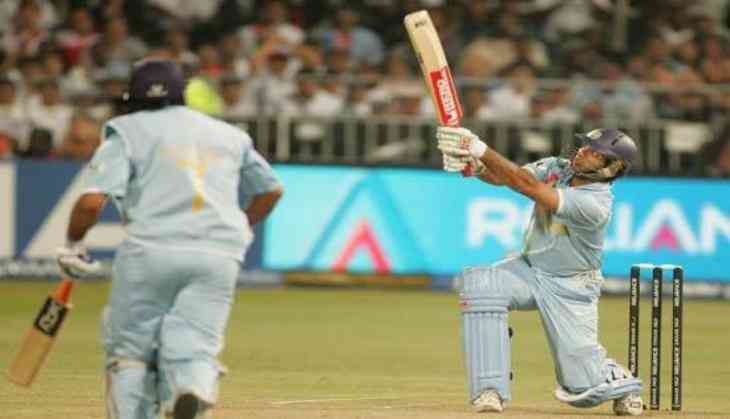 10 years of Yuvraj Singh's 6 sixes: Relive the magical moment here

In 2007, the India cricket team won the T-20 World Cup in South Africa by defeating Pakistan in a nail- bitting final match. Under the captaincy of Mahendra Singh Dhoni, India won the inaugural T20 World Cup trophy.
While Dhoni was widely praised for his captaincy, there was another player who was the main reason behind the smile of millions of cricket fans in India, and it was Yuvraj Singh.
It was the first T-20 international World Cup and India's one of the most bankable player Yuvraj Singh made that world cup much memorable by hitting six sixes in an over of Stuart Broad in the match against England.
How it all started :
It was a group stage match between India and England. While batting first India team started very well and opening Batsmen Virendra Sehwag and Gautam Gambhir gave a brilliant start to the team by hitting 136 runs opening wicket partnership. Then it was 18th over's last ball when Andrew Flintoff had a verbal and abusive fight with Yuvraj Singh, this banter became trouble for next over bowler Stuart Broad who had to pay for it.
Six Sixes in a row :
Then it all started, Yuvi who was on the batting side hit the first six over midwicket which went out to the stadium. Then his next biggie was over square-leg, the third one Yuvi hit out at the covers. Till that time it was ok, but the anger of king was not just supposed to end soon as he hit his fourth in a row on aimed to a wide low full toss ball over the behind squares. The Yuvi's favourite one came out as the fifth six and then the sixth one was the historic one.
The revenge story:
The revenge story:
In 2005, India went to tour England under the captaincy of Rahul Dravid. In the sixth ODI match, England was batting first and it was last over of their innings when Yuvi came to bowl to the last over. AD Mascarenhas who was batting the last over hit five sixes in a row of Yuvraj Singh's last over, that was really horrible for Yuvi.
Even Yuvraj said in an interview that he always asked god why it happened to him. and when he will get a chance to prove himself. The player took his revenge in a classic style.