Waning stock: is Flipkart losing its e-commerce duel with Amazon?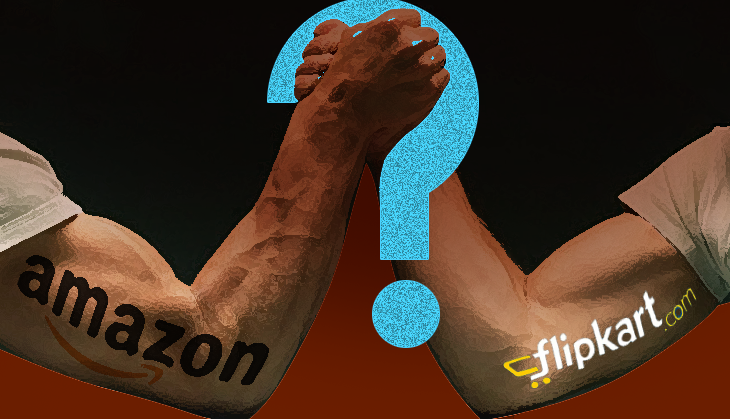 In 2007, when Sachin and Binny Bansal launched Flipkart, they might have anticipated competing with Amazon, their former employer and the inspiration for their company.
At that time, Amazon was already the world's largest e-commerce company, dominating the market in the United States and much of Europe. India wasn't yet on its radar, however. So when Flipkart went live, it was touted as India's own Amazon.
Sachin and Binny got six years to establish Flipkart and consolidate the first mover's advantage before Jeff Bezos let loose his giant in the Indian market.
A titanic battle ensued, one that's still on. Curiously, Snapdeal, the e-retailer wedged between Flipkart and Amazon India in terms of market valuation, is only an onlooker, having maintained a studied silence. Cleverly too, it appears, for Flipkart and Amazon's is a war of attrition with one wild rule: burn cash to be the last company standing.
Also read:Govt says no more e-retail discounts. Can Flipkart, Amazon & Co. survive?
The first round of the duel began in 2014 when Flipkart announced a $1 billion investment in the Indian market. Within two days, Amazon India responded with $2 billion.
Two years on, Flipkart is gasping for breath. It has deferred recruitment from IIMs -IIT and IIM graduates make up the core management of top companies in India -something no Indian company has done in recent past.
Flipkart's fund crunch is getting worse. It was bound to after it decided to go toe-to-toe with Amazon, which, thanks to its dominance of the global market, has near-unlimited cash reserves to burn.
According to a report in Mint, Flipkart has been trying desperately to raise funds over the past 6-7 months, approaching at least 15 investors. But to no avail. Snapdeal, the second most valuable e-commerce company in India, is having it as difficult with investors.
More worrying for Flipkart, its key investor Morgan Stanley has slashed the value of its investment in the firm by 42.5% in two revisions since February 2016. The markdown has reduced the company's valuation to $9.39 billion, a drastic reduction from $15.2 billion when it last raised capital in July 2015.
Amazon India, on the other hand, is sloshing in cash coming from its ever profiting parent company. In the past three months, Amazon's share price in the US market has soared 42%. In the first quarter of 2016, the company beat the most optimistic expectations to generate revenue of $29.1 billion. Unlike its rivals, therefore, Amazon India doesn't need to chase investors to raise capital.
When this battle for the e-commerce space began, it was, as explained above, pivoted around cash-burning. Now, though, the Indian government has added a caveat - about how the companies might burn their cash.
A new policy introduced by the Department of Industrial Policy & Promotion bans e-commerce companies from selling for less than the market price. This means that while these firms may still offer discounts, it would be on inflated and not original prices.
Also read: IIM-A comes down heavily on Flipkart, asks firm to guarantee jobs to students
Sans the lure of heavy discounts, it would be difficult for e-commerce firms firms to keep expanding their market reach exponentially, for the consumers could revert to purchasing from traditional retail outlets which provide "feel and touch experience".
Naturally, the expected slowing in consumer growth would have investors worried. This makes Flipkart's model of funding and business vulnerable.
But not Amazon's, whose business model is much more diverse; e-commerce is only one, though substantial, cash-generating channel. Of the $29.1 billion revenue generated in the last quarter, Amazon Web Services, the company's cloud services arm, contributed $2.57 billion. As a share of profit, AWS accounted for 56% of Amazon's profit in the same quarter. The company's overall profitability has steadily increased over the past few quarters - most recently it grew by 3% - driving up the stock price.
In the past 20 years, Amazon did not declare profits but it generated enough money to invest back in its core business, and to diversify. The diversification has, over the years, resulted in such innovations as Kindle reader, video-only subscription to compete with the likes of Netflix; a logistics network that is used by even its competitors across the world; a platform to sell refurbished products at a discount; a mobile wallet that enables it access to consumers' spending data. In the long-term, Amazon plans to have a hand in everything online. This bandwidth, to put it mildly, makes it a formidable competitor.
It's also why Amazon is in a stronger position than its Indian rivals to absorb the shock of the new discount policy.
In this context, the only way for Flipkart to hold back the challenge from Amazon is to follow its competitor's model of "innovative diversification", not least to win investors' trust and raise fresh funds. That, is a formidable challenge in itself.
Edited By Mehraj D Lone
Also read: Is Flipkart flouting e-commerce FDI norms?