Trump's H-1B policy is rewriting intl trade rules. Can India save its interests?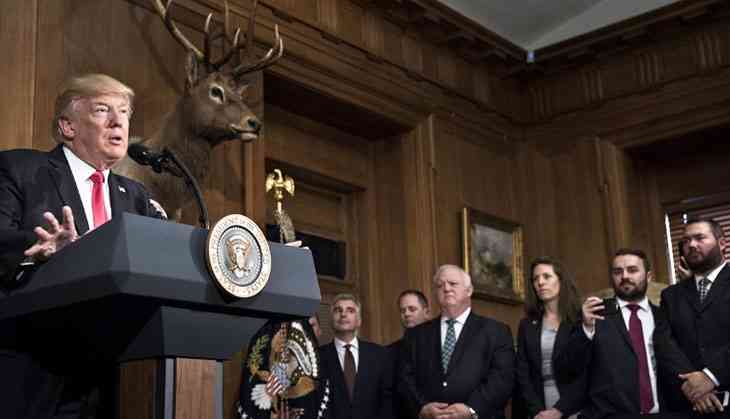 Infosys, India's second largest software services firm, will be hiring 10,000 Americans over the next couple of years. The company's decision is a result of the Donald Trump administration's strict measures on the issuance of H-1B visas for highly-skilled workers, and higher minimum wages for H-1B visa-holders.
The announcement by Infosys testifies that if a country decides to do so, it can ensure jobs for its local workforce, and that it does not take much to force companies to hire domestic workers.
It also proves that Indian engineers are not indispensable in the world's IT ecosystem.
For long, Indian IT companies have argued that they hire Indian engineers for their skills, but if Infosys is now suddenly willing to hire 10,000 Americans over the next two years, it shows that the biggest reason for Indians getting hired abroad was their low remuneration compared to Americans.
US's gain is India's pain
For every new job that would be created for an American, there would be a jobless engineer sitting in India. Even though companies like Infosys will manage by taking a hit on their profit margins, the Indian economy would find it difficult to deal with the situation.
Today, India's biggest problem is job creation. Around a million people enter the job market every year in India. Though engineers form a very miniscule part of that workforce, but they formed a large part of the middle class in India, which will now be impacted negatively.
Negative impact on India's remittances
India receives the highest amount of remittances in the world. Due to recession in the world economy, the remittances in 2016 declined by around 9% to $62 billion.
Remittances made by Indians working abroad help India manage its huge trade deficit, which was reported to be $118 billion in 2015-16.
Given that Indian workers are losing jobs not just in the US but also in the Gulf countries, one should expect an even bigger decline in India's remittances in the coming years.
Can India do anything?
On 20 April, Union Commerce Minister Nirmala Sitharaman hinted that if the US did not change its stance on H-1B visa norms, India could retaliate by restricting the royalty payments by the Indian subsidiaries of US-based companies to their parent companies.
But trade experts were quick to point out that India was not in a great position, due to being a member of the World Trade Organisation.
The US and other developed countries are making changes to their visa regimes to ensure that developing nations like India are not able to export manpower to their shores.
On the other hand, any move by India to restrict royalty payments by the Indian subsidiaries of US-based companies to their parent companies will lead to breach of the WTO convention.
Relevance of WTO for India in a de-globalising world
India was one of the founding members of the GATT (General Agreement on Tariffs and Trade) in 1948, and the WTO in 1995.
India has its interests in export of goods. But like all developing countries, India also has substantial interest in the movement of persons.
Because of the predominance of developed countries in GATT and WTO, the organisations have focussed on removal of barriers on movements of goods, and not on movement of persons.
India has not benefited from the WTO regime in the area of movement of persons, though it has got some benefits in the case of movement of goods. And now, developed countries are resorting to protectionist measures to control the free movement of workforce from developing nations.
DK Nair, an expert on foreign trade and WTO matters, says: "The WTO and GATT have focussed on removing the barriers on trade of goods, which has benefitted mostly the developed nations. We need to understand that the developing countries mostly rely on exports of their workforce. If no importance is given to removing barriers on manpower exports, the developing countries will get nothing. This is what is happening to India now. And India, along with other developing countries, must push for negotiating removal of barriers for free movement of people in the world."
Jayant Dasgupta, former Indian ambassador to the WTO, says India has always adhered to the WTO rulings on trade disputes. But this has not been the case with the United States, which has often cited its local laws to bypass the WTO rulings against its trade practices.
"In the WTO, it all comes down to who has the economic might. While the US can get away with many things, India has to abide by the law," he says.
"The problem is if India tries to move out of the WTO, it will lose the markets that it currently has. But India should definitely try to negotiate its interests to get more out of the deal."
Nair points out the need to renegotiate Free Trade Agreements to make up for the losses being incurred due to the WTO.
"There were limitations on India in the case of the WTO, because of the economic and political clout of developed countries. However, in the era of Free Trade Agreements, India has given away a lot to the competing countries, which was voluntary and totally avoidable. At least now, in every review of FTAs, India should ensure that its economic interests are pursued vigorously," adds Nair.