Swadeshi Jagran Manch seeks dumping duty on more Chinese products
Anurag Dey
| Updated on: 7 September 2017, 21:44 IST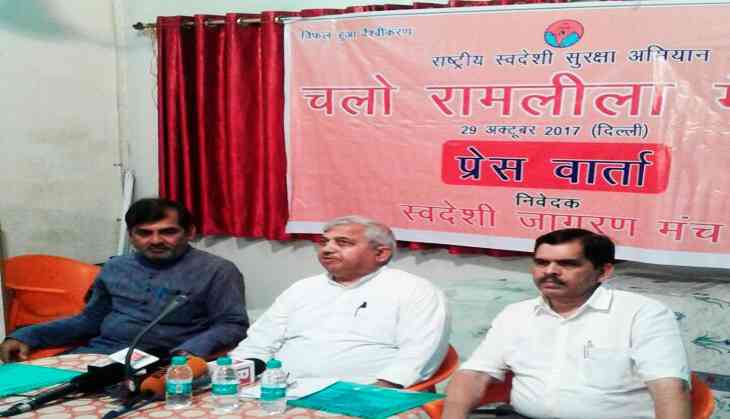 Swadeshi Jagran Manch (SJM) has demanded that the Narendra Modi government should impose anti-dumping duty on more Chinese products. It also asserted that impetus needs to be given to the manufacturing sector to address the increasing unemployment in India.
SJM which is campaigning for total boycott for Chinese goods and business also said that with Rajiv Kumar taking over as the vice-chairman of NITI Aayog, the country can expect inclusive development and not just corporate-based GDP growth.
"The growing unemployment is a matter of concern and this can be tackled only when our manufacturing sector makes rapid progress. As against China's share of 22 per cent in world manufacturing market, India contributes only 2.1 per cent. Therefore, it is of utmost importance that major initiatives are taken to boost it," said SJM national convenor Ashwin Mahajan.
Pointing to India's massive trade deficit against China, SJM said that China was not only damaging the Indian economy but also disturbing it on all global platforms - from preventing India's entry into the NSG to blocking UN terror tag for Jaish-e-Mohammed chief Masood Azhar.
"Despite earning a at least Rs 72,000 crore net profit annually from us, China continues to aggressively pursue its anti-India stance. Currently China is facing multiple problems including on the economic front and we must seize this opportunity," said Mahajan.
"Currently anti-dumping duty is in force on 93 products including chemicals and machinery items imported from China. The government is mulling to extend them to 40 more products. There is a need to expedite this process," he said.
SJM which launched its boycott Chinese products campaign in January, will hold a rally at the Ram Lila ground in Delhi on 29 October to press for its demands. It claims to have got over one crore people across the country to declare that they will not buy any Chinese products.
SJM hails change of guard at NITI Aayog
SJM has been vocal in criticising the government think tank accusing it of being pro-corporate. But with the exit of Arvind Panagariya and Kumar taking over the reins, it said that the country should expect change in the policies.
"With change in the guard of NITI Aayog, there will definitely be a change in the model of economic development. We have been opposed to the policies of NITI Aayog. We never agreed with the economic model and views of Arvind Panagariya," said Mahajan.
"Besides working on GDP growth, the NITI Aayog was expected to focus on challenges like poverty, unemployment and inequality. Instead its attention was mainly on interests of the big corporates and MNCs. This was clear in the permission given to GM crops and dismantling of price control mechanism for in pharma," he said.
"It could not even make any headway on the long pending issue of finding a suitable definition of poverty. But now things are expected to change. Inclusive development and not just corporate-based GDP growth is what the country needs," he added.