Suresh Prabhu has his work cut out for him as commerce minister. Can he deliver?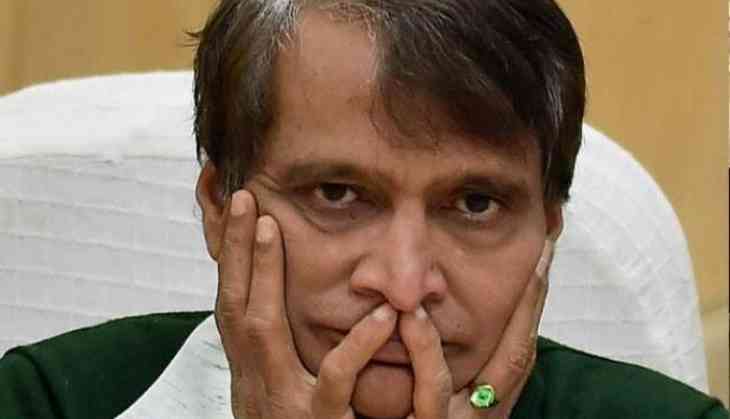 Suresh Prabhu is a lucky man. Many people expected him to be out of the Cabinet after presiding over the maximum number of train accident deaths in a decade.
But instead, he's been saddled with another ministry - commerce and industry - which is not in particularly good shape.
The big question is: can Prabhu deliver this time?
Soon after taking over the new portfolio, Prabhu said that his priorities as the new commerce and industry minister will include "backing measures to generate more jobs, particularly in the manufacturing sector, helping India attract more Foreign Direct Investments (FDI), and increasing India's share in global exports," as reported by The Hindu.
The exports sector in India
Under Prabhu's predecessor, Nirmala Seetharaman, Indian exports shrank between December 2014 and September 2016. To quote Business Standard, "The three years of her tenure at the commerce and industry ministry saw merchandise exports fall to $274 billion in 2016-17, after reaching $310 billion in 2014-15 and $262 billion in 2015-16."
This put the Modi government's aim of increasing India's share in global exports to 5% by 2020, from just 1.6% at present on the backburner.
Labour intensive industries like textiles also had a lacklustre performance under Seetharaman. While Bangladesh's garment industry made exports worth $28.09 billion in the 2015-16 fiscal year with a 10.21% growth from the previous year, Vietnam's registered fabric and garment exports were worth $23 billion in 2016. India's garment experts were at just about $17 billion in the same period.
The who's who from the industry had often complained that Seetharaman was not a great listener and seldom paid heed to the problems faced by the stakeholders.
Making the job even harder for Prabhu is the fact that the Indian apparel exports growth is likely to remain flat this year due to issues arising out of goods and services tax (GST) implementation, and appreciation of Indian rupee against the dollar.
This sector is labour intensive and a slowdown in its growth directly hurts Prabhu's resolve to increase jobs.
Trade negotiations
Prabhu got initiated into international trade in 2014, when the Prime Minister chose him to be the Indian Sherpa at the G-20 summit. But having been a Sherpa for a summit is not enough to be able to understand the nitty-gritty of negotiations at the Regional Comprehensive Economic Partnership. The RCEP is being negotiated between India and 15 other countries including the 10-member Asean, New Zealand, Japan, South Korea, Australia and China.
India is under pressure to agree to the elimination of duties on 92% of traded goods for all partners. According to a Hindu Businessline report, India has offered 80% coverage with 5% lower margin for more developed countries. It has also asked for a longer implementation period for China.
However, experts say that even 80% coverage of traded goods could prove to be against Indian industry and 'Make in India' policy.
Another challenge that Prabhu faces is the upcoming World Trade Organization ministerial in Buenos Aires in December. India has to argue its case for public stockholding for food security law in the country, as promised by WTO members at the Bali ministerial in 2012.
According to WTO rules, a member country's food subsidy cap should not breach the limit of 10% of the reference price of 1986-88. This clause puts in jeopardy India's food security programme, which in a year of high demand for subsidised food from the poor people, may breach this cap. India has to negotiate this cap and needs to get the the current rules amended.
As railways minister, Prabhu, despite his reputation of being a performer, lost face due to a steadily increasing number of accidents. In his new role, he will need to get is act together to prove that Modi's belief in him is not unfounded.