Stop asking RBI to cut rates Mr Subramanian. Arrest food inflation first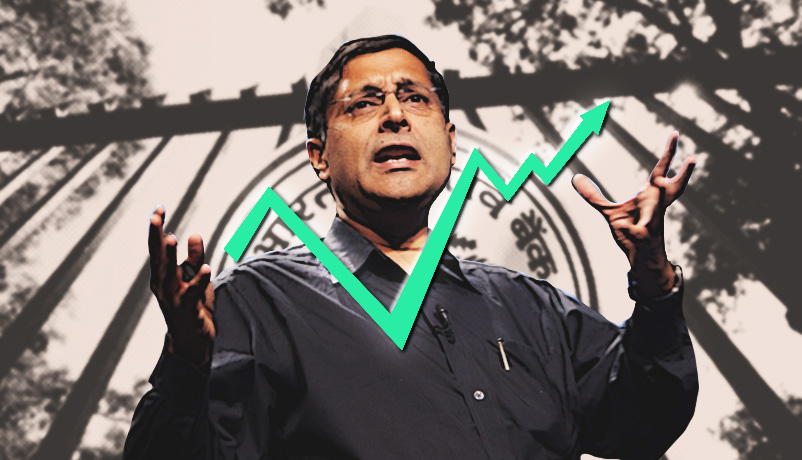 Govt proposes
The government keeps telling Reserve Bank of India to lower interest rates
Chief Economic Advisor repeated that in the mid-year economic review
Raghuram disposes
But RBI guv Raghuram Rajan has maintained that his job is to keep inflation down
Lower interest rates will drive up inflation
More in the story
How interest rate cuts will not drive economic growth
Why containing food inflation should be the govt\'s Task No.1
The finance ministry has used different platforms to pressure Reserve Bank of India (RBI) over the last year to reduce interest rates without caring much about high prices of food items in the country.
RBI's stance has been the opposite to that of the ministry. Governor Raghuram Rajan has maintained that his primary job was to contain inflation in India.
Now, in its mid-year economic review, the government has again requested the RBI to look at the possibility of allowing inflation to increase for greater economic growth.
"How can borrowing costs be lowered without jeopardising the medium-term inflation objective? Is there a case for a more gradual glide path or greater flexibility in interpreting the inflation objective?" the review, prepared by Chief Economic Advisor Arvind Aubramanian, said.
Read: Raghuram Rajan says that RBI can cut rates if inflation remains below 6 per cent
The ministry has often criticized the central bank for being too rigid with inflation targets and not easing up the interest rate cost for the country's corporate sector.
Subramanian, who represents the voice of Finance Minister Arun Jaitley, is under pressure to deliver high growth so that it can be showcased as an achievement at a time when world economies are crumbling under high debts that is slowing down their pace of growth.
This is why the government had set an ambitious growth target of 8.1-8.5% at the time of the budget in February this year. In the recent review, however, Subramanian has taken up a more realistic approach and pegged growth prospects at 7-7.5%, taking into account low growth in the agriculture sector.
What if Rajan honours Subramanian's request and decides to reduce rates, without controlling inflation. Will India be in a better position?
The answer is no.
Here's why:
The RBI, on its part has already reduced the repo rate (at which it lends money to banks) by 125 basis points (1.25%) since January 2015. However, the banking sector has not passed the whole benefit to borrowers. Cost of loan has come down by only 60-70 basis points.
The banking sector is reeling under high levels of non-performing-assets (NPA) - loans that banks have not been able to recover. Until March 31, 2015 there were 7,035 cases of wilful defaulters, accounting for Rs 58,792 crore.
Also read- Business wire: Inflation remains in negative territory for 13th month in a row at (-)1.99%
The banks are under pressure to improve their balance sheets by selling those loans to asset restructuring companies - who buy NPAs from banks at a discounted cost.
While the banks are selling their NPAs at a discounted rate, they also want to improve their margins on loans. So when RBI reduced the repo rate, they kept half the benefits to improve their own margins.
Why should banks lend to those who have not been able to repay their loans?
According to Mint, the top eight banks restructured as much Rs 32,586 crore in loans in the quarter ended 31 March.
Restructuring give companies more time to repay a loan or lower interest rates to help them keep their repayment commitment.
Given a choice, will corporate sector borrow more?
Looks unlikely.
Companies take loans to create new production capacities. However, in an economy where demand doesn't match investments for adding capacity, companies stop borrowing.
Rajan recently said 30% of the capacity of Indian companies was lying idle. This has resulted in decreased borrowing.
According to a survey published in Business Standard, fresh borrowings by top listed indebted companies had more than halved to Rs 1.74 lakh crore in 2014-15 from around Rs 4 lakh crore in 2013-14. At its peak in 2011-12, companies had raised fresh loans worth Rs 4.4 lakh crore.
Clearly, Indian companies are focusing on generating cash from their operating assets rather than building new assets through loans.
What could be done
Given the current situation of the Indian economy and corporates, it would have been better had Subramanian focused on efficient public expenditure through government schemes to improve the purchasing power of consumers.
High inflation in food items reduces people's capacity to spend money on non-food items, which affects growth. Retail inflation in November touched a 14-month high of 5.41% on the back of higher food prices. RBI wants to keep retail inflation below 5% and bad monsoon this year will put more pressure on food prices.
Given the current state of the Indian economy, Subramanian and the NDA government would do better by focussing on containing the rural distress and making public sector spending more targeted and efficient.
More in Catch:
Why a rockstar PM & RBI governor couldn't prevent a Sensex crash
What a U-turn, milord! Gujarat judge deletes quota remark to avoid impeachment
Dilwale: SRK-Kajol said too many things, and served none
#NirbhayaCase: the juvenile and why he must get another chance at life