Staying the course: 10 key highlights of AAP's second #DelhiBudget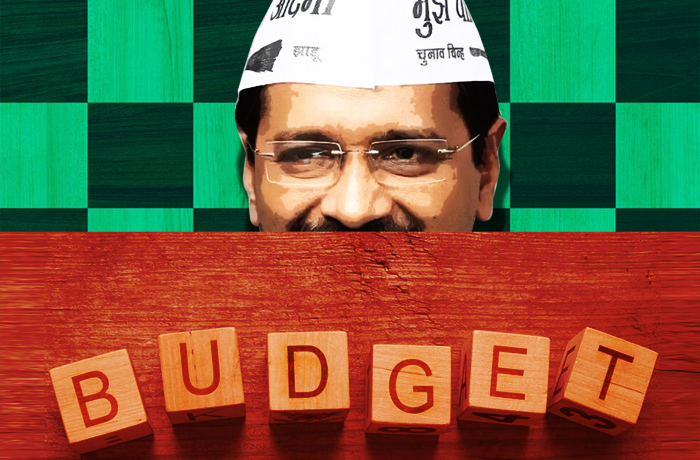 The Aam Aadmi Party government in Delhi has reiterated commitment to its social justice agenda, along with improving infrastructure. Its second budget, presented by Finance Minister and Deputy Chief Minister Manish Sisodia Monday, earmarks over half of the total expenditure for education, health, public transport and roads.
Delhi's total budget outlay has increased to over Rs 46,000 crore as against last year's Rs 41,000 crore. The city's per capita income is estimated to have risen by 11% over the financial year, from Rs 2.5 lakh to Rs 2.80 lakh.
Read- Vishal Dadlani on AAP@1: it has done more in a year than others do in a lifetime
In his speech, Sisodia announced several other progressive proposals as well like cycle lanes along both edges of the city's Outer Ring Road and supply of potable water from taps to all households by 2017.
Here is a look at 10 key focus areas of this budget:
1) Education
The 23% of the total budgeted expenditure given to education is among the highest allocations to the sector by any state in the country, even though it marks a decline of 1% from last year. For comparison, Meghalaya allocated 27.8% to education in 2015, Assam 21.5%, Bihar 21.4% and Chhattisgarh 20.1%.
In a couple of innovative decisions, Sisodia announced that the playgrounds of state-run schools will be opened to people living around them after school hours, and that schoolteachers will get training from elite institutions such as Oxford, Harvard and Cambridge.
2) Health
As Sisodia rightly claimed, Delhi's 16% is the only double-digit allocation for health by any state. The highest allocation among other states in 2015 was 6.8% by Puducherry and 6.6% by Rajasthan. Again though, Delhi's health allocation is 1% less than last year's.
Delhi's 16% is the only double-digit allocation for health by any state. Puducherry is next with 6.8%
Sisodia informed the assembly that all medicines and diagnostic tests will be free in all Delhi government hospitals from 1 March 2016.
3) Transport
It is slightly baffling why a government that introduced the bold odd-even traffic management policy would cut its expenditure for the transport sector to 8% from last year's 20%.
To strengthen public transport, Rs 325 crore has been allocated for purchase of buses and development of bus terminals. In an eco-friendly move, Rs 4.97 crore has been given as subsidy to 3,709 owners of battery operated vehicles and e-rickshaws. One time fixed subsidy for e-rickshaws has also been enhanced from Rs 15,000 to Rs 30,000.
4) Water
Indicating that his government's scheme to provide 20,000 litres of water every month free of cost has been a success, Sisodia announced that the Delhi Jal Board's profit has gone up by Rs 178 crore. An additional benefit of the scheme is that people are installing DJB meters to help them save water, which has earned the agency another Rs 118 crore in revenue.
5) Power
Saying his government has fulfilled the promise of halving electricity bills for 90% of the city's domestic consumers, the minister extended the subsidy scheme for the next fiscal, with an allocation of Rs 1,600 crore.
6) Ration
An innovative pilot scheme called e-Ration Card Portability has been launched to enable people to procure ration from shops of their choice.
7) Local Area Development
Rs 350 crore has been proposed for Citizen Local Area Development Scheme under the AAP's Mohalla Sabha initiative.
8) Skills Training
Rs 152 crore will be spent on providing skills training to schoolchildren from Class 9 onwards.
9) Slums
Rs 100 crore will be spent on delivering basic amenities in slums under a programme for in situ rehabilitation of slum-dwellers.
10) VAT
Sisodia announced a significant reduction in VAT rates - from 12.5% at present to 5% - especially for ready-made garments, footwear, watches, sweets, battery-operated transport and school bags.
Baffling? In year of odd-even policy, AAP cuts transport sector allocation to 8% from last year's 20%
Concluding his speech, Sisodia could not help but praise his leader Arvind Kejriwal. Urging the assembly to acknowledge the chief minister's courage, he recited these couplets in his honour:
Main katra hokar bhi toofanon se jang leta hoon,
mera bachna samandar ki zimmedari hai.
Dua karo ki salamat rahe himmat meri,
ye chirag kai aandhiyon par bhaari hai.
Roughly, it translates to:
I'm but a mere drop, yet I challenge mighty storms,
for my safety is the ocean's responsibility.
Pray that my courage doesn't fail,
for this lamp trumps many storms.
Edited by Mehraj D. Lone
More in Catch:
Sorry to play spoilsport, but what happens to India if Virat Kohli fails?
Mulayam's chhoti bahu Aparna gets ticket, becomes 19th family member in politics
Food labels are passe. New molecular sensor reveals what's really in your food
Binayak Sen, Big Pharma: what was Dr Saibal Jana really jailed for?