Six takeaways from the economic survey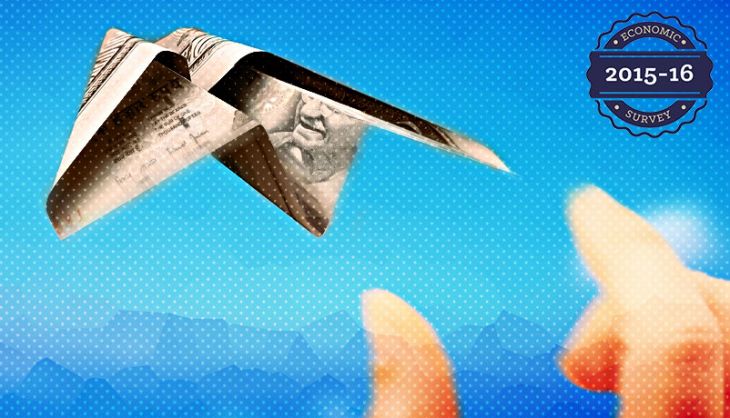 As a precursor to the Union Budget, the Economic Survey 2015-16 was tabled on Friday. The economic survey is an indicator of the government's overall performance, and highlights the pros and cons of the economy.
Here are six key takeaways from the year's survey:
The government thinks that the target to restrict fiscal deficit at 3.9% of GDP (projected in the previous budget) is achievable.
Fiscal deficit is the gap between total expenditure and total receipts.

However, given the rising subsidy bill, high allocation in defence budget and poor tax collection it is a daunting task.
A humongous Rs 1 lakh crore goes as subsidies to the financially better-off. Simply put, this amount is going to people who don't really need it.
The rich benefit mostly through six commodities: gold, LPG, kerosene, electricity, railway fare, aviation and turbine fuel.
The services sector will be the key driver of growth in the future, especially in terms of contribution to trade flows, foreign direct investment and employment.
This sector contributed 66.1% of the gross value added in 2015-16 and has been growing higher than China.

Retail, banking, real estate, media, information technology are some of the constituencies of the sector.

This also means that the agriculture and manufacturing sectors need to more attention.
The Kharif season is expected to give a "bumper harvest" because of the La Nina weather phenomenon.
La Nina takes place just after El Nino and causes its opposite effects.

2015 was the year of El Nino, which led to a deficient monsoon and dry winters, and in turn caused drought and farmer perils.
The government expects 8% economic growth for the next two years.
Agricultural growth has been below average for two years due to monsoon shortfall.

Current growth figures repeatedly ran into controversy and were criticised by economists for wrong estimates