SEBI wants to ease stock exchange listing norms for start-ups. It's a mistake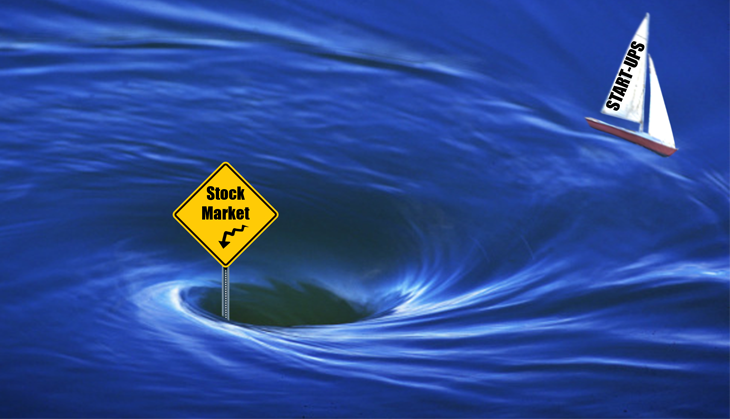 In June 2015, the Securities and Exchange Board of India eased the rules for listing start-ups on stock exchanges. The idea was to enable the firms to raise money from the market and expand their businesses. In the process, Indian investors were supposed to make money as well.
Nearly a year on, not a single start-up has been listed. Yet, SEBI is reportedly mulling another round of relaxing the norms.
In the first round of rule relaxation last year, SEBI exempted start-ups from disclosing standard valuation parameters such as price to earnings, earnings per share. Simply put, the new businesses were freed from the obligation of disclosing their profitability.
Also, the minimum trading lot and the minimum application size were kept at Rs 10 lakh, ensuring that only high net worth individuals could play the stock market.
Read: Govt launches new policy to promote start-ups. Will it really help?
For the listing, SEBI relaxed the mandatory lock-in period - during which a loan can't be paid off earlier than scheduled without incurring penalties - for promoters of star-ups and other pre-listing investors to six months as against three years for other companies.
Now, if SEBI eased the norms further, it will put investors at serious risk of losing hundreds of crores. After all, it isn't for no reason that despite relaxed rules, start-ups haven't queued up to be listed on stock exchanges. Primarily, there are four reasons for this.
The Indian market has been quite volatile over the past year and, thus, risky for a start-up to take the plunge.
Only companies with solid profitability outlook can go to investors in the open market. But most Indian start-ups, even more established ones, are struggling to find their feet. Flipkart, the country's largest e-commerce firm, for example, lost Rs 2,000 crore in the year ended March 2015. Its closest domestic rival Snapdeal posted a loss of Rs 1,328 crore in the same period. It's hard for such loss-making firms to find investors in the stock market.
Losing shine
The business model of e-commerce start-ups hasn't inspired confidence among investors. That SEBI's relaxed listing norms allowed them to hide their profitability prospects has only made the investors more suspicious.
According to a report in Mint, the investors pumped $1.15 billion into the Indian start-up sector in the January-March 2016 quarter, down nearly 24% from the preceding quarter, which itself had registered a 48% decline from the quarter before.
Also read- Now in stock: a new exchange you can't trade on
Indeed, when, despite the apparent coldness of private equity investors, Infibeam Incorporation dared to be the first Indian e-commerce company to launch an IPO in March, it ran into trouble. Just ahead of the launch, Kotak Mahindra Capital and ICICI Securities withdrew as bankers to the issue citing the company's overvaluation of its stock price.
Although the IPO finally went through, the barrage of negative publicity it attracted has left an impression among investors as well as start-ups that the Indian stock market isn't yet ready for start-ups.
It would make sense, therefore, for SEBI to be patient.
The regulator relaxed the listing norms last June under pressure to "stop the flight of Indian start-ups to foreign markets" to raise money. Now, even after that move came a cropper, it's apparently again giving in to pressure to relax the rules further.
Read more: Sebi chief UK Sinha asks investment bankers to promote startup listing
But the regulator must realise that listing companies on exchanges involves the money of private investors, who are not exactly experts in evaluating the start-ups' models, 90% of which happen to be flawed. Indeed, private equity as well as venture capitalists are looking to exit the start-us by selling their stakes to retail investors in the stock market. If SEBI relaxes the rules further, many start-ups that are on the verge of shutting down may just launch IPOs to make money without even disclosing information that could help inform the potential investors' decision.
The consequences will be disastrous. Once investors lose faith in the Indian start-up story, even firms with sound business models will find it difficult to get investment.
SEBI would do well to wait. 
Edited by Mehraj D. Lone
More in Catch:
Amidst acute drought in Maharashtra, there is hope in the form of Shirpur
Rafale deal almost done: India negotiates cost down to Rs 58.6 thousand crore
Required: rehabilitation homes for people who need ventilator support
Allahabad Univ Students' Union president Richa Singh joins SP