Piyush Goyal's formula to help power distribution companies doesn't add up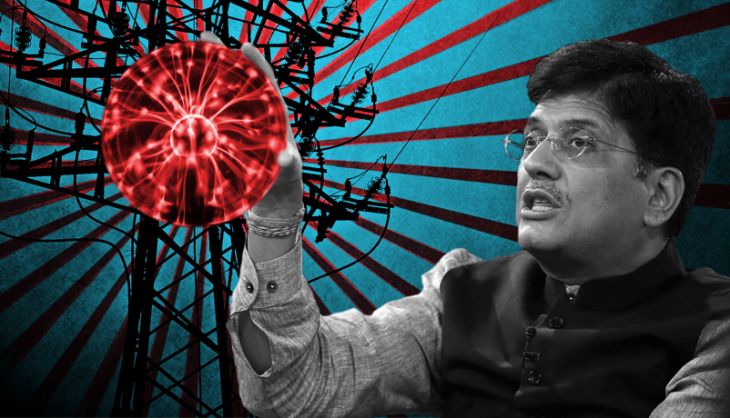 The scheme
Power Minister Piyush Goyal wants to turn around power distribution cos
His UDAY schemes rely on passing 75% debt to states; bonds for remaining 25%
States, in turn, to issue more bonds
More in the story
How did such schemes fare in the past?
What will the new burden mean for the states?
Union Minister of Power Piyush Goyal is confident and aggressive in the way he carries out his work in the government.
If one were to rate him on his work, he would be among the most prominent ministers in the NDA government. Having three prominent ministries on his shoulders: renewable energy, coal and power, Goyal carries the burden of providing 24x7 electricity in the country by 2019, a promise made by Prime minister Narendra Modi in his election campaign.
Read- CAG outs discoms: turns out AAP was right about power companies
To carry out this mission, Goyal has undertaken the most daunting task ever - he wants to turn around the state electricity distribution companies (discoms), currently reeling under enormous debt.
Discoms in India have an accumulated debt of Rs 4.2 lakh crore. The amount is 83% of the Union government's total fiscal deficit (the difference between government's revenue and expenditure) for 2014-15.
To complete the mission, Goyal has launched The Ujwal Discom Assurance Yojna scheme (UDAY). Under the scheme, state governments are supposed to take over the debt of state discoms.
But the catch is, two such schemes have already failed in the past 12 years. Then what is the guarantee that this scheme will succeed?
"States cannot refuse my offer," said Goyal's while launching the scheme last November.
So what is the offer?
According to the offer, the states will take over 75% of the debt of their discoms over two years, starting March. The debt would be then be converted into bonds to mature at a later stage (over 10-15 years).
The remaining 25% debt will also be converted into bonds by the discoms themselves.
Converting outstanding debt into bonds is a smart way of delaying payment of an outstanding principal amount. The trick is old and was used in the previous two schemes as well.
'These packages are not to reform discoms, but to help them borrow more'
But Goyal wants people to believe that his plan is unique and will be different from the previous ones. Research agencies like Crisil and Fitch India have given a thumbs up to the scheme.
On the other hands several critics have pointed out that the new scheme is "a cut-copy-paste of the previous two plans".
Is Goyal's plan really out of the box?
In 2001, state discoms had outstanding liabilities of Rs 41,000 crore towards central public sector enterprises (CPSE) such as NTPC Ltd, NHPC Ltd and Coal India Ltd.
It had become difficult for the CPSEs to serve state discoms without the dues being settled.
To resolve the issue, a government committee headed by Montek Singh Ahluwalia, the former deputy chairman of the Planning Commission, provided a bailout package by waiving off almost half the interest due.
Also read- Sunrise sector: what Modi is getting right about solar energy
The remaining due interest plus the principal - around Rs 33,000 crore - was converted into tax-free bonds issues by state governments. As many as 14 states had participated in that bail-out scheme.
However, the scheme failed miserably. Ten years later, the government had to come up with a much larger bailout package as the debt had sored to 2.46 lakh crore in 2012-13.
Under the second financial restructuring package (FRP) then, 50% of the short-term outstanding liabilities were to be taken over by state governments; the balance was to be restructured by providing a moratorium on principle payment and best possible terms for repayments.
The loans taken over the state governments were to be converted into bonds to be issued by discoms to participating lenders, duly backed by state government guarantees. Eight states participated in the FRP, but within a year the scheme lost steam.
Even as 15 states have given in-principal approval to participate in UDAY - the third financial restructuring - the government is now dealing with a debt 10 times of what it was during the first bailout package of 2002.
Bonds over and over again
So far, all bailout packages have relied on bonds to provide interim relief to state discoms. While this clears the balance sheets of the distribution utilities, it also paves the way for more trouble for the banking sector as these utilities become eligible for borrowing more from the banking sector.
While Goyal wants to believe that his plan has sufficient measures that will make the discoms profitable, past experience indicate otherwise.
"For a bailout package to become successful, it is important that discoms start selling power at the market price. But they fail to do so and that is why the government has to come up with newer ways to bail them out," said Kuljeet Singh, partner (infrastructure practise) at Ernst & Young.
States will have to cut expenses or miss fical deficit targets to bear the added burden
In 2012, as many as eight states had promised to undertake timely tariff revisions and reduction in transmission and distribution losses in a time-bound manner. But within a year of the implementation of the schemes, most states failed to keep their promises.
For Goyal's scheme to become successful, the discoms and the states will have to live up to their promises.
Why will the states oblige this time?
According to UDA, if a discom does not reduce operational losses as per the rule book, the state government may have to forfeit their claim on funds under the Integrated Power Development Scheme (IPDS) and the Deen Dayal Upadhyaya Gram Jyoti Yojana. The two funds have a pool of around Rs 90,000 crore.
"These schemes do not work with states. Past experiences have proved that," Abhijeet Sen, a member of the erstwhile Planning Commission and an expert on state finances, said.
Read more: ONGC strikes huge gas hydrate reserves. Is India's energy future secure? Nope
Electricity is a sensitive issue in India. No ruling party can afford to increase power tariffs beyond a certain limit.
For example, Rajasthan sells electricity at a loss of Rs 2.64 per unit. While the government would not mind increasing the tariff at a time when the state elections are three-four years away, it would be a political suicide to increase tariff within two years before elections.
The fiscal deficit of states
If UDAY is adopted by all states, it will push their fiscal deficit to around 4.8% of the gross domestic product, up from 2.8% projected by the 14th Finance Commission.
According to Sen, most states have maintained their fiscal deficit at around 3% since the 9th Finance Commission. Implementation of the scheme will require states to either cross the limits set out by the Fiscal Responsibility and Budget Management Act or cut expenditure.
"After the first two years, there would be an additional burden of Rs 5,000 crore on fiscal calculation of the state. This would either have to be made up by additional revenue or we will have to cut our expenditure by that much," Siddharth Mahajan, special secretary, finance (budget), in the Rajasthan government, told CatchNews.
UDAY will push up states' fiscal deficits to 4.8% from current prediction of 2.8
Government officials in Tamil Nadu and Uttar Pradesh also said beyond the two-year moratorium - the additional debt will not be recognised in the first two years on the books of state - managing the FRBM limit (3% fiscal deficit) would be difficult and expenditure cuts will be required.
State governments will also have to take up the additional burden of the 7th Pay Commission recommendation.
All in all, there is hardly any reason for UDAY to be a success. "We will see another bail-out package very soon. These packages are not meant to reform the discoms, but to just provide a facility to allow them to borrow more from the market," Singh said.
More in Catch:
Industrial hubs beyond Mumbai & Pune in Maha? That's Fadnavis's plan
#Jallikattu: You call this celebration? What bull!
No booze is good news?: CM Oommen Chandy on prohibition, elections & more
JFR Jacob, hero of India's greatest war story who was moved by poetry