Left to rot: Note ban ruins wholesale vegetable, flower trade in Delhi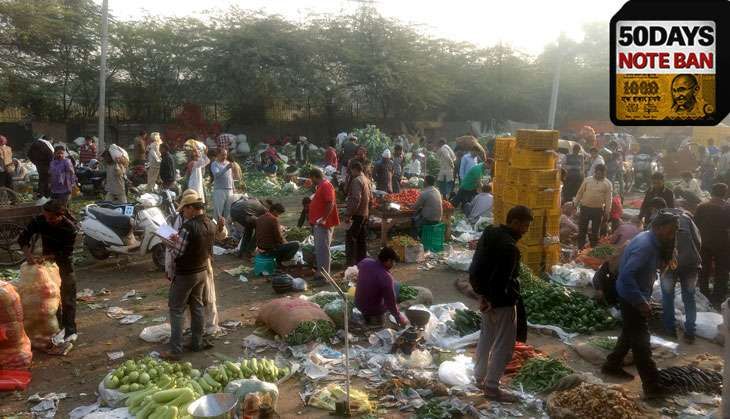 Things are going from bad to worse at wholesale vegetable markets in Delhi. Prices continue to drop, and currency notes essential to driving the wholesale market - of Rs 100 and Rs 500 - are still in short supply.
Anger against the Narendra Modi government and its policies, close to 50 days after demonetisation was announced, has been replaced by a sense of hopelessness.
There is talk of all wholesale vegetable markets going on strike soon. On the other hand, there is a view that it would achieve nothing. Traders understand that it is too late to roll back the note ban, and making an impact where major opposition parties are failing is next to impossible.
Also Read: Notebandi & politics: What is the problem with demonetisation?
The entire chain of vegetable supply and delivery and the people connected with it - farmers, transporters, commission agents, traders, loaders, vendors - have taken a big hit since 8 November as much of this trade is conducted in cash.
"There are boys that haven't been paid. We're trying to give salaries on time but these people are obviously suffering, the small-time loaders and vendors who don't have bank accounts and need some cash at the end of the day to buy their food," said Ismail Baba, a wholesale trader at Okhla Subzi Mandi.
To give an idea of the damage caused by demonetisation, Ismail compared the prices of vegetables before and after 8 November. "A 50 kilo sack of potatoes that used to go for Rs 600 now goes for Rs 150. Cauliflower was Rs 40 a kilo and now is Rs 5 a kilo. A 70 kilo sack of cabbage used to go for Rs 700, now it's selling for Rs 100. And so it is for everything. Compare these prices and you'll get an idea of how hard we all are hit. And the losses are mounting by the hour."
Also Read: Bundelkhand farmers on note ban: We survived the drought but Modiji broke our back
Ismail said discussions about shutting down the mandis have been ongoing. A meeting with "big traders" is scheduled for Thursday or Friday to decide their future course of action.
Similarly, wholesale flower trade has taken a dent as well because of demonetisation. Traders rue they have already missed the best business opportunities of the year - the wedding season and the year-end.
Although there are suggestions of going on strike, Ashok Randhawa, president of Ghazipur's flower market, says such protests will achieve nothing. "Look, opposition parties have been making noises inside and outside the parliament. What did they achieve? What will we achieve by shutting down our markets? Will they roll back demonetisation now? Of course not. Not just us but everyone who is suffering, why will people listen to our lot?"
Also Read: PM Modi to Cabinet before demonetisation announcement: If it fails, I am to blame