Is it possible for BRICS nations to double their trade by 2020? Not likely
Catch Team
| Updated on: 10 February 2017, 1:45 IST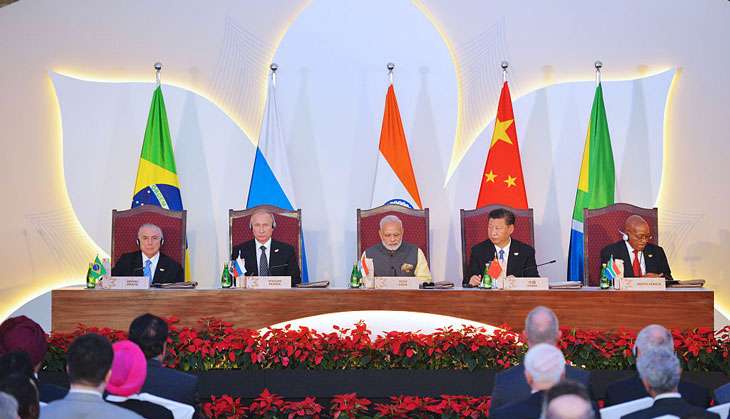 At a time when the global growth is shrinking every year, is it possible for BRICS nations to double their trade over the next 4 years?
On the final day of BRICS summit, India's Prime Minister Narendra Modi said, "In 2015, intra-BRICS trade stood at about $250 billion. We should set ourselves a target to double this number to $500 billion by 2020."
Also read -BRICS economies are in a rut. Is it time for India to go it alone?
Is such a target achievable?
The 5-nation block that inclues Brazil, Russia, India, China and South Africa was once touted as an engine of growth due to sheer size of their population and growth prospects. Almost every economist in the world bet on BRICS as the next investment destination. BRICS, according to these experts, was supposed to replace the Western economies.
Together, the 4 original BRIC (South Africa joined the group later) countries made up over 40% of the world's population (with nearly 2.8 billion people), covered more than a quarter of the world's land area over three continents, and accounted for more than 25% of the global GDP.
But, the past 2 years have proved that even the BRICS economies are vulnerable to the cyclical slowdown in the world economy.
Here is a look at the current condition of BRICS economies.
Brazil
Brazil, Latin America's largest economy, is forecast to shrink around 3% in 2016. According to CNN, unemployment and inflation in Brazil are hovering around 10%.
So can Brazil's economy recover over the next 4 years?
Certainly, but only if commodity prices, especially for soy and iron ore, see an uptick in demand. And that certainly will not come only from BRICS nations.
Russia
Russia's GDP shrank 3.7% last year before stabilising as energy markets improved. But even this year, the International Monetary Fund predicts a contraction of 0.8% this year.
China
China's economy is growing at its slowest pace in over two decades. Again, the Chinese economy is more dependent on global growth than BRICS economies to rebound as the per capita income of BRICS nations cannot oil the engine of the Chinese manufacturing machines.
South Africa
South Africa's economy, the largest economy in Africa, is the smallest among BRICS countries. The country's economy is estimated t $327 billion in 2015, with an unemployment rate of 23%.
South Africa, which joined the BRIC group in 2010, suffers from issues like power outages, electricity tariff increases, labour unrest and weak consumer and investor confidence. The country, which was finally freed from the regime of apartheid only in 1994, faces a huge challenge to manage social as well as economic inequality in society, which has worsened the labour unrest in the mining sector.
Given the weak economic conditions of BRICS nations, it looks highly unlikely that these countries would be able to double their trade by 2020. And, even in case they manage to achieve that, it would be important to see where India is placed in that trade.
India
So far, India's despite being the fastest growing economy in the world ahead of China runs on a trade deficit with most BRICS countries.
According to Business Today magazine, in 2014-15 India's trade deficit With China touched $48.47 billion. India's exports to China shrank by $11.93 billion as bilateral trade registered a marginal increase, totaling $60.40 billion.
With Russia India's import were of $4.24 billion, while its export value was just $2.09 billion.
With South Africa, India's total export value was just $5.29 billion while import value was $6.49 billion.
Moreover, India has developed rift with China over the issue of latter's support to Pakistan at international forums on the issue of terrorism. This has resulted in calls of boycott of Chinese goods in India by political groups.
In a scenario when two of the most promising countries in an economic block are not on terms talks, doubling the trade by 2020 looks like wishful thinking.
Edited by Aleesha Matharu
More in Catch - More cooperation the buzzword as India brings BRICS and BIMSTEC together
PM Modi banks on BRICS to support developing countries achieve their goals