India the fastest growing economy? Nope! Guess again
When you are asked about the fastest growing economy, which country do you think of first? China would be an obvious suspect with its towering buildings and a million factories. But what if we tell you that it wasn't China, would you guess India next?
On the last day of May and the first day of June, headlines across media outlets went something like this:
India is the world's fastest growing big economy, but it can do better
India pulls ahead as world's fastest growing large economy
GDP: At 7.6%, India's growth points to fastest growing large economy
At 7.9% GDP growth in last quarter, India becomes fastest growing large economy in the world
But there's a problem with these headlines - the real story is actually very different.
The fastest growing economy is neither China's nor is it India's. It belongs to a place known for its long distance runners, coffee - which was discovered in the region of Kaffa - and several UNESCO World Heritage sites. The capital city is Addis Ababa and it's the 3rd highest capital city in the world. The population in Ethiopia is just above 100 million.
Ever heard of Papua New Guinea? You may think it's off the coast of South America, as I've heard some people say, but no. It's off the coast of Australia. Its capital city is Port Moresby and the country has a population of approximately 7.2 million. It is home to over 700 native tongues. Its currency is the kina.
The fastest growing economy by annual Gross Domestic Product (GDP) growth belongs to Ethiopia and Papua New Guinea. Hard to believe? Take a look at the chart below: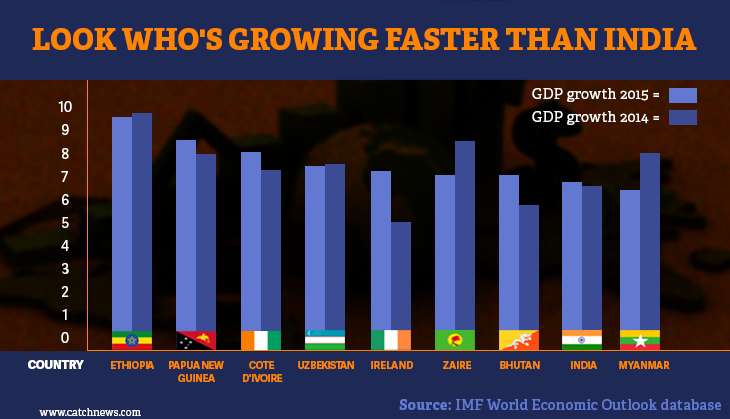 Arya Sharma/Catch News
In fact, India falls from 1st position (among the 'big' guns) all the way down to eight (among all economies). Now, one may argue about the size of the seven countries above India; for years, many of them have had lower growth and therefore, at some point, were bound to accelerate. The seven countries - Ethiopia, Papua New Guinea, Cote D'Ivoire, Uzbekistan, Ireland, Zaire, Bhutan - all grew faster than India in 2015.
While you could say that India has maintained a consistently high rate of growth and these 'smaller' nations have had inconsistent levels of GDP growth and you wouldn't be wrong. I mean, just look at Ireland and Turkmenistan. Ireland went from 5.2 in 2014 to 7.8 in 2015. Turkmenistan went from a high of 10.3 in 2014 and tumbled to 6.5, a year later.
No matter how you look at it though, one must appreciate the fact that these nations have beaten India without being in the limelight and without getting the attention they deserve. You would have heard the media talking extensively about India's 'growing' economy - but never about these 'small' players.
The African economies have been plagued by many problems over the last few decades and therefore it is refreshing to see these nations topping the growth league and taking away the 'big' and 'large' economy tags from the big guys like India.