India needs ethical companies for the future. What does it take to be one?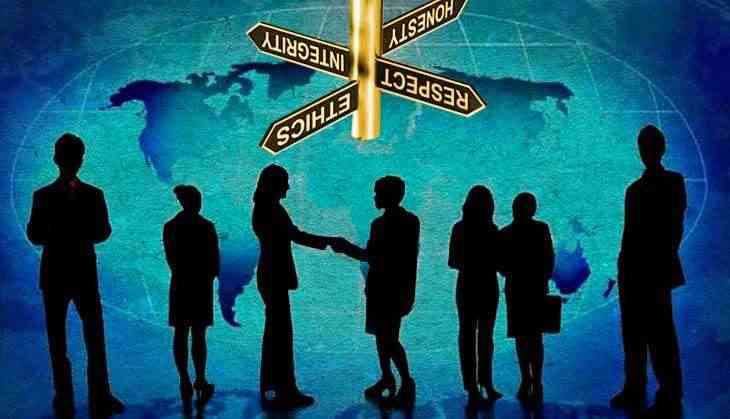 Sponsored article
An ethical company seems to be an exception rather than the rule across the world. A large number of multinationals as well as Indian companies lack business ethics and, despite having corporate laws, we witness new scams and scandals on almost a daily basis.
An analysis of the Business Responsibility Reports over the last three years of the top 100 companies mandated by SEBI since 2012 shows that the corporate sector in India is lagging behind and has a long way to go before it can claim to have ethical business practices.
The roadblocks to being an ethical company
Is the external environment conducive to ethics?
Corruption is endemic in India, and has affected all spheres of life. Companies, too, have inherited the legacy of corruption, and operate in its murky waters.
Some of the most successful companies in India have been embroiled in controversies, and still continue to flourish.
The sudden manner of removal of Cyrus Mistry from the chairmanship of Tata Sons last year was completely unexpected from the house of the Tatas, touted as one of the most ethical brands in India. It throws light on governance issues, especially the role of the board and independent directors.
Laws governing the corporate sector have been made to regulate companies and protect the rights of the investors. Unfortunately, these laws are applicable only to the formal sector in India, which constitutes a mere 10% of the entire Indian economy. This makes the informal sector even more vulnerable to violations of law.
Several committees such as the Rahul Bajaj Committee, Narayana Murthy and SEBI committees, have been formed in the past to ensure good corporate governance. However, instances of corporate misconduct have repeatedly come to light over the years, pointing out the lack of adherence to law.
Trespassing the law is easy when a weak regulatory system fails to monitor the wrongdoings of companies. Today, we find ourselves in a pro-corporate environment, where tinkering with laws has become a norm.
Whistleblowers play a crucial role in revealing any abuse of power in a company, but all efforts are wasted if the regulatory system fails to perform its duties.
Lack of ethics is a big risk for companies
If a company does not value ethics, it ultimately impinges its reputation and brand value. The general public's respect for such brands reduces over time.
Some of the biggest multinationals have faced criticism from consumers globally, because of their unfair trade policies, inhuman treatment of labour, unregulated supply chains and environmental damage.
A handful of ethical companies
Looking at the current corporate climate, it is not easy to find companies that have a clean track record. Having said that, a handful of Indian companies are proving that it's possible to have a clear ethics policy, which is followed across the board within the organisation.
Eicher is a leading company that is known to follow ethics over its processes. It has a well-defined legal, social and personal conscience framework in place.
Similarly, IT company MindTree and engineering giants Thermax and Forbes Marshall have earned respect for the internal value systems they practice.
The path to being an ethical company
In his book Firms of Endearment, Jagdish N Sheth argues that companies which pursue passion and purpose will also be profitable. He lays emphasis on the need for companies to engage their new stakeholders - government, media, partners and communities - apart from traditional stakeholders such as investors, employees and customers.
Laying out new rules for the radical social transformation of capitalism, Sheth talks about why nurturing nature, creating a culture of responsibility, leadership and innovating creates 'firms of endearment'.
Businesses need to recognise their role in an interdependent ecosystem, and understand that they need social sanction to operate in a globalised world. Listening to and communicating with communities and workers creates a mindset of shared growth.
Vedanta and POSCO's struggle in Odisha shows that unless companies build trust with local communities and respect local laws, they cannot go ahead with their business.
The stark example is the Maruti labour unrest in Gurgaon, that is the result of unequal treatment of contract workers, where litigation continues in the courts, pitching the company against its workforce.
Why India needs ethical companies
The purpose of corporate social responsibility is defeated if companies continue to flout labor laws, violate human rights and abuse the environment. Needless to say, an ethical company must abide by the law of the land and act as a legitimate corporate citizen.
If a company is part of the problem, it cannot become the solution, unless it can desist from doing harm in the first place through its products and services.
A new breed of transformational leaders need to drive change within their companies. A culture of responsibility within the mainstream ensures that firms do not shortchange people and the planet to make profits.
Work culture and values play a crucial role in defining an ethical company. By setting up responsive grievance redressal systems, creating a inclusive workplace and communicating policies transparently, corporates can gain trust in society, reduce litigation, gain acceptability and work towards long-term sustainability.