In brief: the history of India's flirtation with liquor bans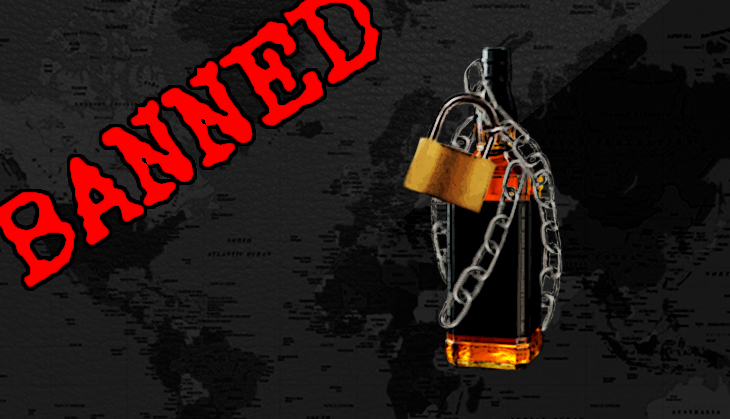 Banning liquor is back in vogue. It may seem out of step with the modern democratic ethos but the phenomenon is fairly widespread, and not just in India.
According to the WHO, the global consumption of liquor in 2010 alone was 6.2 litres per person aged 15 years or older, which amounts to 13.5 grams of pure alcohol a day. In India, 30% of the population takes alcohol; 4-13% are daily consumers and up to 50% indulge in hazardous drinking.
Political leaders and social activists in India and elsewhere have seized on this "high incidence" of drinking to seek ban on alcohol.
In this country, Article 47 of the Directive Principles of State Policy lays down that "the state shall endeavour to bring about prohibition of the use, except for medicinal purposes, of intoxicating drinks and drugs which are injurious to health". The states have used this directive at various times to ban alcohol. In fact, even the Lok Sabha passed a bill on 31 March 1956 prohibiting alcohol across the country.
Gujarat
The western state has imposed total prohibition since 1958. Only licensed five star hotels are allowed to serve the drink. A strict system of temporary and long-term permits allows foreigners and NRIs to purchase liquor from designated hotels and other places.
Tamil Nadu
Total prohibition was first declared in the erstwhile Madras state by chief minister C. Rajagopalchari in 1952. Twenty years later, the M Karunanidhi government withdrew the ban, only to impose it again a year later. The ban continued until 1980. Now, Chief Minister J Jayalalithaa has promised to bring back the prohibition if reelected.
Haryana
The Bansi Lal regime imposed a ban on alcohol in 1996, only to revoke it 19 months later.
Andhra Pradesh
The state declared 11 districts dry in 1958, and they remained so until 1969. Chief Minister NT Rama Rao brought the ban back in 1994. It was revoked three years later.
Nagaland
Nagaland was the first Northeastern state to introduce prohibition in 1989, under pressure from the Naga Mother's Association. It's still in force.
Mizoram
The Mizoram Liquor Total Prohibition Act was passed in 1995. The Church played an important role in bringing about the legislation. In 2007, the state relaxed the ban to facilitate production of wine for export.
Manipur
The liquor ban is in force in Manipur since 1991. Chief Minister Okram Ibobi Singh though has been talking about lifting it.
Lakshadweep
It's India's only Union Territory to have banned the sale and consumption of alcohol. Tourists are advised not to pack alcohol before flying to the islands from the mainland.
Kerala
The state has imposed a partial ban on the sale of alcohol, and declared its intention to be "liquor-free" by 2025.
Bihar
The latest state to declare prohibition has banned "all types of alcoholic drinks" from April 2016.
Outside India, a number of countries have flirted with prohibition over the decades. While many of them abandoned the experiment eventually, liquor bans in various forms remain in effect in several nations, notably in Muslim countries such as Saudi Arabia, Kuwait, Iran, Sudan, Libya and Brunei.
The United States
The America government prohibited alcohol in 1920 under pressure from Protestants, Anti-Saloon League, Prohibition Party and Woman's Christian Temperance Union. The ban was lifted in 1933.
Finland
The famously liberal Scandinavian country had a liquor ban in place from 1919 to 1932.
Russia
The Tsar declared prohibition in 1914 and it continued under the communist regime until 1925. The Soviet Union again partially banned alcohol between 1985 and 1987.
Edited by Mehraj D. Lone
More in Catch:
3 army bunkers razed in Handwara. Locals name one after cricketer Nayeem
Uttarakhand HC blasts Centre for chaos, Harish Rawat calls it setback for BJP
Brother against brother: Mulayam backs Akhilesh, shatters Shivpal's dream again
Achhe Din: BJP's income rose by 44% within a year of coming to power