Flipkart-Walmart deal: Will this kill smaller businesses in India?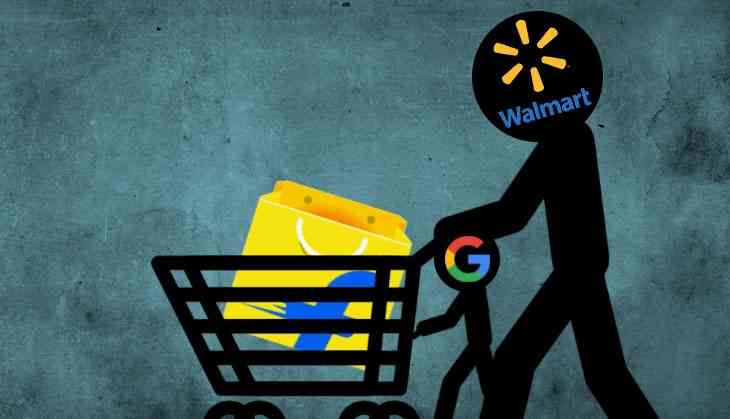 India is set to witness a high profile e-commerce battle between arch rivals Amazon and Walmart Inc, with the latter formally announcing acquisition of 77% stake in Indian online Marketplace company, Flipkart.
The Bentonville based company paid an amount of $16 billion for its acquisition for a valuation of over $20 billion for India's largest e-commerce company that was founded by Sachin and Binny Bansal in 2007.
This is the largest buyout for the US company which has been losing its market to Amazon over the years due to the latter's technological advantage and changing consumer behaviour across the world.
"India is one of the most attractive retail markets in the world, given its size and growth rate, and our investment is an opportunity to partner with the company that is leading transformation of eCommerce in the market," said Doug McMillon, Walmart's president and chief executive officer in a statement .
Impact on India
Walmart is dreaded by small retailers and mom-and pop stores across the world. Many studies in the past have pointed out that Walmart destroys the business of all small retailers by introducing private lables in stores that are sourced from the manufacturing juggernaut of the east, China.
Interestingly, Amazon Inc has also acquired the reputation of rival killer. In the past within hours of Amazon's announcement of entering into a particular sector, the stocks of existing companies have crashed due to the fear of cut-throat competition that often leads to loss in business.
One can say it would be a clash of Titans with as much as $10 billion worth of cash burn expected in the next few years.
In an investor call held recently, Amazon CFO Brian Olsavsky told investors that the company would continue to invest in its India business as it sees great progress with both sellers and customers here, despite incurring a loss of $622 million from international operations in the first quarter of 2018. Amazon has committed an amount of $5 billion for India operations and would not mind increasing its war chest to take on its old enemy.
Job losses and trade deficit
In an article published in National Herald, policy analyst Mohan Guruswamy has pointed out the China angle in the Flipkart-Walmart deal. According to him "Walmart is the USA's largest corporation. It had a global sales turnover in 2017 of $495 billion. Walmart. Of this its USA sales was $317 billion. In America, estimates say that Chinese suppliers make up 70-80% of Walmart's merchandise, leaving less than 20% for American-made products," writes Guruswamy
Guruswamy has furthered his argument by writing," If Walmart were a country it would be the largest exporter to the USA. With Flipkart now becoming Walmart, we can now expect Walmart to set up giant warehouses in port cities to receive huge imports of Chinese goods. It is interesting to note that China is building giant warehouses in Gwadar, and in due course Chinese exports to Walmart could be sourced from a warehouse in the friendly country next door? Increase the trade deficit. The trade deficit with China last year was $54 billion and we have already transferred almost $350 billion this way to China in the last decade. It seems we must be prepared for more."
Should Indian retailers be afraid, then?
Not immediately, at least. While Walmart has used the Chinese import policy to expand its business in the US and other countries, that is done because in at its physical stores.
In India, the Foreign Direct Investment policy for the e-commerce sector requires foreign capital funded e-tailers to operate with the marketplace model. In this model, an e-tailer is not allowed to offer its own products and is required to only provide its Information Technology platform for sale and purchase between buyers and sellers. Even the discounts offered on the products have to come from the seller and not the e-commerce company. This strictly restricts the possibility of Walmart or Amazon to offer discounts by sourcing it from other countries and storing it in their own warehouses.
But at the same time, one cannot overlook the possibility of change in the FDI policy in the coming years due to US style lobbying by the two giants in India. Walmart's joint-venture with Bharti Group for Cash-and-Carry stores was called off in 2013 after the US retail giant faced allegations of using illegal channels and excessive lobbying to expand their business in important markets including India.
Given all these contours, the present looks very favourable for those dealing with these two retail behemoths. But remember, they are in this business to make money. The more cash they burn to be profitable, the higher their appetite would be go for the kill, including smaller rivals.