Firing or hiring, what's the reality of the Indian IT sector?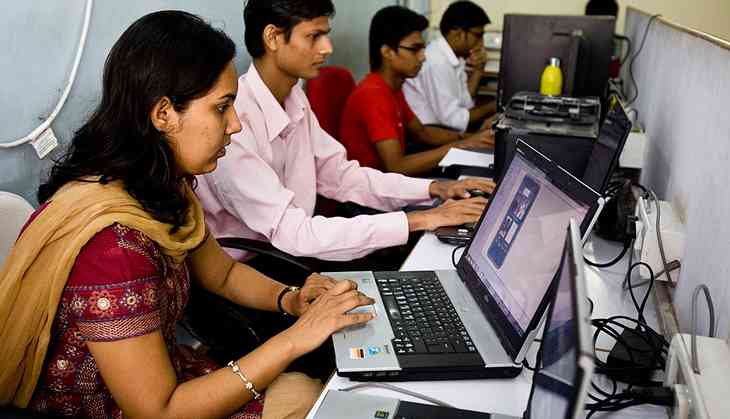 (Kainaz Amaria/Bloomberg/Getty Images)
Amid all the talk of lay offs in the IT services sector, an industry survey has said the demand for techies increased by 24 per cent in May 2017.
The numbers of the survey validate industry body Nasscom's argument that net hiring in the IT sector remains positive despite a slowdown in the sector's growth.
The sector added 1,70,000 new jobs in 2016-17, according to a Nasscom statement.
Should techies cheer this news?
Yes, and no. Yes, if you are a young software engineer who has just finished an engineering course. Most of the new hiring is happening at an entry level, with an average annual package of around Rs 3 lakh per annum.
An industry executive, requesting anonymity, said, "Nasscom and other job survey firms do not speak of how most of these new jobs are at entry level, which will only replace the mid-level employees, who have become redundant due to new technology."
Which kinds of jobs are under threat?
For over two decades, IT companies' work structure required mid-level managers whose job was to assign work to other engineers and allocate a number of engineers for a particular project.
While these managers were also engineers, they were not required to make software or write codes. With the advent of new software, their jobs are becoming redundant.
Sudin Apte, CEO of Offshore Insights, an IT Research firm, recently told the Business Today magazine, "In the next few years, thousands of jobs will vanish due to the shift happening in the marketplace. Automation tools are being deployed, especially in areas, which involve repetitive skills like testing and maintenance."
French IT company, Capgemini, which has its operations in India, is using IBM's cognitive consulting tool Watson to assign people to projects. Infosys is working on a machine-learning platform that will help project managers take decisions in allocating the number of people to projects.
Do young engineers gain from mid-level employees being fired?
Not really. According to TV Mohandas Pai, former HR head of Infosys, the average salary of entry-level engineers has not increased in the last decade. "Indian IT is not paying its freshers well. In fact, big companies are coming together and talking to each other to not increase their salaries," Pai told PTI in an interview.
Can the government help?
While there is not much that a government can do to control the rise of automation in the IT sector, employees are trying to insulate themselves from layoffs by way of forming trade unions, which were not heard of over the past two decades in this sector.
Recently, the Tamil Nadu government allowed IT sector employees to form unions to negotiate their rights in the companies.
"IT company employees are free to form trade unions and can redress their grievances through evoking the provisions of the Industrial Disputes Act," Kumar Jayant, principal secretary for Labour and Employment of the Tamil Nadu said recently.
While allowing a trade union in a sector is the least a government can do for employees, it will not help them much in the absence of the required skills set to survive in the sector.
Ultimately, the onus will be on the companies to create training modules that help existing employees gather new skills to remain useful for their companies. Otherwise, the policy of hiring cheap engineers from tier-2 engineering colleges will haunt the IT companies soon.
In the words of Pai: "If we don't increase salaries, good people will not come".