FDI from UK to India is dwindling: Facts & figures as Modi & Theresa May talk shop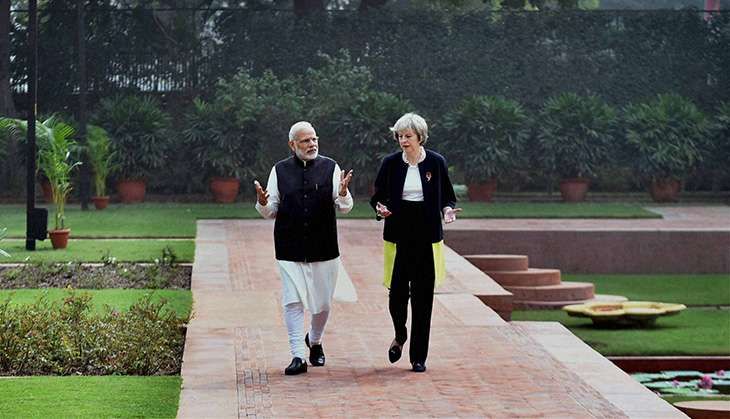 Indian Prime Minister Narendra Modi and the United Kingdom Prime Minister Theresa May decided to strengthen bilateral ties on Monday when they both agreed to bolster the 'Make in India' campaign through technology transfer, increased cooperation in cyber security and defence manufacturing. May also supported India's bid for the United Nation Security Council and the Nuclear Suppliers Group.
On paper, such announcements sound positive in the post-Brexit period of uncertainty. However, it is doubtful whether all these decisions will translate into reality. There are conflict issues from India's side - from stricter visa regulations to UK becoming a safe haven for businessmen-turned-criminals such as Lalit Modi and Vijay Mallya.
Leaving aside issues that can cause frictions, here's looking at some facts that show positives in the Indo-UK business relations: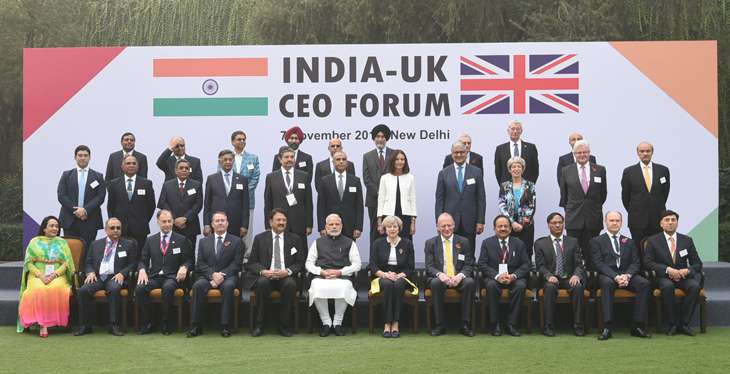 Prime Minister Narendra Modi meeting the Prime Minister of United Kingdom Theresa May in a group photograph of the India-UK CEO Forum, in New Delhi on 7 November
- The value of commercial deals signed between India and UK when Modi visited UK last year.
- UK also showed interest in the development of smart cities in Indore, Pune, and Amravati.
- The value of the two-way merchandise trade between both the countries as of 2014-15.
- This amount was a decrease from the previous amount in 2013-14 by 9.3%.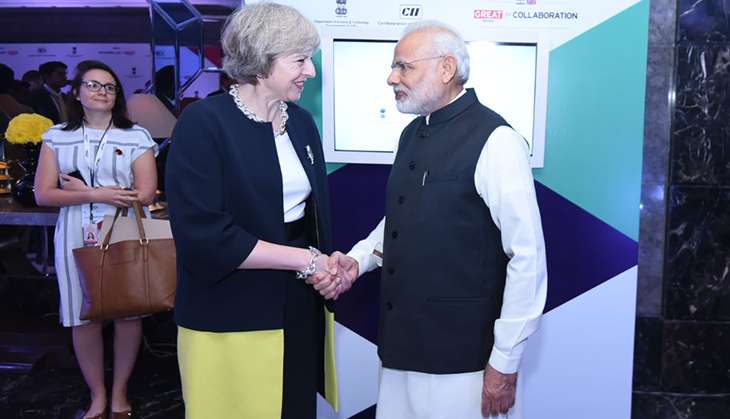 Prime Minister Narendra Modi meeting the Prime Minister of United Kingdom Theresa May at the India-UK Tech Summit, in New Delhi on 7 November (PIB)
- The amount made through UK-India trade in services in 2014, according to UK's Office for National Statistics.
- Services exclude travel, transport, and banking.
- Of this, India's exports accounted for 1.5 billion pounds and imports accounted for 975 million pounds.
- The number of Foreign Direct Investment (FDI) projects India confirmed in the UK in 2014-15.
- This as an increase of 65% as against 2013-14 and making India UK's third largest source of FDI.
- This investment by India also led to more than 9,000 jobs, according to UK Trade and Investment.
- Indian FDI in the UK increased from 164 million pounds in 2004 and 1.9 billion pounds in 2013. This has led to UK getting more FDIs from India than the European Union.
- The share of FDI from UK into India from April 2000 to September 2015.
- However, UK FDI into India decreased from US $7.8 billion in 2011-12 to the US $ 1.4 billion in 2014-15.
- This clearly indicates that while investment from UK into India is dwindling, FDI from India is increasing. With this uncertainty post-Brexit does that mean UK may gain more from India in the future than vice versa?
Additionally, Theresa May has indicated that UK will not relax visa laws for students. As per an analysis by a former minister in the news website The Wire, the number of Indian students in the UK has come down to 18,320 in 2014-15 as against 22,385 in 2012-13.