Economic Survey 2017-18: Modi likely to score below Manmohan on growth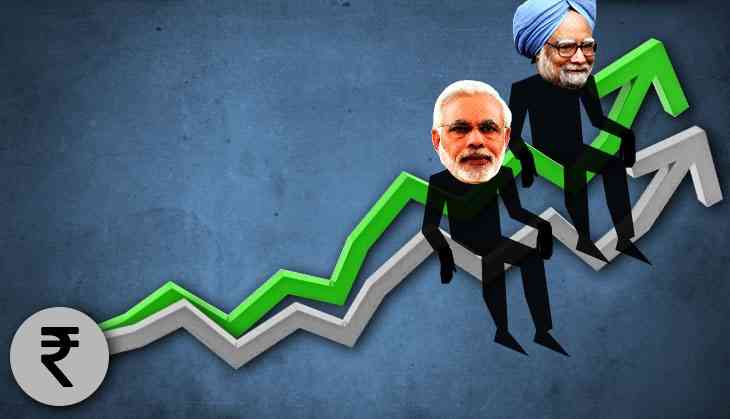 The job of the Chief Economic Advisor is to see a silver lining of every dark cloud. This is what Arvind Subramanian did on Monday when he presented the Economic Survey for 2017-18.
Projecting current fiscal's growth at 6.75% - 25 basis points above Central Statistics Office estimate of 6.5%- Subramanian forecast a 7-7.5% growth for the next financial year, which will be the last under the present government.
The survey argued that "India can be rated as among the best performing economies in the world on this parameter. Although growth is expected to decline to 6.5% in 2017-18, bringing the 4-year average to 7.3% , the broad story of India's GDP growth to be significantly higher than most economies of the world, does not alter. The growth is around 4 percentage points higher than global growth average in the last 3 years and nearly 3 percentage points more than the average growth achieved by the Emerging Market & Developing Economies (EMDE)".
The comparison with global and EMD economies tries to project India in a good light. The comparison between India's GDP growth in the last three years with that of the average of global and EMDE growth gives general public, investors as well as policy makers a reason to cheer. But is that an accurate analysis of the present government?
Definitely not. Over the last two decades, (which includes NDA-1 as well as UPA-1 & 2) growth in India's GDP has been above the global average, and at times even more than that of the Emerging 7 (China, Russia, India, Brazil, Turkey, Mexico, and Indonesia)
In fact a growth rate of 7.5% is considered to be the default potential of Indian economy so long it enjoys the demographic dividend.
Economist Meghnad Desai in 2015 had echoed the same sentiment by saying "Growth of Indian economy will continue. I think a growth rate of 7-7.5% is a default rate, but the real challenge is to get 9-10%, which India is capable of but requires hard work. With right policies, it can easily grow at 8%."
The UPA-2 government failed to achieve this potential growth rate for the Indian economy and people showed them the door in the 2014 Lok Sabha elections. But despite the global financial crisis of 2008 that pulled India's growth rate to 3.89% (Based on World Bank calculations which calculates GDP on a calendar year basis) the Manmohan government ended its second 5 year term with a growth rate of 7.44%. Apart from the global financial crisis, Manmohan government also faced the assault of above $100 a barrel crude oil prices that affected India's current account deficit and fiscal deficit.
So, when Modi government came to power with the rhetoric of good governance, clean system, recovery of black money and more jobs etc, it was expected that India would be able to touch the magic figure of 10% growth rate very soon.
Unfortunately, even after 4 years of Modi government, that target seems a distant dream. On the basis of 2017-18 Economic Survey 2017-18 projections and the World Bank estimates, the best possible five year target for India under Modi looks to be just 7.37%. In this calculation, we have taken World Bank growth figures for India in the period between 2014 and 2016 and economic survey estimates for the last two years i.e, 2017-18 and 2018-19.
(The reason for using two data sources for calculating India's growth figures is regular revision in numbers provided by CSO. In 2015, India revised the base year for calculating its GDP which led to revision in GDP growth rates even during UPA-2 government. Therefore we relied on the World Bank's figures as it also calculates growth of other economies in the world).
So it is 7.44% under Manmohan Singh vs 7.37% under Modi. Isn't the performance more or less similar for both the leaders? ( Let's discount the difference of 7 basis points )
Before we answer the question, we need to look at the headwinds the two leaders faced during their tenure. We should also broadly apply the logic of return on capital deployed within Indian economy during the reign of two leaders.
As mentioned above, Manmohan's last 5 financial years between 2009 and 2013 were marred by global financial slowdown. The decline for Indian exports fell and global investors resisted investing in the Indian economy.
In three out of 5 years between 2009 and 2013, India registered a massive decline in Foreign Direct Investment, constraining Manmohan government's ability to create jobs and push economic growth.
Also, the Manmohan government had to deal with high crude oil prices (above $100 a barrel) in the international market between 2009 and 2013 that pushed India's current account deficit to a high of 4.8% in 2012-13.
Clearly, the Manmohan government had a tough time dealing with things that he had little control over.
On the other hand, the Modi government from its very first year in power has had the advantage of low crude oil prices. In February 2016, the price of crude oil fell to a record low of $27 a barrel, allowing state-run oil marketing companies to not only make higher profits but also earn huge amount of additional money for the Modi government through higher taxes.
When crude oil prices halved between 2014 and 2016, the government increased excise duty on petroleum products and generated a windfall revenue which went up from Rs 1.3 lakh crore to Rs 2.1 lakh crore. Not just this, the dividends from downstream oil PSUs rose Rs 0.9 lakh crore.
If this windfall bounty was not enough, foreign investors have poured billions of dollars into the Indian economy over the past 4 years. In fact, India has been receiving highest amount of FDI in the world since 2016. By the end of this fiscal, India is expected to cross its previous high of $60 billion worth of FDI - ahead of China. Despite all these favourable factors, the Modi government, as per the Economic Survey's own projections is likely to just match the performance of Manmohan government. And in case the global financial weather gets harsh and poses some serious challenges such above $70 a barrel crude oil leading to an inflation rate of more than 6%, those who believed in the magic of Modi will be asking many questions on his ability to make India the next China of the world.