Double trouble: IIP growth declines while inflation touches 15-month high of 4.88%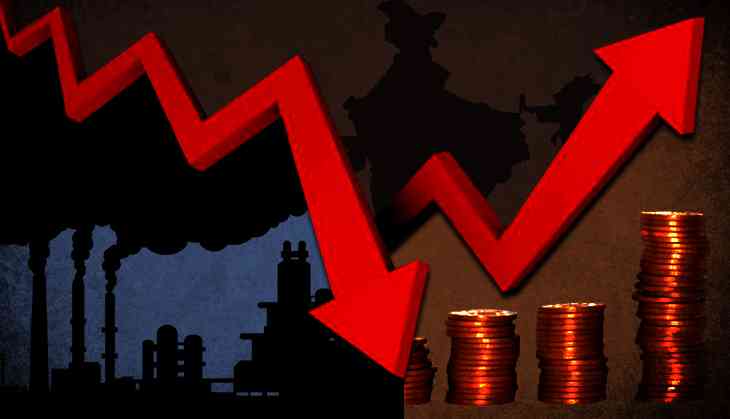 While the government and its well wishers are hoping for an economic turnaround in the coming months, bad news has started to pour in from quarters that were under control so far.
India's retail inflation rate accelerated in November to a 15-month high of 4.88%, while industrial output growth slowed to 2.2% in October from 4.2% in the same month last year.
Two components - food and fuel - mainly contributed to the rise in retail inflation, adding to the worries of the industry as well as the common man.
SME sector's distress continues
In terms of industries, only 10 out of 23 industry groups in the manufacturing sector have shown positive growth during October 2017.
The growth in industrial output clearly indicates that the small and medium industries have not been able to recover from the shock of the Goods and Services Tax (GST).
According to government data, some important item groups that have registered high negative growth include gold jewellery (studded with stones or not) (-) 76.9%, plastic jars, bottles and containers (-) 52.1%, electric heaters (-) 39.9%, bags/pouches of HDPE/LDPE (plastic) (-)38.2%, other tobacco products (-) 38.1%, printing machinery (-)37.5%, toothpaste (-) 32.4%, electrical apparatus for switching or protecting electrical circuits (e.g switchgear, circuit breakers/switches, control/ meter panel) (-) 31.6%, plastic components of packing/closing/ bottling articles & of electrical fittings among other.
Even so, there is some positive news in the data in the form of the 6.8% rise in capital goods production. Since capital goods indicate investment by big companies in the economy, it will contribute to job generation.
However, continued stress in the SME sector will mar the overall growth prospects and job creation in the economy as the sector accounts for 95% of industrial units in the country and contributes 40% value addition in the manufacturing sector.
Inflation concerns
In its recent bi-monthly monetary policy, the Reserve Bank of India (RBI) had projected inflation to be around 4.3% to 4.7% for the third and fourth quarters of FY18 against 4.2% to 4.6% projected in previous bi-monthly policy. As we know that the RBI has a mandate to maintain retail inflation at around 4%, a reading of 4.88% for the month of November makes it a cause of concern for the industry as it would have to wait for longer for a cut in policy rates by the central bank.
Apart from this, higher retail inflation also causes concern for the government as it may face backlash from the electorate. This in tun would help the Opposition to build a narrative against government policies in a year that will see a build up to the next Lok Sabha elections.