Don't run down the Moody's guy Mr Modi. He gave you a thumbs up earlier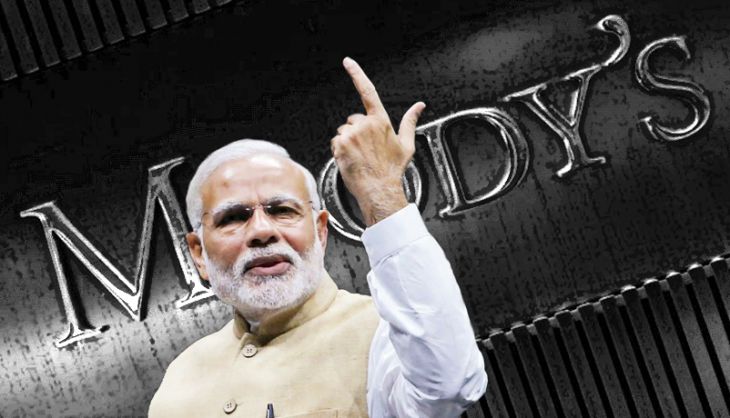 Criticism phobia
Moody\'s Analytics recently criticised the govt
The govt was quick to pan the media for going by the report
Criticising back
The Modi govt said a junior analyst\'s views shouldn\'t have been taken seriously
It forgot how the same analyst was positive about India in April
More in the story
What are the lessons for the govt
The way the Union government criticised the Moody's Analytics report on India's economic outlook, it seemed the Centre assumed that the firm functions similar to the way the BJP does.
Last week Moody's Analytics, a research wing of global ratings agency Moody's Corp, criticized the government for not being able to control its ministers from making hate speeches that were denting its image.
The defence that Narendra Modi's government put out seemed to assume that Moody's Analytics did not have any control over its analysts: "It is surprising that no due diligence was done and the readers were not informed about the difference between Moody's Analytics and Moody's Investor Services. The opinion of a Junior Associate Economist employed with Moody's Analytics has been splashed all across implying it as the opinion of Moody's Analytics."
ALSO READ: Storm warming: the economic bad-winds awaiting the govt
However, Moody's was quick to stand by what its analyst Faraz Syed had written. "The report included a section observing political developments in the context of their potential economic impact, and did not advocate any political agenda or perspective. Moody's Analytics provides economic research and analysis and is a separate company from Moody's Investors Service, the ratings agency," it said.
However, Moody's statement has shown the government how every organization should be responsible for the utterances of those who hold official positions in it.
This government had to distance itself from hate speeches by its leaders against minorities, giving an impression that Prime Minister Modi has no control over them - that's what the Moody's Analytics report emphasised on.
Professional organisations such as Moody's Corp have multiple checks before anything underwritten by them hits the public domain.
This is the reason why they are respected worldwide and have the power to influence perception and decision making of global investors.
On the other hand, the Modi government has behaved weakly, not being able to stick to the agenda of development that it promised at the time of elections.
ALSO READ: Reading investors' mood: why Modi needs to heed Moody's advice
Also, while rubbishing Syed's report, the government forgot that the same analyst had given it a thumbs up in April.
"India's economy is on a cyclical upswing. Forward looking indicators suggest domestic demand is gathering momentum," Syed had written in an April report.
This report appreciated the fact that the government was successful in keeping the inflation rate low, enabling the Reserve Bank of India to cut interest rates by 50 basis points in early 2015, which helped in easing pressure on the private sector.
While Moody's stood by its analyst, Modi's govt has failed to stick to its development agenda
The government would do well to keep in mind that Moody's - one of the top three ratings agencies in the world - has the most 'positive' outlook towards India's economy. Standards and Poor's and Fitch Ratings have only a 'stable' sovereign rating outlook on the country.
It would be in the government's interest to understand that every organization has to be accountable to a set of people who are responsible for its existence.
While ratings agencies like Moody's are accountable to investors who use their services, the NDA government is accountable to the people of India who had voted it to power for development.
Unfortunately, the Modi government is making news for everything it had not promised.
More in Catch
Indigo's IPO is a hit. What makes the airline fly high
Mind = Blown. The iTunes Terms & Conditions are now a graphic novel
Headache for Modi govt: HSBC leaker offers to help probe black money
Exit polls predict neck and neck contest; give slight edge to Grand Alliance