Commodities that may burn a hole in your pocket this summer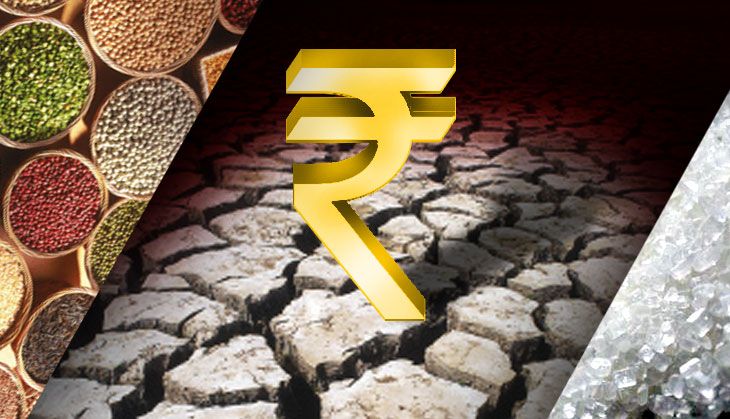 The country is facing a severe drought. States like Maharashtra, Andhra Pradesh and parts of Uttar Pradesh have faced heavy water shortage. Overall there has been a 14% shortfall in rainfall, which has caused a severe drought in 256 of the country's 640 districts. This means about 40% of India is drought affected.
Due to this, the yield of certain crops has been affected and this may reflect in the price that consumers pay.
Maharashtra and Uttar Pradesh are known for sugarcane production. And since there is a severe water crisis in these two regions, it is apparent that the production of sugar would be impacted in the country.
Also read - #DroughtWatch: 6 reasons why this is a national calamity
With only 58 out of 135 mills operating, Maharashtra (the largest producer) has produced 8. 2 million tonnes (MT) against last year's 9.36 MT. Karnataka, another key sugar producing state, has produced only 4.01 MT against 4.24 MT last year. India's 2015-16 sugar production as of 31 March is 4.43% lower than the sugar production during the previous corresponding period according to industry body Indian Sugar Mills Association (ISMA).
Apart from this, the production in other parts of the world has also been affected. International Sugar Organisation has now pegged world production shortfall at 5.02 MT. It was 3.5 MT in November 2015.
Impact on overall inflation
According to Center for Monitoring Indian Economy (CMIE). "Domestic sugar prices have started rising since December 2015 and are expected to continue the upward trend in 2016-17. Sugar prices had slumped in 2015-16 on account of excess supply in global markets and currency depreciation in Brazil, the biggest sugar producer in the world. However, during the current sugar year (October 2015- September 2016), domestic production is expected to fall by 9% and lead to rise in prices.".
Pulses
Price of pulses/dal have troubled Indians for some time now. In October 2015 the price of Tur dal skyrocketed and was being quoted at Rs 200 per kg in the retail market. After this, the government got into action and imported around 10,000 tonnes of pulses to bring prices under control.
Six months later, the situation is once again looking the same.
According to The Times of India, in a span two weeks, there has been a spike of over 45% in the price of pulses like arhar, masoor and chana. Wholesale and retail prices have shot up simultaneously. According to news reports, the prices of arhar and masoor dal have gone up to Rs 160 per kg from Rs 110 a month ago, chana dal which was Rs 70 per kg a month ago now costs Rs 130 per kg.
Government in action
In 2015, the rise in pulse prices had become an electoral issue for the opposition and the ruling NDA government had to face criticism for not taking action on time.
This time, the government is trying to be pro-active from the beginning. The income tax department has been raiding several traders across the country to check hoarding. So far tax authorities have conducted 22 raids in Mumbai, Delhi, Jalgaon and Indore
But past experience shows that such raids have not been effective in controlling the price of pulses or other commodities.
Other commodities
During peak summers, there is usually a shortage of vegetables in markets. And according to the met department, the temperature in the months of May and June would be higher than normal by 1 degree Celsius.
This means, there are tough days ahead for those managing the kitchen budget in the country.
More in Catch - Stop asking RBI to cut rates Mr Subramanian. Arrest food inflation first
Onion prices make farmers weep. Here's how the govt can help