BHIM-Aadhaar launched; Indians can now pay with just their fingerprints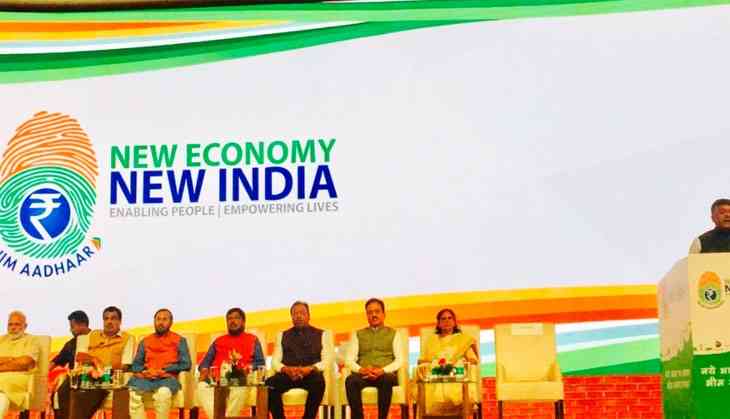 On Digital India Day, otherwise known as Good Friday, Prime Minister Narendra Modi launched the BHIM-Aadhaar - also known as Aadhaar Pay - the platform for merchants that will facilitate digital payments in the presence of various senior ministers. The government is also bringing in cash back and referral bonus schemes for the BHIM app.
The launch took place at Nagpur, on Friday, 14 April. The announcements are being made on the 126th birth anniversary of Dr Bhim Rao Ambedkar. BHIM stands for Bharat Interface for Money. BHIM Aadhaar will let India pay with just their thumb.
"Any citizen without access to smartphones, the internet, debit or credit cards will be able to transact digitally through the Bhim-Aadhaar platform, thus realising Ambedkar's vision of social and financial empowerment for all," said NITI Aayog. It will also make payments easier for the illiterate. The aim is to bring down the use of debit or credit cards and cash transactions.
"We are reaching a time when the mobiles phones will be where financial transactions will take place". Modi speaking at the event in Nagpur said. "This DigiDhan movement is a Safai Abhiyaan. It is to fight the menace of corruption".
Today, Hon'ble @PMOIndia Sh. @narendramodi will be launching the all new #BHIMAadhaar. Stay tuned for more... #DigitalIndia #ambedkarjayanti pic.twitter.com/wpzjnoXFBt

— Digital India (@_DigitalIndia) April 14, 2017
So far, 27 major banks are on board and 300,000 merchants are ready to start accepting digital payments.
The biometric-based payment system, Aadhaar Pay, will make payment with just one's thumb reality. During the launch of the BHIM app on 30 December, Modi lso talked about Aadhaar Pay. He said that they were working on measures so that people can withdraw their money just with fingerprints. Today, Aadhaar Pay is a reality and reduces people's dependencies on debit or credit cards and will be a boost to digital transactions. This is similar to Samsung Pay, that was launched last month (LINK), but on a much larger scale.
After our #100DaysofDigiDhan, we're now on to a BIG START with the MEGA LAUNCH of #BHIMAadhaar by @narendramodi in Nagpur today! Stay tuned! pic.twitter.com/SqO40Vdn6E

— NITI Aayog (@NITIAayog) April 14, 2017
NITI Aayog, the government Think Thank, said that digital transactions have increased 23 times since demonetisation was introduced in November.
Some Bhim app numbers, via the PIB. pic.twitter.com/ocMBULHXR7

— Venkat Ananth (@venkatananth) April 14, 2017
Over 2 crore downloads of #BHIM App, 13 lakh PoS machines sold, Rs. 2452 crore worth #DigitalPayments - all in 4 months: @rsprasad pic.twitter.com/XEM5YKPNKt

— NITI Aayog (@NITIAayog) April 14, 2017
While 1.9 crore downloads of the BHIM app, since its launch in December of 2016, might be a world record, it's important to note that this doesn't mean it translates into usage. In fact, according to data from March from the National Payments Corporation of India (NPCI), only .51 crore, or a mere 26.6%, have an active linkage with a bank account.

Modi, during his monthly Mann Ki Baat show, also said that each citizen should teach 125 people how to use the BHIM digital payment app. ""Remembering Babasaheb Ambedkar, you teach at least 125 persons about downloading the BHIM app".
All you need to know about BHIM-Aadhar merchant interface:
BHIM-Aadhaar platform: Aadhaar Pay, as they are calling it, is the merchant version of Aadhaar Enabled Payment System (AEPS).2.
Merchants: Only merchants need to have the Aadhaar Pay app and not the consumer. The consumer only needs to have a bank account that is tied to their Aadhaar number and a debit or credit card along with a mobile phone. Each transaction is authenticated by the consumer via a fingerprint and the merchant is paid online from the customer's bank account. One more benefit for merchants is that when they take a payment from Aadhaar Pay they are not charged a Merchant Discount Rate (MDR). MDR is the amount a merchandise pays for accepting debit or credit card transactions.
Ease of use: Merchants simply need to download the app and login via their Aadhaar number using the fingerprint scanner. Once they are validated, they can start taking payments.
Security: The Aadhaar Pay app uses Aadhaar Payment Bridge (APB) and Aadhaar Enabled Payment System (AEPS) making it highly secure. The former acts as a repository between the bank and the customer while the latter helps in the authentication of the online process.
How does it benefit the customer: The customer gets the benefit of not having to carry around their debit or credit card. Aadhaar Pay additionally ends the need for an internet connection, payment apps and point-of-sale (POS) machines.
Schemes: Two schemes were also launched by Modi - referral bonus and cashback scheme - with an outlay of Rs 495 crore for six months. Under the former, existing as well as new users who refer others to the BHIM app will get a cash bonus of Rs 10 per user. Under the latter, merchants get cashback on every transaction they carry out using the app.
One other advantage of cashless payments is the reduction of interest rates on loans. The government is working to bring out a policy linking interest rates that are being offered to a borrower with the use of cashless mode of transactions. Boil it down and it means the more the use of cashless payments, the less the interest rate can be charged.
A track record of the person's usage of cashless modes will be checked on the basis of which the cost of borrowing can be fixed," Union information technology secretary Aruna Sundarajan said.