Beating the dragon with a swadeshi stick: will a goods boycott hurt China?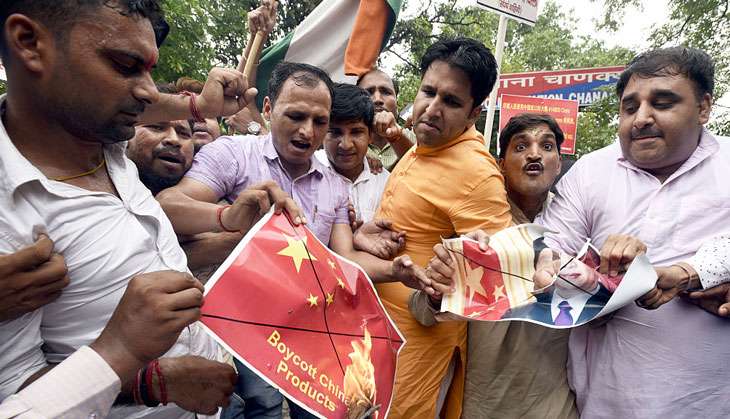 India is on a jingoistic high these days. While the surgical strike against Pakistan has done a great deal to satiate the ego of India's all-pervasive middle class, the clamour is now growing to tame the 'dragon'.
After all, China is the one 'mentoring' our mischievous neighbour Pakistan, frustrating India's designs to corner Islamabad on the global stage, fuelling Pakistan's war machinery, and at the same time, eyeing India's huge market.
But, the options for 'teaching China a befitting lesson' aren't as many as in the case of Pakistan. Nevertheless, an increasing number of Indians feel the world's second largest economy can be hit where it hurts the most. They advocate denying Beijing the profits of the Indian market.
Their reasoning? Make China choose whether it wants to support the world's fastest growing economy, or a nation that's increasingly a pariah on the world stage.
The dragon and the 'swadeshi' stick
Many in the political class seem willing to embrace the idea of beating the dragon with the 'swadeshi' stick. The Madhya Pradesh home department recently issued advisories to district collectors and police to clamp down on foreign fireworks.
Following the directive, the Ujjain Municipal Corporation (UMC) decided to ban the sale of Chinese crackers and toys during the Kartik Fair, to be held in November. The 25-day event attracts lakhs of people from all across the country every year. The UMC has warned that it will impose a heavy fine on shopkeepers flouting the order.
The Bhopal Municipal Corporation has followed suit, passing a resolution to ban Chinese-made products, particularly firecrackers.
The Raipur administration has also issued an order prohibiting Chinese crackers this Diwali season. However, similar diktats weren't followed in the past two years, as traders were unwilling to forego the greater profits available on Chinese products.
In September, Delhi's Arvind Kejriwal government also banned Chinese products for the coming festive season, citing health and environmental hazards.
Growing demand for boycott
The issue has gained traction in other regions, particularly those ruled by the BJP. Last month, some Hindu groups in Assam appealed to the people to stop buying Chinese products.
They found support from Himanta Biswa Sarma, a senior state minister. "This Durga Puja, people should avoid buying products made in China. Instead, they should buy lamps, decorative lights and household utensils made in India," Sarma was quoted as saying.
Sarma's exhortation came amid reports that Beijing had blocked a tributary of the Brahmaputra, in order to construct a dam in Tibet.
The banned outfit ULFA-I has come out against the boycott, stating that consumers have the right to buy cheap goods.
In Haryana, several BJP leaders, including health minister Anil Vij, have joined the boycott bandwagon.
"Trade with China is affecting our country. China is not our friend. China can buy weapons with whatever money it earns. There is a possibility that the weapons are given to enemy countries. We should focus on Make in India," the Indian Express quoted Vij as saying.
Ironically, Vij's own government has gone overboard to attract Chinese investment in the state. Chief Minister Manohar Lal Khattar and finance minister Captain Abhimanyu had visited Beijing and signed several MoUs with Chinese companies.
BJP general secretary Kailash Vijayvargiya posted a series of tweets this week using the hashtag #BoycottChina, only to delete them later.
"Buying Chinese product is an indirect support to a terrorist country," read one of his tweets.
Accusing China of 'betraying' India, yoga guru and known BJP supporter Baba Ramdev has also echoed a similar viewpoint.
However, the sentiment isn't restricted to right-wing circles alone. Last month, Tamil Maanila Congress (TMC) leader GK Vasan urged the Central and state governments to ban the sale of Chinese crackers in India, as they 'caused health hazards'.
Social media war
It can be argued that politicians are only echoing the anger among India's masses over China's support to Pakistan. Indian netizens erupted in fury as soon as China's tacit backing to Pakistan's stand on Kashmir came out.
Social media platforms, including WhatsApp, Facebook and Twitter are flooded with anti-China messages, urging people to stop buying Chinese products this festive season.
The hashtag #BanChineseProducts has been trending heavily on Twitter for days now. E-commerce enterprises like GeekBuying, Tmart and AliExpress, which deliver Chinese products in India, are also being opposed.
An appeal, attributed to Prime Minister Narendra Modi, asking people to use Indian products this Diwali, was doing the rounds of social media, prompting the PMO to issue a denial and clarify that such documents were not authentic.
There is even a dedicated Wikipedia page on the topic, giving details and the rationale behind the demand to shun Chinese goods. It also cites examples of countries like the Philippines and Vietnam, where such campaigns have been waged owing to their differences with China.
Can the boycott really work?
However, is such a demand anything more than an emotional outburst of hyper-nationalism?
The argument in favour of the embargo goes like this: India is China's largest importer of consumer goods, with a trade deficit of a whopping $48.4 billion in Beijing's favour. At a time when the Chinese economy is showing signs of slowing down for the first time in two decades, Indians can make China feel the heat by choosing not to go for its products.
However, hard facts speak otherwise. China's gross domestic product (GDP) is well over $10 trillion, almost five times than India's. International Monetary Fund data suggests the per capita income of China was $12,880, as compared to India's modest $5,855.
The disparity is equally glaring in terms of foreign exchange reserves. While Beijing boasts of the world's largest reserves at $3.77 trillion, India stands at ninth position with total foreign exchange reserves of $355 billion.
China is the world's largest manufacturing nation, with exports to India accounting for meagre 2.2% of its total exports of $2.65 trillion.
Even if all 1.23 billion Indians were to be somehow persuaded to stop Chinese products, the latter could always divert exports to regions like Africa and Latin America, considering its edge in competitive pricing of electronic goods and machinery.
In fact, importing Chinese goods is more of a necessity for India than it is for China. India imports 90% of the raw materials required for its pharmaceutical industry. It is a manufacturing hub for leading global brands like Apple, which are vital for the survival of Indian traders.
China is not only the cheapest exporter of electronic goods, but also of nuclear machinery and industrial items, needed directly for India's growth.
Moreover, the Modi government had been desperately courting Chinese investment, especially in the infrastructure sector.
FDI inflow from China was only $1.35 billion between April 2000 to March 2016. In contrast, over $2.3 billion worth of investments have been announced by Chinese companies in the past few months. Modi signed trade pacts worth $10 billion with the Chinese government during his Beijing visit last year.
Besides, any boycott is not likely to change the market logic of price effectiveness. Since Chinese imports in many sectors are much cheaper than Indian products, any ban is only going to fuel smuggling of products from various routes.
Political and diplomatic fallout
Besides economic reasons, placing trade restrictions on Chinese goods is not a good idea for other reasons. The friend of an 'enemy' is not exactly an enemy in today's world, especially if it happens to be a neighbour and a superpower.
India needs China more than it needs Delhi's goodwill for advancing its global ambitions, be it India's entry into the Nuclear Suppliers Group or banning Jaish-e-Mohammed chief Maulana Masood Azhar.
India has its own disputes to settle with China, which can only be managed with a cool head. It is not without good reason that successive Indian governments, including the current one, have tried to maintain a strategic balance between China and the Western world. While the Modi government has clearly moved closer to the USA, it has taken utmost care not to infuriate Chinese leadership beyond a point.
Sources claim Uma Bharti, the Union Minister for Water Resources, was rebuked by the Prime Minister during a recent meeting for ranting against China over Brahmaputra issue.
Economic embargo is hardly an option in a globalised world. This was the unequivocal message Union Minister for Commerce Nirmala Sitharaman conveyed to the Lok Sabha in April, clarifying: "A complete ban on import from any country is not possible under WTO rules, just because we have problems: diplomatically, territorially or militarily."
Edited by Shreyas Sharma
More in Catch
China to extend support to Pakistan on Kashmir issue
Pakistan rattles India's cage, gets ready to acquire 8 submarines from China
NSG bid: Not Pakistan, China was driven by its own nuclear trade interest