Bayer Monsanto deal: Why Indian farmers should beware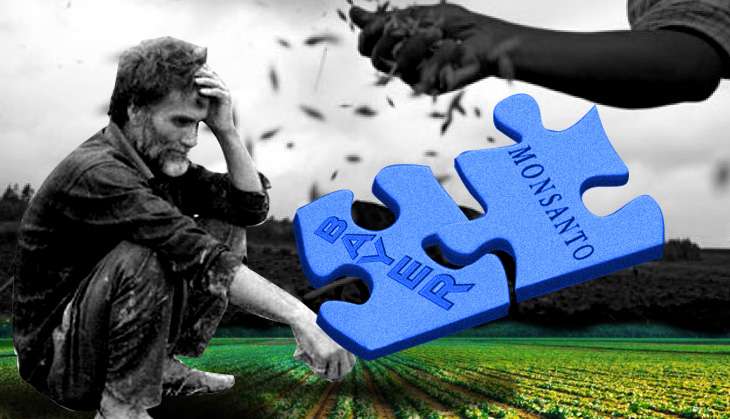 Pesticide maker Bayer Crop Science's take over of Monsanto Corp, which produces crop seeds, is a worrying sign for India's agriculture sector. The $66 billion deal, which was just announced, will be the largest this year and is expected to close by 2017.
It's worth noting that India has some of the world's biggest farmer co-operatives. While Amul is a cooperative of dairy farmers in Gujarat, IFFCO, the fertiliser maker, is the world's largest federation of farmer cooperatives.
But such cooperatives sharply contrast with the near-monopoly that would result from the Monsanto-Bayer deal.
Major control
While Monsanto is the world's biggest player in the seeds business and sells the seed sown in 90% of India's cotton cultivation, Bayer is India's biggest pesticide maker.
After acquiring Monsanto, Bayer will thus have a strong control over two out of the three main inputs that farmers purchase from the market (fertilisers being the third). In the worst case scenario, experts say that farmers, consumers and smaller pesticide makers will all be under threat.
"The biggest market players in seeds and pesticides falling into one hand means that there will be a lesser choice for farmers, which will have a direct impact on farm livelihoods. Any development that reduces choice makes agriculture riskier for farmers," said Kavita Kuruganti of the Alliance for Sustainable and Holistic Agriculture.
"This would also be harmful to consumers," Kuruganti adds.
Seed-pesticide nexus
One way the seed-pesticide nexus happens is through the spread of genetically modified (GM) seeds, which can be developed in such a way that they are resistant to a certain herbicide.
Farmers, who otherwise use herbicides sparingly so as to not destroy the crop, then start spraying it in large amounts. As a result, weeds adapt to it, and the next generation of GM seeds are developed to tolerate a new kind of herbicide. The same logic goes for insecticides.
Bayer and Monsanto had already entered such a collaboration back in 2007 when they signed an agreement that allowed Monsanto to sell corn and soybean seeds in the US to contain Bayer's herbicide technology.
The takeover will mean the seeds and herbicides will become a matter of combined profit and not just a collaboration.
"The union of Monsanto's seeds and Bayer's herbicides would perfectly position the merged giant to fully exploit this toxic but highly profitable 'transgenic treadmill' of increasing herbicide use and weed resistance," wrote Bill Freese, an analyst at the Centre for Food Safety.
Worldwide, GM crops have been associated with increased use of pesticides. In the United States, pesticide use increased by 7% between 1996 and 2011 as a result of the introduction of GM seeds in corn, soybean and cotton, according to a 2012 peer-reviewed study.
The study estimated that a new variety of herbicide tolerance in corn and soybeans could drive up herbicide use by 50%.
The Titanic three
The Bayer-Monsanto deal comes on the back of similar deals between other agriculture majors. In December 2015, DuPont and Dow Chemicals merged, while Syngenta was being acquired by ChinaChem.
These deals and the Monsanto-Bayer deal will lead to the three groups controlling 65% of global pesticide sales and 61% of global seed sales, according to ETC Group, a Canadian research organisation, which calls the mergers changing "Big six" into the "Titanic Three".
According to ETC, these deals are specifically aimed at developing countries like India, China, Brazil and Argentina, which are the fastest growing markets which already represent 28% of the world pesticide market.
Anti-monopoly trouble
However, the deal may not go through, chiefly because of the cartelisation. In June, the European Union's antitrust chief had said she would review the deal if it went through, in response to a letter by two Green Party parliamentarians, who had written a letter stating that "Bayer's takeover of Monsanto ... would lead to further market concentration, displacement of other producers and less competition, not only in the EU but world-wide."
There were similar concerns about the deal running into trouble with anti-monopoly regulators in the US, Brazil and China.
Edited by Jhinuk Sen
Also read: Did Modi govt buckle under Monsanto pressure on Bt cotton?