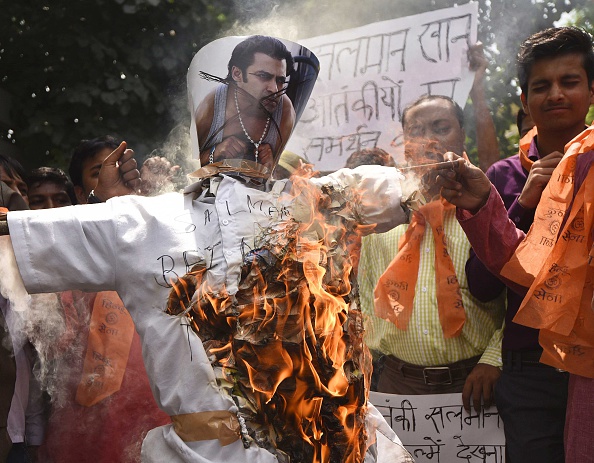 The BJP and Shiv Sena leaders protested outside Maharashtra Assembly on Wednesday 29 July carrying out Bollywood actor Salman Khan's posters and slamming him for allegedly talking in favour of 1993 Mumbai serial bomb blast accused Yakub Memon.
Several prominent personalities from Bollywood have come out in support of Memon's mercy petition including Shatrughan Sinha, Naseeruddin Shah, Mahesh Bhatt amongst others.
Then why target Salman Khan?
BJP MLA Yogesh Sagar said that Khan's tweet defending a convict invites contempt of court.
The actor had stated in his tweets on Sunday, 27 July that not Yakub Memon, but his brother Tiger Memon should be nabbed and hanged to death. However, his tweets created an uproar and after facing strong opposition, Khan retracted his tweets and apologised on Twitter.
However, politicians continue to milk the issue although he retracted his tweets. Shiv Sena has even demanded a stay on Khan's bail in 2002 hit-and-run case. "Khan is facing a trial in hit-and-run case and he is out on bail. Despite this, the actor comes out in support of a bomb blast accused. This is like showing dishonour to court and Khan's bail should be immediately cancelled," said Shiv Sena MLA Pratap Sarnaik.