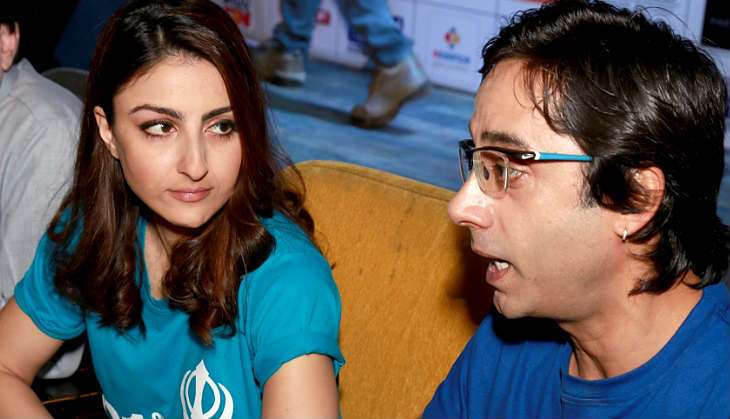 Actress Soha Ali Khan is gearing up for her upcoming release, 31st October.
The film, which also stars Vir Das, is based on 1984 anti-Sikh riots. Harry Sachdeva, who produced and wrote 31st October, said that he made the film because no films had been made on the matter yet.
During the promotions for the film in Delhi, Sachdeva said that this was the first film to be made on the 30-year-old incident.
Sachdeva revealed that the team of 31st October spent a long time trying to get clearance from the Censor Board. He said:
"It took us seven-eight months to have our film certified. They don't understand that it's cinema and they can't cut the scenes. All they need to do is to certify, certify it in any way they want to but cutting the essence of the film is just not done. This is a message to Mr Pahlaj sir (Pahlaj Nihalani) that just do not interfere with the creativity of the film. My film is a story of a family. It's a true story. There's a lot that goes behind making a film. A film is a product of more than 400 people working day and night for it. One year of all these people go into making a film. So we should respect that."
Also read: 31st October: Soha Ali Khan - Vir Das film will change perception about 1984 riots, say makers
Adding to what Censor actually wanted them to chop from the film, Harry said:
"They wanted almost everything to be cut from the film. They didn't want me to show the people who were behind these riots. Everyone knows who were the people. I would not name them but they were the politicians then. They didn't want me to show how Sikhs were actually murdered and their houses were burnt. People were burnt alive. And it was so annoying to know that why just can't I show things that actually took place. I requested them again and again and then they gave up and said ok, go ahead with it. I think they lost it because I told them that if they weren't ready to pass it now, I was going to take the Udta Punjab route by straight away going to the Tribunal Court to get the film passed."
Soha Ali Khan, whose previous projects have also drawn the ire of the Censor Board, said:
"As artists, we don't believe in censorship, we believe in certification. They treat our audiences like kids. I feel the entire decisions should be ours, whether or not we like a film, whether or not we would like our kids to watch the film. I am glad that Harry chose a diplomatic route for it and didn't move to court. He waited patiently because he knew how important it is that the film releases and being aggressive won't serve the purpose. It's a great testament that from 40 proposed cuts, they (censor board) came down to 9 cuts, solely because of his perseverance".
31st October is slated to release on 7 October.
Also read: Soha Ali Khan: I am not professionally dependent on Saif or Kareena