The trailer of Ali Abbas Zafar's directorial, Sultan, is out featuring Salman Khan, Anushka Sharma, Randeep Hooda and Amit Sadh.
I was talking to an ardent Salman Khan fan a few days back and his devotion to the superstar was evident when he told me, "Even the entire nation together doesn't have half of the swag that Salman Khan has."
I didn't think much of it, passing it off as a fanboy statement. But, today, after watching the trailer of Sultan, I am more than convinced of the boy's statement.
Also read: 5 things you didn't know about Salman Khan-Anushka Sharma's Sultan
Watch it here:
The trailer has multiple elements - action, romance, comedy, emotions, patriotism. And above all, Salman Khan in his larger-than-life avatar.
Here's something that we think is special about the video:
1. Salman and Anushka seem to have gotten a firm grip on the Haryanvi accent. Kudos to them.
2. The screenplay, written by Aditya Chopra, seems intriguing. It was important to let the story of the film be the highlight despite the fact that it features Salman Khan. And the trailer does exactly that; it is a buildup to Sultan's journey from Haryana to the Olympics to Delhi and then again to the Olympics.
Also read: Salman Khan has done a terrific job in Sultan, says Randeep Hooda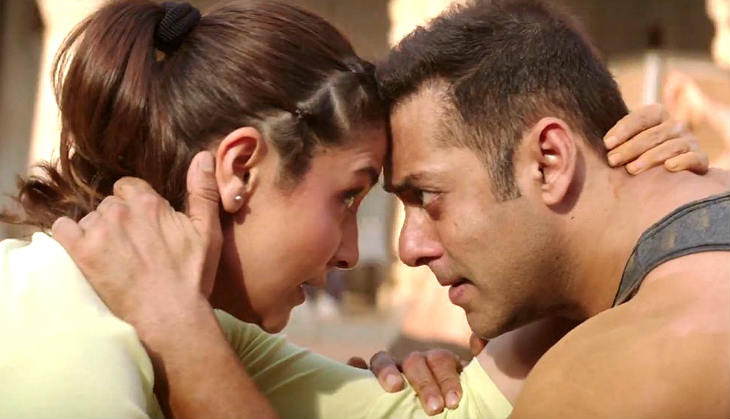 The chemistry between Salman Khan and Anushka Sharma doesn't look forced (YouTube screen grab)
3. The romantic angle between Sultan and Aarfa doesn't look forced or out of place.
4. Kudos to the makers for not limiting Anushka Sharma to playing Sultan's love interest. She's a wrestler and a terrific one at that.
For more, scroll up and watch the video once again. We know you want to!
Produced by Aditya Chopra under Yash Raj Films, Sultan is hitting the screens this Eid.
Also read: Watch YRF's Sultan teaser: Salman Khan who? We're fans of Sultan Ali Khan now!