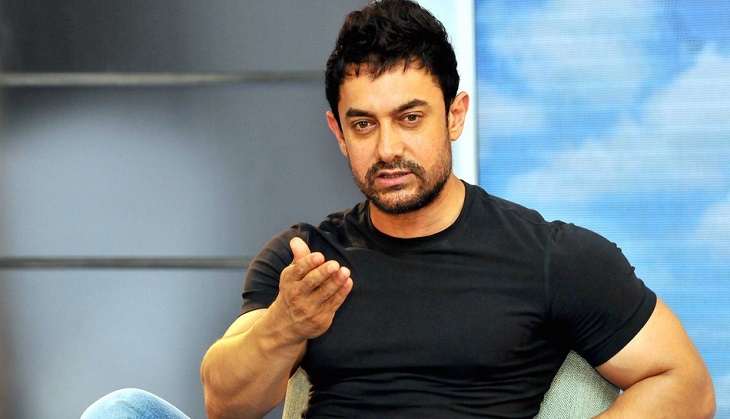 Maverick filmmaker Ram Gopal Varma, who has worked with A-list actors like Amitabh Bachchan, Aamir Khan and Shah Rukh Khan in his career of over 25 years, says he doesn't cast actors because of their stardom.
The director says his casting choices are governed by the character he is looking to cast.
Speaking at a press conference of his forthcoming biographical film, Veerappan, Varma said, "I have never worked with big stars. My stories have a raw and witty appeal to it, which the so-called stars don't like. When I did Rangeela (in 1995), at that time Aamir (Khan) was not a big star".
"I take actors according to the requirement of the characters. I don't look at them through the stardom perspective," he said.
Theatre actor Sandeep Bharadwaj is playing the titular role in Veerappan, which is based on the man-hunt that was launched to nab dreaded sandalwood smuggler Koose Muniswamy Veerappan.
"Veerappan is the most unique character ever because as the tagline of the film says that none like him till now existed on earth before. He killed 97 policemen and 184 civilians. Government spent over 700 crore to catch him in the time period of 20 years," Varma said.
"It took 15 years for an extensive research on him. I met his wife during the time research was being done," he added.
"We auditioned him and felt he is perfect for the role. People have complimented me saying that it seems the real Veerappan has come alive," Varma said.
"I have always been known to make hard-hitting cinema. For me subject matters and characters are taken through or inspired from real life," said Varma, best known for helming films like Satya, Company and Sarkar.
The film is produced by Sachiin Joshi under his banner Viking Media and Entertainment Pvt. Ltd.
"People usually make films centered around a hero. But a real life story tells how a villain is like. That's why I decided to back this project," Joshi said.
Varma, who also made Killing Veerappan in Kannada, said that Veerappan is completely different from that.
"This films has been completely remade. There is no connection between that one and this. Everything is completely redone to make this film," he said.
Asked whether he has taken any creative liberties in the film, Varma said: "When you talk about Veerappan, from the age of 15 or 16 he was living inside forests. So mostly we have made this film through perspectives of various people.
"I eventually took the perceptive of the police officials who hunt him down. Also we have taken information from people who worked as mediators between Veerappan and the government. No one person can completely know everything about Veerappan.
Veerappan is slated to release on 27 May.
--IANS