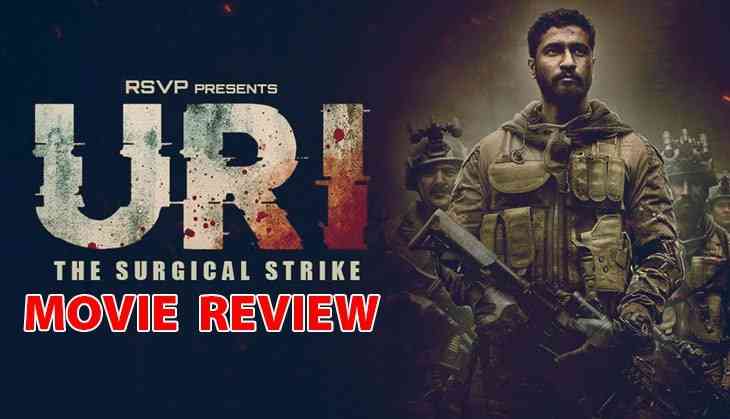 Uri: The Surgical Strike Movie Review: Since the trailer of Vicky Kaushal and Yami Gautam starrer film Uri came out, the film was in the discussions for its concept and base. Aditya Dhar who wrote films like Tezz and Aakrosh also wrote Uri's script and he got a chance to direct it also. As it is the first time when any film has made Surgical strike then the expectations were high. Now the film has out so let's know will the film has gone up to the expectations or not.
Movie Name - Uri: The Surgical Strike
Star Cast - Vicky Kaushal, Yami Gautam, Kriti Kulhari, Mohit Raina, Paresh Rawal, Anant Mahadevan
Director - Aditya Dhar
Producer - Ronnie Screwala
Music - Shashwat Sachdev
Genre - Revenge Action-Drama
Critics Rating - 3.5 stars
STORY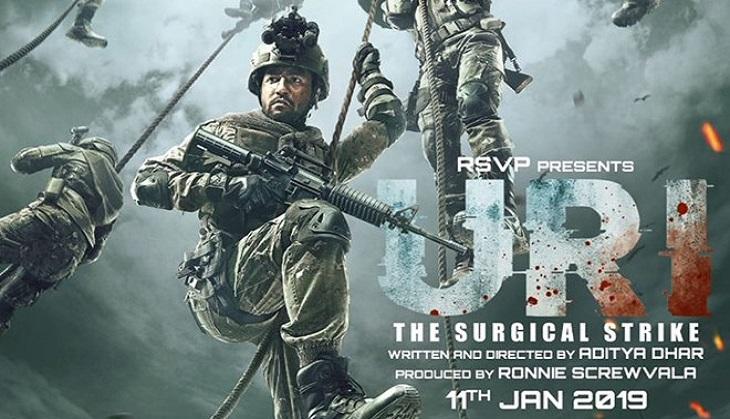 Uri film
There was a time in India when the soldiers of the Indian army were attacked and the country lost many brave soldiers at that time. The film starts with an attack on the Indian army by Nagaland terrorists on 4th June 2015, where 18 army persons were killed. Then to take revenge of the soldiers, Indian army had a counter-insurgency operation in Myanmar and they killed 158 terrorists in Myanmar. The operation was led by Major Vihan Shergill (Vicky Kaushal) and his team.
Major Vihan Shergill is famous for covert operations and he has a record no casualties during his missions. However, as Vihan's mother is going through of Alzheimer, so he takes a transfer to Delhi to stay with his mother. However, his team went to Pathankot air base and he stays in Delhi. Vihan has his brother-in-law captain Karan Kashyap (Mohit Raina) who was a part of his team but in the Uri attack, in counter with terrorists, Karan Kashyap got killed. Now to take revenge of Karan, Vihan gets back to the borders and becomes a part of a plan made by the Indian government. Indian government makes a plan of the surgical strike in POK to take revenge of the soldiers got died in Uri attack.
DIRECTION
Uri film
Aditya Dhar has only written films but for the first, he also went into the department of direction. Aditya Dhar wrote and directed Uri: The Surgical Strike. We should appreciate Aditya for going to depth in terms of research and the facts of the mission. Aditya chose to show the bravery of soldiers from Myanmar operation to a surgical strike.
Definitely, while watching the film, you must be impressed with the director for taking every single thing from the real incident and made it. Aditya has tried to take every little thing to the real. From locations to the facts and the looks of the actor for resembling the current ministers and defence, Aditya is on top notch. However, in the first half there are some loopholes that make the audience bore but in the second half, he has managed to grab all the attention.
PERFORMANCES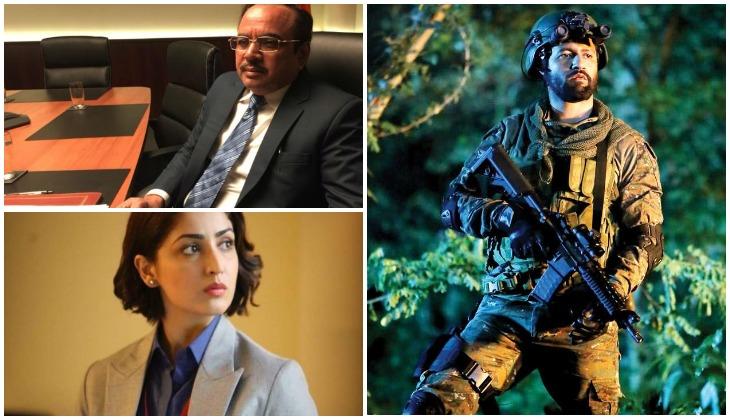 Uri film
Vicky Kaushal for the first time in his career played a role of a soldier and also the leading man of an action film. Vicky is a versatile actor no doubt, he has been perfect casting for his roles till now. But this time, Vicky has moved one step further, this time Vicky has proved that he is ready to play leading roles in the action films as well. Vicky has just taken every single expression and gestures of an Indian soldier perfectly. Vicky as Major Vihan Shergill is just brilliant.
Yami Gautam plays the role of an Intelligence officer Pallavi Sharma who plays an important part in Surgical strike. Yami is good as an Intelligence officer and her role is even good in the script. Yami should do more movies like Uri to show her better side of acting.
Mohit Raina makes a debut on silver screen with Uri, and he is really the most promising actor. Mohit's bulk up the body and his body language helped him a lot to go perfectly in the role of a soldier. Mohit Raina has that screen presence where he looks like a star. No doubt, we are going to see him more in action films.
Besides those actors like Paresh Rawal, Kriti Kulhari, Anant Mahadevan and others are also very supportive to the script and their roles are perfect to narrate the tale of revenge drama.
MUSIC
Well, the music department not so much strong as like script and performances. There is one song Challa that is already a hit and in the film also it is good. But besides that, there is nothing when it comes to songs. However, the background music should be appreciated.
VERDICT
We have heard a lot about Surgical strike but we don't know much about it into the depth. The film is perfectly written and narrated the story of a surgical strike, even if you don't know about surgical strike you should watch the film. This is one kind of films that should be made, again and again, just watch whenever you get free time.