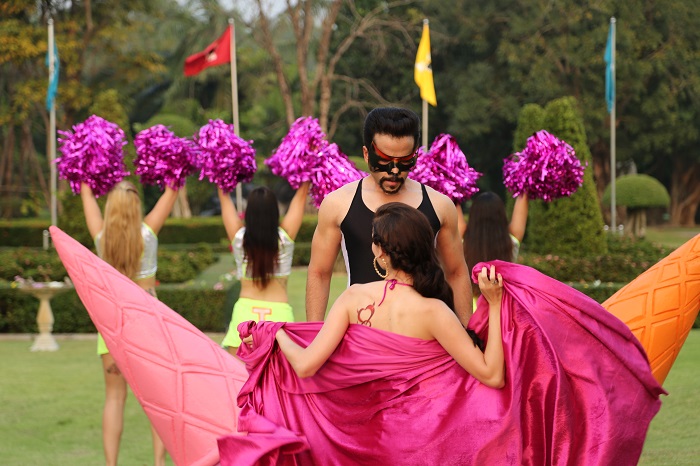 Third installment of the Balaji franchise, first without Riteish DeshmukhTusshar and Aftab star as buffoons becoming porn stars in ThailandAvoid, at all costs1 Star
When I look back at my life, I'll know the exact moment I died inside a little. At a 9 AM show on a Friday morning, my spirit left my body as I watched Tusshar Kapoor run across Thai beaches dressed in a red sari. Lifelessness took over when Shakti Kapoor, who plays his biological father (named PK Lele), begins to lust after his own drag-queened son. I begged for entry at the Pearly Gates when I noticed a few viewers giggling at these scenes.
I wondered if it was because Indians generally tend to laugh at or mock things that make them uncomfortable (cuss words, sex, Sunny Leone, good movies). The pot-bellied gentleman at the corner began to guffaw when heaving breasts made their 832nd appearance on screen. My suspicions were confirmed.
He was almost rolling on the floor when Gizele Thakral and Claudia Ciesla, who play porn stars named Meri Lee and Suck-untala here, continued to make orgasmic noises while speaking, walking, breathing, acting (?) and living.
He snorted when he was presented with the concept of porn stars pretending to be a 'sanskaari' parivaar (not a bad idea) - because porn. Chuckle. Because Bangkok. Giggle. Because every joke from here on will be lewd wordplay - one that finds acceptance in only all-boys Whatsapp groups. Because sex.
And if the wordplay isn't funny, legs. Bosoms. A horse farting into Mandana Karimi's face (this is true). Lyrics that read, "Handle with care, I'm a fragile item." Khoobsurat becomes Boobsurat. MILF becomes "Maasi I Love To Fb". Become, rum, bum, some, hum and dumb will rhyme with "come".
He laughed just like he would if he saw a condom on the street. It wouldn't matter if the condom wears a hat, talks silly and does backflips near a banana - it's still a condom. Because that's what this film - and the Hindi mainstream interpretation of a "sex comedy" - is. There's no sexiness, and nothing comedic about grown adults behaving like they've pooped their diapers, but combine those two words and, voila!
The filmmakers understand that once they present the illusion of something bold, they can decorate it with a 3-year-old's intellect. The average male mind will sift through the bullshit - inane character traits, offensive stereotypes, cartoonish sound effects - and pick up on the skin show. They will laugh at how unfunny things are, and marvel at navels and whipped cream. Those who frown upon such films (even if for its jarring craft and lazy tropes) are automatically labeled elitist, hypocrites and prudes.
The thing is - the writers were onto something. Their friend's (Krishna Abhishek) empire of making pornographic spoofs out of popular Hindi films is a genuinely creative device.
It's a Kanti Shah thing. Like a sort of smutty "Be Kind Rewind". Kick becomes Lick ("Kabhi Devil aapke neechey, kabhi aap Devil ke neechey), Singham becomes Lingham, Sholay becomes Kholay, Rockstar becomes Cockstar (I made this one up). But so on and so forth.
Unfortunately, these spurts (oh, no) of inspiration are buried under a barrage of mimicry and hormonal homages.
I'd also like to believe that this is also a brave post-modern exploration of the homoerotic relationship between two childhood friends. Only, the writers and their actors themselves don't know quite realize this. I don't think it's what they set out to achieve.
Anyhow, this is only the beginning. Next week, a full-lipped Gizele Thakral will appear as a woman called 'Titli Boobna' in the Sunny Leone starrer, Mastizaade. That is correct.
The common thread? Not just Tusshar Kapoor.
The writer of KKHH3, and probably every other moronic comedy I've ever walked out of, is also the director of Mastizaade. His name is Milap Zaveri. Be very afraid.
Rating: 1 star