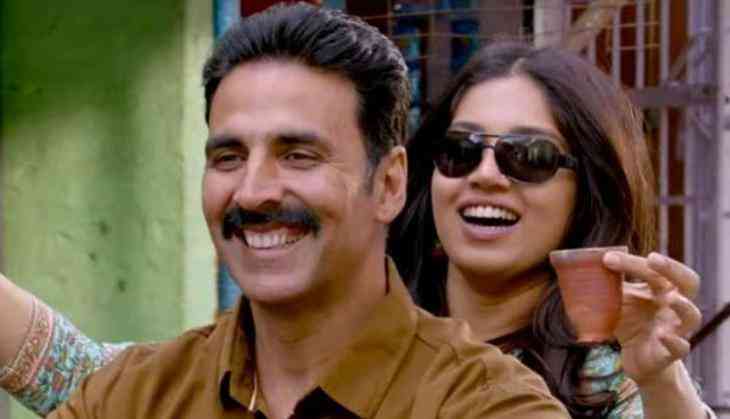 A good intention flushed down by confused execution and lazy screenplay
The intention is right. This is a film which aims at educating people about the open defecation issue that is prevalent in our country. But unfortunately, the intention is flushed down leaving no trace, by confused execution and lazy screenplay
Keshav (
Akshay Kumar
) belongs to an extremely conservative Pandit family in Mathura, UP. Keshav meets Jaya (Bhumi Pednekar) and starts wooing her. Finally, she comes home as his bride and is immediately shocked to realise that the Pandit family has no toilet in their house. When she's expected to be part of the women's 'lota party' at the crack of dawn, she rebels. Keshav is caught between his orthodox and stubborn father, Panditji (Sudhir Pandey) and his 'uncompromising' wife.
The movie starts off on a good note as we are introduced to a realistic environment of a village, where the men think it is against the culture to have a toilet in the house, and the women gang up together to collectively relieve themselves. However, the pace gets breathless, as each character gets unnecessarily verbose. Most dialogues are laboured and each situation explained too much.
The worst thing about the film is its scattered and confused screenplay. The writers (Siddharth Singh and Garima Wahal) seemed so taken up by the social issue that they were dealing with, that they chose to ignore certain basic facts. Situations are tied up according to convenience, with not much thought put into the character's whereabouts.
While the director Shree Narayan Singh does a good job of creating a credible environment, he falters while trying to oversell his concept.
The best thing about this film is Akshay Kumar. The actor while adapting himself very well into the environment to which his character belongs to, does a great job of displaying the emotional quandary that his character finds himself in. The maturity of his performance is more evident in certain emotional scenes, like the one where Panditji and Jaya openly confront each other. Bhumi fits the role well and does a decent enough job.
The second half of the film gets lazier screenplay and climax. An obvious propaganda when one of the characters praises 'Pradhan Mantri's note bandi yojana, you walk away disappointed and slightly worried for the future of films.
Stars: Two and half