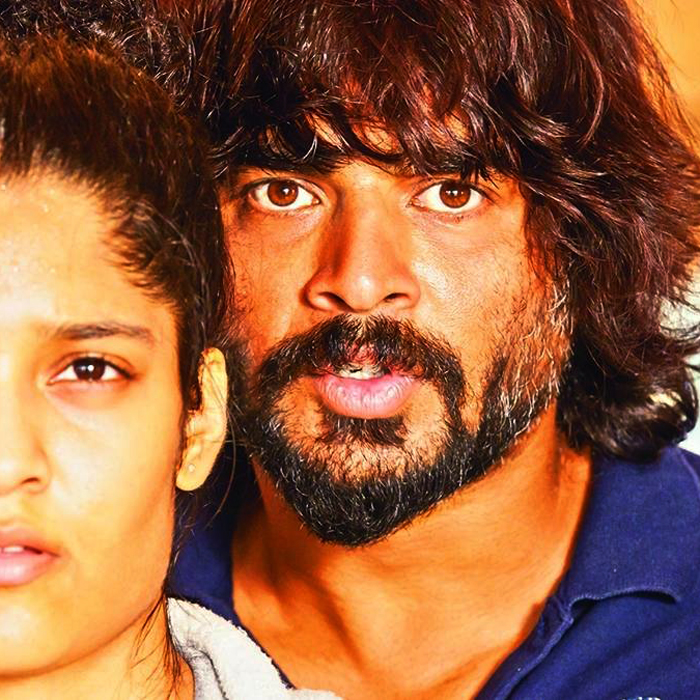 Ritika Singh as Saala Khadoos' Madhi is as cute as a button. Right from her 'Jhalli Patakha' avatar with mad dancing skills, to her naughty smirk at using a khadoos 'coacher' to make ends meet, Singh is a winner much before she enters the boxing ring.
But this isn't MMA fighter Ritika Singh's story. This story is Madhi's and her struggle to take herself seriously as a boxer, to rise above the basic aspiration to see her sister get into the Indian Police Service, and to understand herself as a woman capable of romantic love with her teacher.
Read-Movie Review: Here's why Mastizaade is your worst nightmare
She pockets the money that she gets to train carefully, to buy her mother a saree. She bites the chief coach's crotch when he tries to make her give him sexual favours. Madhi is a great role model for girls in India, right up until she wears a saree and professes her love for her coach.
Or so most would think.
Saala Khadoos surprises us at this juncture. She demands his love, completely sure of herself, questioning why he can't love a beautiful girl like her. He tells her that he thinks she's the most beautiful woman alive, but only when she lands punches in the ring.
Now the ball's in her court. Her love interest, her coach, a man double her age, doesn't expect her to dress a certain way to please him. Be any kind of stereotype to please him. He wants her to focus on his dream, to win for India, and he hopes that she lives the same dream. And that alone is their love.
It would be too simplistic to see Saala Khadoos as a Beauty and the Beast drama, where the beast is putty in the hands of the beauty. Madhavan's beefy and unconvincingly north Indian Adi Tomar has no room to love anything beyond her talent, a talent he sees as superior to his own. She's his project, but not in clinical, impersonal terms. Hell he's barely a 'Saala' or a 'Khadoos', for beyond random acts of physical violence, a trait the duo share in common, he's single minded towards his goal.
Kabir Khan (Shah Rukh Khan) of Chak De India! was phenomenally more 'Khadoos' than Tomar manages to be, title role notwithstanding. His strict instructions to Madhi, be it about their age difference or that they're a team only because everyone's rooting for their loss, are absolutely honest and simple. This, of course, is unlike the calculating Kabir who lets the girls fight men in a McDonalds just to bring them together as a team.
Also read- The 5th Wave review: a second-rate YA sci-fi that we'll have to endure as a series
Unfortunately, despite an honest attempt and a fiesty, fabulous actor in Ritika Singh, Saala Khadoos doesn't nail the sports drama genre. Beyond Madhi's effervecense, there are moments of absurdity in the storytelling. One with two women suddenly lifting their burqas to mark women's emancipation. And some terrible dialogues meant to make you laugh but that fail miserably.
Sample this scene between Adi Tomar and a man named Innocent.
Adi: Do you know of a good lawyer?
Innocent: Yeah, what do you need?
Adi: I want to file a case against your father.
Innocent: But why?
Adi: Because he gave birth to you.
Um. So yes. The flaws are aplenty, but if you overlook any it will be because of Madhi. She gets some of the film's most irreverent lines. The film's humour flashes through in tiny ways - in Madhi stretching her palm out for money, or intentionally losing a match and grinning right through her bullheadedness.
This is a film that will polarise people - some will love it, others will feel there was so much more possibility that simply hasn't been lived up to. But chances are there will be little dissent over 'machwari' Madhi's screen presence, right from her first scene where she races a cart into the screen.
Edited by Payal Puri
More in Catch:
Porn-coms are Ekta Kapoor's idea of feminism. That's a big, big problem
Forget the Academy Awards, the Oscars of Porn just happened. Lowdown here
Nitish Kumar's Bihar Vikas Mission is a bold experiment: Will it work?
Paper tiger: why India's chief wildlife crime fighter has lost its bite