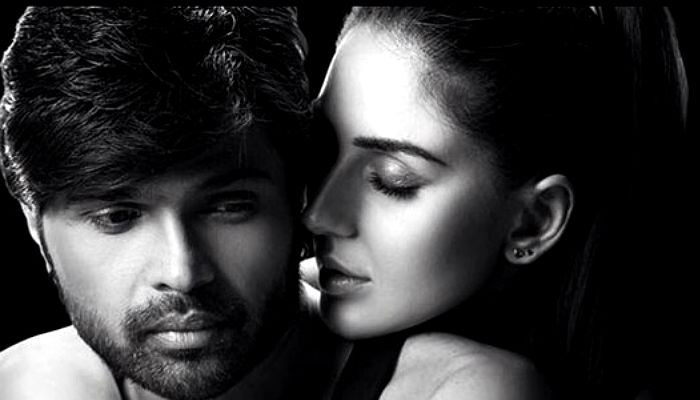 Rating: 1 star (out of 5)
Himesh Reshammiya\'s 9th film as an actor
A follow-up to his 2007 debut hit, Aap Ka Surroor
Director Shawn Arranha\'s third film (106 minutes)
One particular scene at the beginning of Teraa Surroor (try mouthing this, cap-less, without treating the mic like a bottle) had me intrigued. No, not the opening 'Jai Mata Di' slate. An attractive white-skinned lady in skimpy clothes begins to get it on with a life-sized doll.
This is moments after she lives it up in a sweaty nightclub. She oozes passion, riding it, moaning, sighing, and deriving immense pleasure, forcing me to wonder if a Japanese company had hired her to test their new product. An unusual premise, indeed. She climaxes in squeals of delight. Ooh, 'Lars And The Real Girl' indianised into 'Russian And The Real Boy', perhaps? And then, the doll blinks. How quaint and life-like. Could it be battery-powered? Terminator?
Also read: Teraa Surroor: Will Himesh Reshammiya's unique formula for hard work pay off?
Suddenly, it sighs. That's when it hits me. It's human. It's Himesh Reshammiya. 'Sex-Machina' himself. Or Raghu, as he is known here. He sure had me fooled. He does such a superb straight-faced emoticon.
He even does that whole speech-synthesizer electronic voice throughout.
Or maybe it's that background score. Can't tell.
Later, Raghu, who is a gangster hiding his identity from ladylove Tara (Farah Karimaee), explains to her that he didn't cheat on her. He was simply doing his job. "I penetrated her for the sake of my country," or some such.
She feels for him. What a tough job, far tougher than the job that requires folks to sit in a dark cold hall and write about his inane movies. After all, for his mother-in-law (Shernaz Patel, please stop), he is a successful V-neck-tee-wearing businessman with a heart of gold, because what Indian man allows his mother-in-law to live in the same house? Her words, not mine.
Also read: #CatchFlashBack: When Himesh Reshammiya was a sperm donor in A New Love Ishtory
A plot for Neanderthals
Anyway. After their little spat, Tara - a singer who strums the guitar as convincingly as Himesh acts - ups and travels to Dublin. Because, foreign location or Aap Ka Surroor stained Germany forever? No, because Tara gets framed as a drug trafficker. She is jailed in designer 'Orange Is The New Black' jumpsuits, and it's up to Raghu to find out who framed her.
Some phantom chap named Aniruddha Brahmin, a name I will never forget because it is mentioned 453 times. His silhouette-y form is also seen as a mysterious hoodie-wearing hacker, guitar player, drum player, percussionist, and all-around musician - shots inserted randomly to assure us that we're watching a stylistic musical whodunit.
By the time his identity is revealed in the typical villain-explains-master-plan-to-mannequin scene, frankly I don't give a damn.
Also read: Himesh ka surroor 'in association' with AIB has next level swag
Robots everywhere
Raghu is surrounded by many of his breed. Tara's lawyer is Monica Dogra, who seems to be reading lines from a teleprompter: "Dublin's rules are strict. I wish Tara could be extradited to our jails back home."
She refers to some Indian embassy chap (Shekhar Kapur; Paani?) as her "almost-ex-husband".
The most interesting character here is Robin 'Bird' Santino (Naseeruddin Shah), a veteran prisoner famous for his jail-breaking expertise. Raghu hires him as an expensive advisor ("I only work for money" - which also explains Naseer's presence in this film). All this while Bird is still behind bars.
Also read: Teraa Surroor trailer: Himesh Reshammiya brings sequel sans cap, but with a newly built physique
You see, Raghu knows the Irish jail superintendent. One only wishes he knew the right one; poor Tara didn't have to suffer so much.
Her make-up gets smudged and all.
We're sorry, Ireland
The most disturbing part by far is the way the Irish locals sound - dubbed by Indians speaking in a Brit-American-Gujarati accent. It's like a bunch of kids have been given money to go play spy-spy abroad.
At one point, Raghu misleads his attackers in a car-chase. This is attributed in important flashbacks to his path-breaking ingenious decision of (zoom onto Dr. Evil's nail-biting face) MEMORIZING TRANSPORT MAPS.
Every now and then, a remixed Aap Ka Surroor soundtrack blasts away as if to remind us that this movie thing is only an excuse to peddle 'HR Greatest Hits Vol. II.'
Also read: What you don't know about Himesh Reshammiya's 5 top albums
Movie? What movie?
During the interval, I noticed one of the producers excitedly broadcasting some essential numbers to some awkward journalists. "6 production, 4 P&R, 35 days Dublin shoot, Music recovery 7, yada yada." Economics.
That's all it is. Nothing about whether he was proud or embarrassed or nervous about how people will receive it. Perhaps he knows. For Reshammiya and his stooges, business is-a-boomin'. And now, more than ever, art-is-a-bombin'.