Sushant Singh Rajput was apparently seen cosying up to Kiara Advani at a recent party.
Sushant Singh Rajput and Kiara Advani worked together in M.S.Dhoni biopic. The actress played Dhoni's wife Sakshi in the film. Looks like the friendship that developed between the two during the making of the film, continues to blossom.
Recently Kiara, who also happens to be Salman Khan's ex flame actress Shaheen Jafferey, attended Sallu's birthday bash in his Panvel farmhouse. It is in this star studded bash that Kiara bumped into Sushant again and if onlookers were to be believed there were fireworks. Sushant, who has just signed a film under Salman's banner, is said to have made most of the opportunity whenever he got some time alone with Kiara. A source says, "Although few months ago Salman had pretended to be unaware of the presence of an actor called Sushant, he was one of the guests at his birthday party. Sushant made a solo entry at the party and seemed to be in a great mood. He was apparently in high spirits through the party and was seen showering kisses on his co-actor Kiara."
The actress looked a bit taken aback by Sushant's action, but later seemed to handle the situation pretty well. A source says, "Sushant was in a jolly mood and was seen conversing with all guests. He greeted Kiara with kisses because they have worked together and know each other. It was a friendly gesture."
Incidentally, the actor has been making his presence felt in almost every party since past few weeks. He was spotted at Manish Malhotra's party, followed by Salman's private bash and then Manish's welcome party for Priyanka Chopra on her arrival to India. In fact there were stories about how Sushant dragged everyone, including Karan Johar, Kriti Sanon to Kiran Rao on the dance floor at Manish's birthday party.
Looks like Sushant is finally living it up.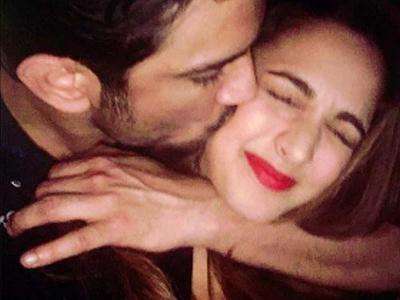 Sushant Singh Rajput,Kiara Advani (Kiara's Instagram Account )