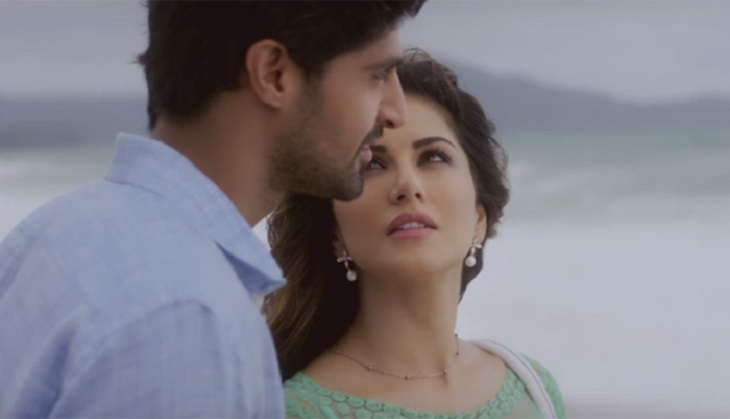 Strengths:
Formulaic music, rose-tinted frames
Weaknesses:
Half-baked writing, moody performances, rose-tinted frames
Ratings: 1.5 Stars
By the end of this film, I wasn't surprised - and even disappointed that I wasn't surprised - to learn that it has been written (Bhavani Iyer) and directed (Jasmine D'Souza) by women. Not only is this a blatantly one-sided telling of the repercussions of a one-night stand, they've named their utterly unstable, idiotic and inconsistent male chauvinist protagonist Urvil (Tanuj Virwani). Whenever his name is called, I found myself looking for a chocolate or a place. If they had made Urvil any more of a jerk, he'd have worn an orange toupee and been addressed as Mr. Trump.
So, this is a fairly straightforward exploration (oh, I meant exploitation) of actress Sunny Leone's sex appeal once again: Urvil, a hotshot event manager, has a romp with a mysterious girl named Celina (Leone) in Bangkok (where else). He picks her up in a flirty scene lifted straight from 'The Guardian' (starring Ashton Kutcher and Melissa Sagemiller). Their sex is filmed with great aesthetic: they look like they're part of a risqué mattress advertisement in bed, a shower-fittings ad in the bathroom, a lingerie ad in the balcony and a condom ad in the tub. I couldn't help but chuckle at the little wink-nudge reference when Urvil later fantasizes about their night while watching one of those inane body-spray ads.
It turns out that he is married to a wonderful housewife (Nyra Banerjee) back in Pune, and can't stop obsessing about Celina. Only in movies do you coincidentally run into ex's of any sort; they bump into one another, of course, and she turns out to be a client's saas-bahu-type wife. The only problem is that Urvil mistook that night to be more of an affair, and can't stand the fact that he isn't the only liar in this movie.
Imagine if Ryan Bingham (George Clooney, in 'Up In The Air') went all stalker-ish after discovering that Alex (Vera Farmega) has a separate married life, and that he was just an escape and 'extended role play' for her. Or maybe he did. To be fair, Leone's parallel life is so saccharinely holy that anybody would be tempted to bed an aspiring psychopath.
The first half deceives one into thinking that there has been a lot of balanced thought and research put into the script. There are little things, like her choice of fake identity: Celina, a quintessentially Western name to denote adventurousness and exoticism, as opposed to her real name, Ambar (appropriately sari-clad and rich; Ambar(s) don't wear short dresses okay?), which is as traditional as it gets.
Then there's a slight insight into the anatomy of extramarital bliss: How the conscience only acts up if the marriage is happy, and how they tend to mentally justify their transgressions if the marriage is claustrophobic. But this entire perspective is thoroughly one-sided. All we know about Ambar is that she was a sorted cheater of sorts. She is clear that what happens in Bangkok stays in Bangkok. And, perhaps her line - I would never consider a man who throws away his own marriage to pursue a one-night stand - lends some perspective to their messy situation.
The last five minutes look like the filmmakers were either told to wrap things up because they've gone over-budget, or that they're way out of depth. It ends so abruptly that you wonder if the producers pulled the plug because this was turning into more of a torrid lesson instead of a flimsy reminder. Or - and this is a more likely scenario - if the producers were males.
Either way, the final stand taken betrays the unwritten 'principles' of a one-night stand: Don't ever mess around with nut jobs. Growing up with a name nobody can pronounce may have already traumatized him.