2 stars
Director Ali Abbas Zafar\'s third YRF film
Salman Khan and Anushka Sharma star as fictional Haryanvi wrestlers
High on action, low on intellect
Redemption. His fans may have us believe that he heroically seeks redemption through noble roles. He may have us believe that they're spot on. For years, Salman Khan has carefully compiled a filmography as more of an immediate reaction to his real-world misgivings. That's the thing about being Hindi cinema's biggest phenomenon: your career becomes less of a tireless devotion to craft and art, and more of a delicate responsibility - an endless chain of reel humanness to overcompensate for real frailties.
In Sultan, his latest, the knuckle-rapped human peaks out from behind the superstar ever so often. I call these his PSA (Public Service Announcement) moments, where he only just falls short of breaking the fourth wall to directly address his fans.
For example, his first reaction to disappointment here is to work hard.
After being heartbroken and morose for days, his father pointedly tells him not to slash his wrists or turn to "addictions like smoking or alcohol."
I'm not a child, says Sultan - nay, Salman. Noted.
Another time, he dreams of naming his firstborn 'Aman', because "this world is a troubled, riotous place." There's a scene in which, as a has- been making a comeback, he tells the media congregation that they are powerful, and perhaps they can help him. Aw. On being asked about his estranged wife, he declares that Indian couples don't get divorced; they simply fight and sulk. Of course. "My love is my addiction," he responds, shyly, when offered alcohol at a nightclub (ram, ram).
From promoting kindness (Jai Ho) to promoting Indian families (every Barjatya production ever) to promoting cross-cultural brotherhood (Bajrangi Bhaijaan, Ek Tha Tiger), Khan's is an underdog genre that far transcends his films' poor little promotional devices.
In Sultan, this device is the sport of wrestling. The 50-year- old actor strategically chooses the one sport that justifies his incorrigible toplessness, the one lifestyle that even lends credibility to his expressionless face, drunk-uncle dance moves and overall stiffness. To be fair, Khan seems to have trained hard to become Sultan Ali Khan - a Haryanvi "desi akhaada" wrestler who becomes an Olympic Champion, before giving up the sport due to a family tragedy.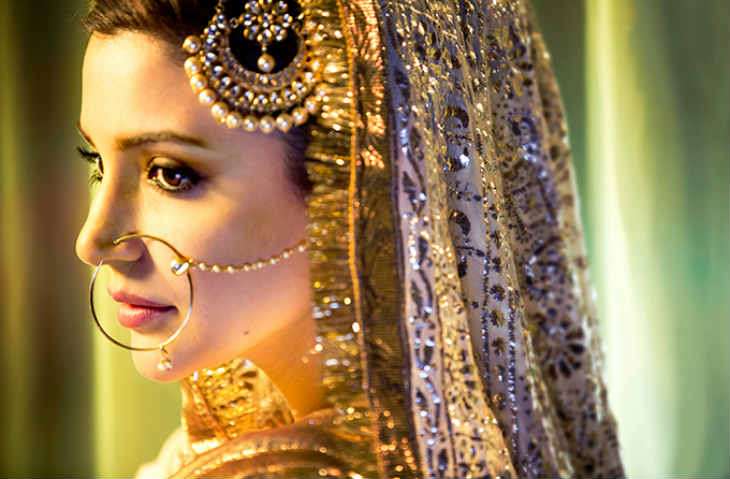 Anushka Sharma in a still from Sultan (Twitter)
The film opens with an 8-years- later Khan, paunch and stubble (Bollywood's favourite instruments of depression), leading a solitary life. As is the template, redemption appears in the form of a beleaguered MMA-style Delhi-based tournament in desperate need of an Indian fighter. You won't believe what happens next - except, you will have to, because his name is Khan.
For the first ninety interminable minutes, we see the mandatory rise and fall (in love and life) of a legend. While the actual sport itself is technical and difficult to watch, director Ali Abbas Zafar (Gunday) injects an overdose of Rocky-ness into his version of it: Sultan Slams, slow-mo knockouts and twirling moustaches contrive to make the action more accessible.
Time and again, though, we're reminded that wrestling needs this film; that it needs someone like Sultan to spread awareness by Khan-ifying it.
Its aura is in fact compromised in favour of the larger-than- life man and his attached creative licenses. Sultan takes it up only because he wants to impress and marry a female wrestler named Aarfa (Anushka Sharma).
Aarfa does a Preity-Zinta- from-Lakshya on sullen Sultan; she insults him for being ambition-less and illiterate. He goes from zero-to- hulksmash in exactly a month, wins everything, uses the old "wrestling is about fighting yourself" proverb on her, and wins her glory-hunting hand. A month, mind you. But then again, every Salman Khan film is a superhero film. Why look for plausibility?
Ironically, conflict surfaces when Sultan lets success get to his head, oozes arrogance, slaps a reporter and refers to himself in third person. He effectively turns into the man behind the cinematic mask. When asked for a retake during a brand shoot, he declares, "I'm not an actor," and storms off the set. If this is intentional, perhaps Khan does have quite a cheeky sense of humour.
But something else doesn't quite seem right. Perhaps it's Anushka Sharma and her perpetual on-screen "spunkiness." Her face seems to have acquired this permanent tinge of tomboyish rebellion. It's as if she has internalized the pressure of representing womankind in a strong, gender-stereotype- reversing way. There's an obviousness to her expressions; even when she's upset, she looks angry and jumpy. Her brows furrow, nostrils flare and lips curl in various orders. Here, she looks like she's in Aamir Khan's upcoming wrestling biopic Dangal instead; she literally wears its tagline "are (my) girls any lesser than boys?" Perhaps it's a director's prerogative to tone her down, but they choose her because for this precise energy too.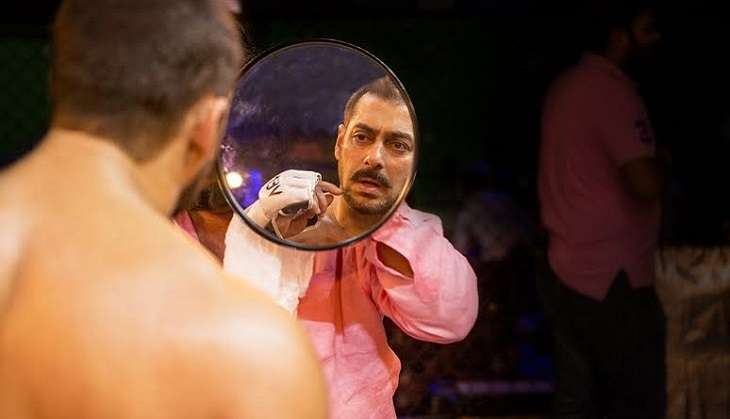 Salman Khan in a still from Sultan (Twitter)
The second half is far more watchable, in the way other fighting dramas Brothers and Do Lafzon Ki Kahaani weren't. Sultan's time in Delhi is laced with the usual babu-in- big-city symptoms: breaking the internet by singing folk at a disco, sitting on hotel floors to eat desi meals, respectful hand-folding on winning bouts, etc. As is expected, Khan's Haryanvi dialect is punctuated with stretches of filmy Hindi; one can imagine him breaking back into his ambiguous accent because, hey, he has worked hard enough to look the part.
The romantic in me spotted a particular scene - a rare occasion, and the closest the star has come to being human. Before auditioning for new trainer (Randeep Hooda; given a drug-junkie backstory because of his Sarbjit body), a 40-year- old Sultan unrobes in front of a mirror. His belly juts out from under his man boobs. In one long take, he breaks down into pieces before pumping himself to rise again. I'd like to think this was a fleeting glimpse of the real Khan; his suppressed vulnerability surfacing to illustrate that, if he pleases, he can occasionally surprise us. As has been the case for two decades now, to paraphrase Sultan's favourite line: only Salman Khan can defeat Salman Khan.
As is the norm, many first-day- first-show viewers are pestered by reporters for their views on a big movie - Good or Bad? "Blockbuster!" most of them promptly answered today. Perhaps the only 'adjective' Khan's films recognize and wear, for better or worse.