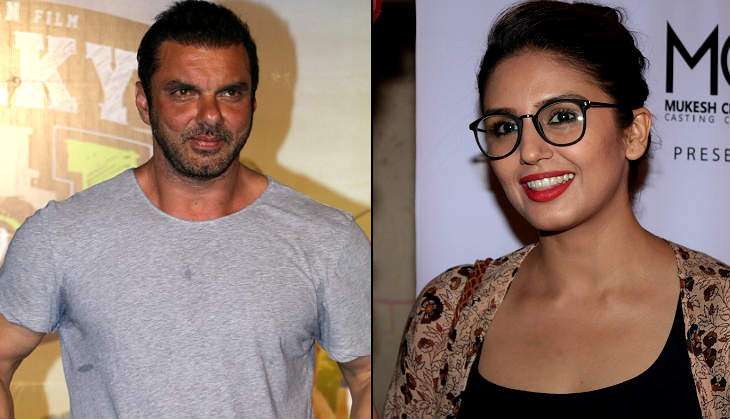 Rumours about Sohail Khan and Huma Qureshi's alleged relationship have been making the rounds for a while now. Both stars have dismissed the reports time and again. However, the reports continue to pop up every so often.
In a recent interview with a leading daily, Sohail was asked to comment on his alleged affair with the Badlapur actress.
While Sohail is known to be short-tempered with the media, he explained the situation thoroughly this time around. He said:
"First of all, I don't know where these rumours come from. I am human, and it disturbs me a lot. You can justify things only when there is an ounce of truth in it. I don't appreciate being disturbed. I have read a few ridiculous things about me, which made me want to take people head on. If you are maligning someone, have the courage to name yourself. Do your homework about my whereabouts and me. If there is enough proof about my supposed affair, I will keep shut. Don't write like know-it-alls without validating the claim. But most of the time, actors are fighting ghosts, clueless about the source of stories about our personal lives. I don't feel bad for myself, but I do feel bad for my wife and kids. Gossip makes for spicy read but people should realise that we too have parents at home; we have kids who go to school and are asked about their parents' marriage. Can you imagine the impact on their psyche? All I am asking is, write with substantive evidence."
He also alleged that the media takes advantage of him being too busy to talk about his life. He said:
"Have people ever considered that I could be media shy? That's misconstrued as arrogance. I don't communicate well. I have a small world - my wife Seema, my kids Nirvaan and Yohaan, my nieces and nephews, my siblings (Salman, Arbaaz, Arpita and Alvira), my parents, and Helen aunty. My life starts and ends with my immediate family. I am an industry kid who likes doing his 9 to 5 job, and going home, and resting it out. I am inaccessible and hence, people take the liberty of quoting on my behalf."
--Quotes from Mid-Day