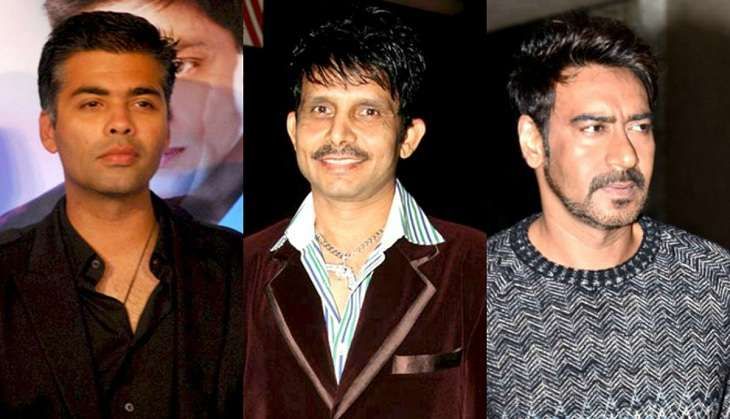 In a new twist to the Shivaay vs Ae Dil Hai Mushkil Box Office clash, self-styled critic Kamaal Rashid Khan has alleged that Karan Johar did not pay him to slam Ajay Devgn's film.
Also Read: Shivaay vs Ae Dil Hai Mushkil: Karan Johar is bribing KRK, accuses Ajay Devgn
Karan Johar's romance drama, Ae Dil Hai Mushkil, and Ajay Devgn's ambitious action project, Shivaay, are set to clash at the Box Office this Diwali. With expectations riding high on both projects, Kamaal Rashid Khan - or KRK as he is better known - sparked a row when Ajay Devgn's team released a telephonic conversation between his business partner Kumar Mangat and KRK.
Also Read: It is better to avoid the clash, says Ajay Devgn on Shivaay vs Ae Dil Hai Mushkil
In the conversation - released on 1 September - KRK can be heard saying that Johar paid him Rs 25 lakh for a positive review of Ae Dil Hai Mushkil.
However, in a series of tweets, the self-styled critic revealed that he had lied about having been paid by Johar in the phone conversation.
KRK alleged that he made the Rs 25 lakh statement only to keep Mangat off his back. He also alleged that it was the Shivaay camp that had offered him money to badmouth Ae Dil Hai Mushkil.
Let me clear it. Karan Johar has never paid me or asked me to bash #Shivaay n you can hear it in the tape. I said 25 Lakhs to avoid Kumar.

— KRK (@kamaalrkhan) September 1, 2016
Kumar+Ajay offered me money to bash #AeDilHaiMushkil as he is offering in the tape also but I refused. I told them that I will do it free.

— KRK (@kamaalrkhan) September 1, 2016
Ppl thinking that I called Kumar Mangat but not true. Actually he is close friend n he only called me n he called me many times before also.

— KRK (@kamaalrkhan) September 1, 2016
He also said that Mangat is a close friend of his and that the phone call in question was initiated by Mangat.
Karan Johar has however refrained from commenting on the matter.
Interestingly, during the release of Karan Johar's Bombay Velvet last year, KRK had also alleged that Johar had offered him Rs 25 lakh for a positive review of the film.
Also Read: Shivaay vs Ae Dil Hai Mushkil: Ajay Devgn shrugs off Box Office clash with Ranbir Kapoor filmAfter the telephonic conversation was released, Ajay Devgn released a statement that said:
"I have been a part of the Indian film industry for the past 25 years and have been associated with over 100 films. My father was a professional action director and I have an emotional connection with this industry. It therefore pains me to see that people like Kamaal R Khan are holding the film industry to ransom by spreading negativity about films to extort money from producers. It is very sad that people from our own industry are supporting such elements and spoiling the ethos of the film industry. I would strongly demand that this be thoroughly investigated by competent authorities to clarify if Karan Johar was indeed involved in this."