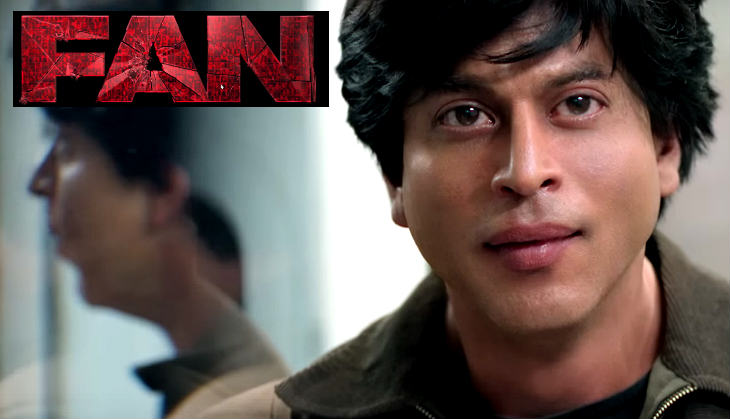 Director Maneesh Sharma\'s 4th feature-length film
Stars Shah Rukh Khan in a double role, as fan and idol
Ambitious concept marred by forced mainstream vices
Rating: 2 Stars
I perched the violin between my chin and left shoulder. I peered at the crowd - mostly 15-year old school kids like me - through my no-number Mohabbatein spectacles. And I began. No training, no feel for music - just the vision of Raj Aryan and the gazebo of Gurukul College. In two minutes, I became the laughing stock of my school. I don't remember why I had the guts to participate in this instrumental competition. I had to be crazy. For me, this was the exact moment I abandoned the idea of Shah Rukh Khan. I was his biggest fan that morning; by nightfall I was just a fool. It also felt like the moment Khan had abandoned me. I felt alone and exorcized, and there was no way he would ever acknowledge my passion. 
When 25-year old Delhi boy Gaurav (a 3D-scanned Khan) reaches this point of utter disillusion in Maneesh Sharma's 'Fan', he is in a dingy Mumbai police lockup. The only difference being - his idol Aryan Khanna (who, for all intents and purposes, is Khan to my Rahul, and vice versa) knows that Gaurav exists. And he doesn't like him. Gaurav has been rejected by his God. In fact, God has had him arrested and locked up. 
I know that look in Gaurav's eyes. His hero hasn't become his villain yet; he has only become human - which can be worse. It's more of a silent snap, way beyond measly heartbreak with some jilted lover. I've seen those eyes before - Rahul in 'Darr' when Kiran (Juhi Chawla) tells Sunil (Sunny Deol) to kill him on the boat, Vijay in 'Anjaam' when Shivani (Madhuri Dixit) weeps for her fallen husband, and lastly, those eyes in the mirror after the violin debacle. I went on to lead an ordinary life because I had enough distractions. Denial displaced delusion; reality had hit with a vengeance. 
Unlike me, Gaurav doesn't have expectations to live up to. He doesn't have contemporaries who're moving ahead. He doesn't have friends who've laughed at him; he has admirers and parents who have indulged him. Some perhaps suspect that he is a bit 'special'. His pretty neighbour Neha (Shriya Pilgaonkar) treats him like that kid she will tell tales of after she settles down abroad. 
In fact, you later get a glimpse of where he may have inherited this unreasonable streak; his father (the ever-reliable Yogendra Tiku) scolds the raging superstar instead of apologizing for his son's madness. "Couldn't you have given him five minutes?" Aryan doesn't know whether to envy or hate Gaurav for having such folks. 
To draw rather obvious double-role parallels, maybe Gaurav establishes a sense of identity by watching Mahesh Bhatt's 'Duplicate'; he deliberately acts more like a bumbling Bablu Chaudhry to suit Khanna's marauding Manu Dada. Or maybe he feels like Samar to Khanna's Sahir from 'Dhoom 3', autism be damned. Or maybe he just watched Darr on loop repeatedly. Maybe he learned that there is no fine line between winning and demanding for attention, between earning and exacting affection. To be fair, he does some uncanny Khan(na) mimicry. And five minutes isn't a lot to ask for.
The problem with 'Fan' isn't its director Maneesh Sharma, or both its Khans. That I refer to them separately is, in itself, a considerable achievement, despite Gaurav's overwhelming tendency to go all Jesse-Eisenberg on us. The problem isn't even the required suspension of disbelief; I gladly trust Surinder Sahni's moustache over his transformation in 'Rab Ne Bana Di Jodi' too. So the lazy plot devices of having Gaurav impersonate his 48-year old idol and get away with it in different countries are necessary genre evils. 
But then again, London is where a lot of recent YRF productions embrace full-blown senility - the city made Shah Rukh lose his memory twice and Katrina dump him for Jesus in 'Jab Tak Hai Jaan'. It isn't even the abrupt change of flavours - those mandatory big-budget chases across rooftops in Croatia or shanties in Marine Lines. At one point, Gaurav leaps from a castle into the ocean to get away; the next moment, Aryan is back in London for a show, probably contemplating the sequences of events between two shots. 
It's no surprise that writer Habib Faisal's script behaves much like its unstable protagonist. Neurotic, addictive and unconditionally obsessed with an aura. It even does the difficult part by making Aryan Khanna a flawed, arrogant and compromised celebrity. Of course, he isn't a womanizer or anything - nobody would go that far in B-town - but his idiotic decisions, his inherent Delhi 'mard' ego to make this a filmy one-on-one battle are used as convenient pawns to guide proceedings into the theatre of the absurd. It's the conflict-driven chip on Khanna's chiseled shoulders that define this rather unlikely rivalry. 
The makers just can't resist the urge of "playing the game" (and then mentioning it, literally) - oversmart disguises, over-shoulder strides, anonymous phone calls, ignorant foreigners, relentless identity theft, moronic paparazzi, Khan overdoses - indulgences that mainstream Indian thrillers invariably fall prey to. 
Somewhere within this chaos, you do see shades of a concerned man looking to salvage a disturbed young mind. You do see shades of a father mortified for someone else's son. You do see a little tale of redemption - of the little boy in an adult aching to forgive the lethal adult in a little boy. But the cracks are too wide and too careless with those not named Shah Rukh Khan. 
I, for one, see this because I want to look deeper. I see all this as what 'Fan' should have been. Or perhaps as what Khan's career could have been. 
Imagine, though, if I had won that competition. Imagine. That's all one can do.