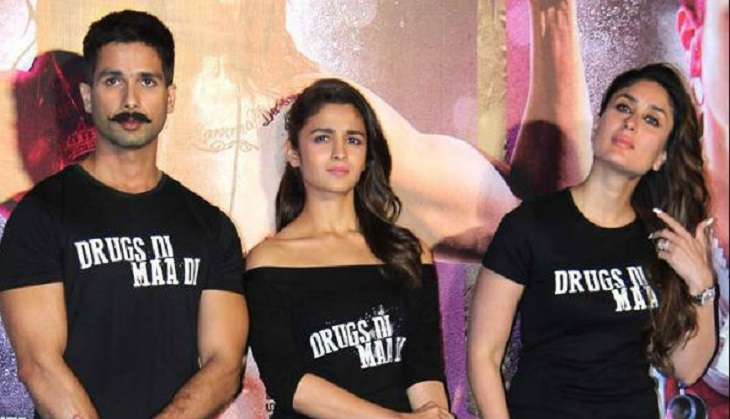 The loud controversy around snipping parts of the Shahid Kapoor - Kareena Kapoor's drug drama, Udta Punjab, has only helped the film garner massive public support. Apart from outrage on social media, over 30 petitions have been initiated by people across the country asking the CBFC to release the uncensored version of the much-anticipated film
The petition for Udta Punjab with the most signatures has been started by Mehakpal Singh from Amritsar and it has already drawn the support of nearly 35,000 people in just four days.
Also Read: Will Shahid Kapoor - Kareena Kapoor's Udta Punjab release date be pushed?
In his petition, Mehakpal Singh says: "Udta Punjab shows the dark reality of youth in Punjab and every Punjabi wants the plight of Punjabi youth to be improved. We want to see the movie without any cuts!"
While most of these petitions express anger towards censorship by the CBFC chief Pahlaj Nihalani, three of them specifically ask for Nihalani's sacking. Of these three petitions, Sack Nihalani, started by Shriya Desai from Bengaluru, has drawn nearly 30,000 signatures in the last four days.
Also Read: Udta Punjab: Bollywood takes on Modi govt and "chamcha" Pahlaj Nihalani
In her petition, Shriya Desai says: "Pahlaj Nihalani has been treating the censor board like his personal fiefdom. He has taken arbitrary decisions, sometimes without even watching movies. He has embarrassed the movie industry, the Central Government and the Indian people. It's time to fire him!"
The number of petitions started in support of Udta Punjab and asking for Pahlaj Nihalani to be sacked continues to grow.
As the high court judge mentioned at the hearing on Friday, 10 June, the censorship issues have helped Udta Punjab gain free publicity. And judging by the common man's reaction, it looks like the film will start with a bang at the Box Office upon its release.
The movie as yet is scheduled for a 17 June, 2016, release.