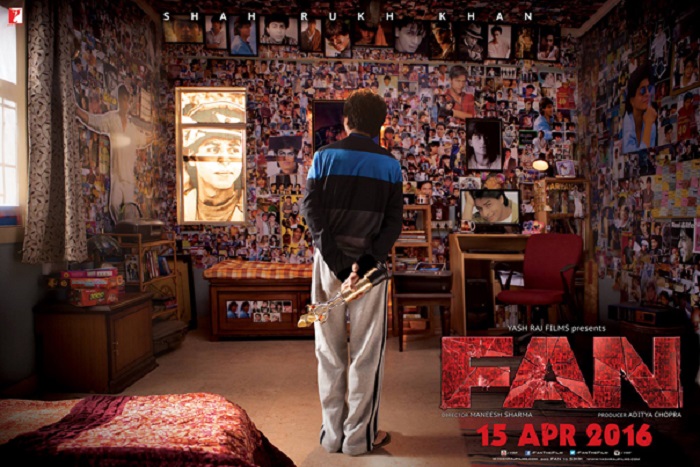 The story of Shah Rukh Khan's upcoming film, Fan, directed by Maneesh Sharma has been kept under wraps for a long time.
With around two months left for the release of the much-anticipated film where Shah Rukh Khan will essay the character of a 'fan' and a 'superstar', Yash Raj Film officially revealed the synopsis of the film.
While the promotional campaign of the film revolves around the life of a 'fan', the synopsis hints at Fan revolving around a tiff between the two distinctly different characters essayed by Shah Rukh Khan.
Also Read: Fan: Why is everyone losing their minds over this Shah Rukh Khan film? Tu Nahin Samjhega!
The synopsis reads as follows:
In a world of labels it is easy to forget who made sportsmen, pop singers and matinee idols into stars, superstars and megastars - the FANS. Every FAN has their own personal relationship with their hero - it's almost a Love Story.
FAN is the story of Gaurav (Shah Rukh Khan) a young man, 20 something, whose world revolves around the mega movie star Aryan Khanna (Shah Rukh Khan) or God as he refers to him.
From the by lanes of Delhi, young Gaurav embarks on a journey to the city of dreams, Mumbai, in order to wish his God on his birthday. After all, he is Aryan's biggest FAN and even has a striking resemblance to him - how difficult could it be for the world biggest FAN to get an audience with the world's biggest Star.
Also Read: Shah Rukh Khan's Fan is a great film, says National Award winner Namrata Rao
When things do not go according to plan, Gaurav's love and passion for his God turns in to a dangerous obsession that crosses the fine line.
In an edge of the seat thriller, FAN will peel away at both Gaurav and Aryan's personalities and characters as the two men discover people within themselves that even they didn't know existed, and we're left wondering who to sympathise with and whom to root for - can we really pick a side, after all, Superstars are also human beings but each one of us is also a FAN.
Fan releases on 15 April, 2016