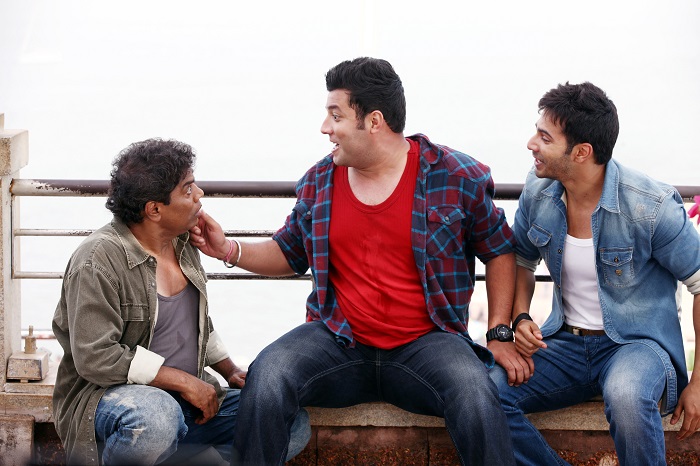 The trailer of Dilwale which just focused on the scale and grandeur received a mixed response from audiences and trade alike. Usually, trailers give an insight about what the film has to offer. However, Dilwale trailer us gives no idea about the story-line of the film. At the Manma Emotion song launch event, speaking about the secrecy, Varun Dhawan said,
"There is a lot to Dilwale and it is a very big film. I don't think the entire canvas can fit into a three-minute trailer. There is a plot, there is a logical story and it is a full on entertainer with a lot of twists and turns. We are holding back on purpose because we want the audience to come and enjoy it in theatres."
Also Read:
Shah Rukh Khan
and Kajol to launch 'Love Song of the Year - Gerua' tomorrow
At the Gerua song launch event, Varun Dhawan and Kriti Sanon performed live to Shah Rukh Khan and Kajol's yesteryear classic songs. Varun also payed a small tribute to Shah Rukh Khan via his film Humpty Sharma Ki Dulhania.
When questioned about his thoughts on remaking a Shah Rukh Khan film, Varun Dhawan said,
"I don't know if I am capable enough to remake a Shah Rukh Khan Film, but if given a chance to, I would love to remake Darr or Baazigar. Whenever I do a lot of happy films, I develop an urge to take up an intense character."
Also Read:
SRK's Dilwale breaks small screen records; TV rights sold at record price
Dilwale is distributed in India by PVR and when the chairman of PVR, Ajay Bijli was asked to speak about the release size of Dilwale considering the fact that it is clashing with another biggie, Bajirao Mastani, the chairman said,
"I don't think we have decided the distribution strategy. We will be playing both Dilwale and Bajirao Mastani at our theatres and it is difficult to say the exact screen count today. We will reveal the screen count near to the release date but all I can say is that Dilwale will get a wide release."
Dilwale is slated to release on 18 December 2015