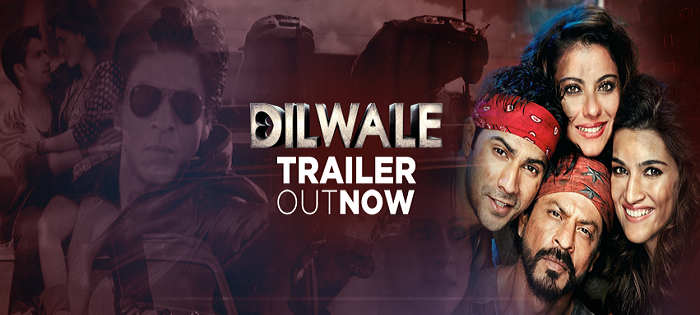 The night was full of colours, like you'd expect for a Rohit Shetty Film. As Shah Rukh Khan, Varun Dhawan, Kajol, Kriti Sanon and Team Dilwale launched the theatrical trailer of the film at an event in Mumbai, speaking about the action in Dilwale, Shah Rukh Khan said,
"The kind of action there in Dilwale is more than the action I have done in my entire career. The film has 7 to 8 grand action sequences and under Rohit's guidance, I feel encouraged to do all the action. His team takes all the safety measures to ensure that the actor or the stunt artist performing the dangerous action is not injured."
Also Read:
D For Dilwale: Shah Rukh Khan and Kajol return as some love stories never end
The film presents Shah Rukh Khan in 'The Angry Young Man' avatar, which the writers Sajid-Farhad feel will remind the audiences of Amitabh Bachchan from the 70's. Speaking about the same, Shah Rukh Khan says,
"We have tried to include a few moments which will make the audiences whistle. Rohit has always wanted to present me in a macho avatar and with Dilwale I guess I have managed to get that right. Like I said earlier, there is a lot of action in Diwale but the film is not just about action. It has a lot of humour, drama, comedy along with the action which makes it a quintessential commercial film. Families can come to watch Dilwale and experience a two and half hour of entertaining ride."
Captain of the ship, Rohit Shetty laughed at the critics making fun of him blasting cars in the film. He said,
"People always laugh on the fact that I blast so many cars but no one really knows that the stunt artists performing the stunts risk their life to entertain the people. While shooting for such scenes, I just pray and hope that nothing goes wrong."