Ratings: 1.5 stars
Omung Kumar\'s second film after Mary Kom
Based on the true story of an Indian farmer who served 23 years in a Pakistani prison after being convicted as a spy
Too loud, too hackneyed, lacks coherence
There is something fundamentally dishonest about the way director Omung Kumar goes about mainstream biopics. He doesn't tell stories as much as he narrates - and frantically feeds them to us like an intoxicated puppeteer. One rarely gets a sense of why he is personally so captivated by his subjects, because he never quite rises above the aura of his famous protagonists.
There wasn't a scene in the punch-drunk Mary Kom that was allowed play out and simmer in its entirety; everything was a mad rush to showcase a hardworking Indian actress, and cram in as much training-life as possible in two hours.
With Sarbjit, it quickly becomes evident that Kumar isn't really into 'earning' empathy again. If his craft were a person, it'd be sneaking behind every audience member in a dark theatre hall excitedly (and somewhat eerily) whispering, "What a story! What a story!"
It immediately begins with a noisy North Indian night in 1990. Dalbir Kaur (Aishwarya Rai Bachchan; rage, rage, rage) is already bursting some blood vessels searching for her missing brother Sarabjit Singh Attawal (Randeep Hooda) along the Indo-Pak border. Someone taunts her about being childless, and we're whisked away to 1984, happy times, Sarabjit prancing around at her wedding, and her baby's sudden death. The song cuts directly to a stormy overcast day; I can visualise Sadness from 'Inside Out' taking control of the joystick here.
Also read: Sarbjit Box Office: The Omung Kumar film to gain negativity due to Aishwarya Rai Bachchan's overtly dramatic performance
The Omung-Kumar-script-generator software moves into overdrive when a bruised and battered Dalbir is shown leaving her husband two years later. Back to 1990 again, and she's the hamming Hulk to sister-in-law Sukhpreet's (Richa Chadda) grieving Bruce Banner.
Nine months on, the Bhansali Orchestra rings out Dalbir's dramatic sprint - one of many, if you don't count her flaming eyes - to collect a letter from Pakistan. It's Sarbjit, of course. After drunkenly crossing the border, he was convicted of being a notorious Indian spy named Manjit Singh, and has been tortured in a Lahore prison ever since. Her letter back to him ironically must bear the name of Manjit Singh if he is to read it - a moment cut short before one can comprehend its crushing irony. He stays there for 23 years - one more than fictitious squadron leader Veer Pratap Singh (Shah Rukh Khan in Veer Zara) - and many will remember unofficial sources even confirming him as an undercover RAW agent.
But according to Kumar, this isn't a true story; it is the only story. Conspiracy theories be damned, Sarbjit has been wronged because Randeep Hooda is now a damned fine actor.
Once Sarabjit begins to waste away in solitary confinement, the entire film turns into a giant montage. Dalbir becomes a fire-breathing dragon, unable to understand why every scene seems to have been scored and designed to a crescendo as if the interval is just around the corner. It's not. It never is.
Also read: Interview: Omung Kumar tells us why it took Aishwarya Rai only 15 mins to sign Sarbjit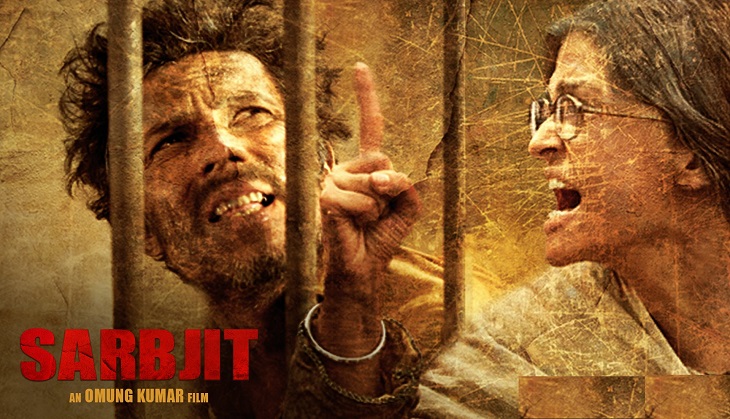 Randeep Hooda in Sarabjit
When the four ladies (wife, daughters, sister) get visas to visit him, Dalbir's husband magically appears at the Amritsar border to accompany them because "women shouldn't travel alone to Pakistan."
Events like Kargil, Kasab's hanging are interspersed loosely into the narrative as news clips - and never fully explored - as if there is a vague sense of some murky diplomatic mechanism driving this anomaly.
Every minister and every guard is a robotic caricature; they exist only to give a voice to the script, instead of providing vision to it. It would have been interesting to see how his grown-up daughters deal with odd predicament of grieving for a father they barely know, but a quick scene is all that's allotted. At one point, the background score got so loud and grating, the makers were a heartbeat away from inserting an applause track.
Flashbacks appear in the form of romantic marriage-night songs, amid present-day images of Hooda turning into rotting skeleton of insanity. If he hadn't internalised this madness and given his everything for the director, Sarbjit could well have achieved so-bad-it's-good status. Alas. His pitiful reaction, especially the buildup - his hopeful eyes, Jack-Sparrowish voice, broken heart - on seeing his family after a decade serve as a solid reminder of Hooda's evolution as an artist. With Main Aur Charles, Laal Rang and now Sarbjit, it's hard to look past him anymore. The sins of Heroine have been washed away.
Also read: Abhishek Bachchan on why Aishwarya Rai never runs after glamour both on and off the screen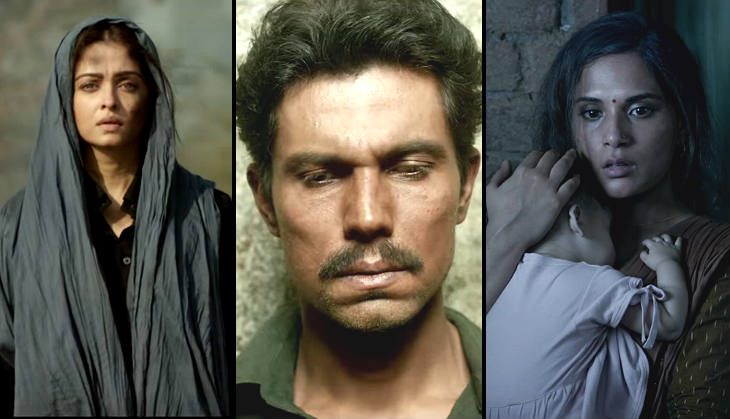 Aishwarya Ria Bachchan/ Randeep Hooda/ Richa Chadda in Sarbjit (YouTube screen grab)
Eventually, there is an alarming possibility of looking like Hooda's Sarbjit after exiting the hall. Perhaps the worst thing about such films is that they can't be made again the way they deserve to be made. Sarbjit will forever be Omung Kumar's Sarbjit, and Mary Kom will forever be remembered as a fit, sweaty Priyanka Chopra.
At times like these, a screening process for overenthusiastic hagiographic filmmakers isn't such a far-fetched idea. Imagine them outbidding one another desperately to not write an original story ever again.
Also read: Darshan Kumar: My friends are jealous because I am working with Aishwarya Rai in Sarbjit