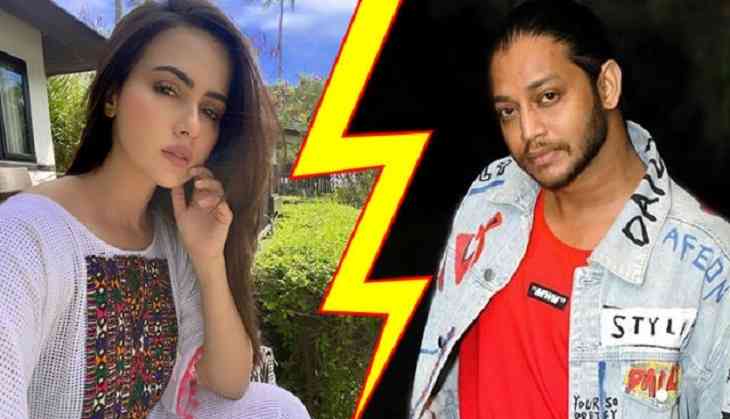 Bollywood and tv actress Sana Khaan has left everyone shocked after revealing some distressful information about her relationship with choreographer boyfriend Melvin Louis.
She also revealed that the choreographer has cheated on her.
Taking to Instagram, Sana spilled the beans about her painful love life with a long post.
"This is my first n it has taken a lot of courage from me to come out n speak the truth. Coz there were so many people who believed in this relation n showed so much love n respect but unfortunately I didn't get it from where I should have gotten. This man is dirt n he is disgusting unfortunately it took me a year to find out coz I believed in him blindly. I have taken a stand for myself coz if I won't no one will 🙂 He is a compulsive cheater n a compulsive liar n this is his regular thing to do with everyone for his fame n popularity. This is the original content with no fabrication but be ready for the covers on this"
She further added, "cheated on me with multiple girls since May/June which I later discovered but there is one girl tht shocked me the most n I knw her #shameonyou miss **** I will def tell the world ur name so at least others knw u before they collab with you 🤮
Upbringing matters a lot 👊🏼
He wanted to marry me and have babies what would he teach my son n daughter???"
After ex-Bigg Boss contestant shared this heartbreaking news her friends and tv celebrities have extended their support and slammed Melvin for cheating her.
Actress Mahhi Vij wrote, "U r my strong girl I want my daughter to be like you. When Tara grows up I have an example see Sana Massi don't let anyone bring you down u r a warrior."
"Sana I love you! May the force be with you.. Such men should die, I'm not kidding I hate men/ women who cheat.. just tell us we don't want you and then go! I don't know how complicated is it to understand..But I know one thing that you are very brave to talk about it! You deserve better," wrote Splitsvilla fame Divya Agarwal.
Divya's boyfriend Varun Sood too commented on the post and wrote "More power to you"
Sambhavna Seth commented, "OMG.. i can understand what you must have gone thru.. u r a strong girl @sanakhaan21.. One can take anything in life but ur man cheating on you is something which one cant take at all.. sending you love and more power"
Recently, Melvin also shared a cryptic post which is leaving us in dilemma with a caption, "for the win".
Well, no one expected that their relationship will face such a dark phase. We are waiting for Melvin's statement on this.
So, stay tuned with us for more updates.
Also Read: Pagalpanti actress Ileana D'Cruz on breakup with boyfriend: 'I'm okay with trolls and criticism'