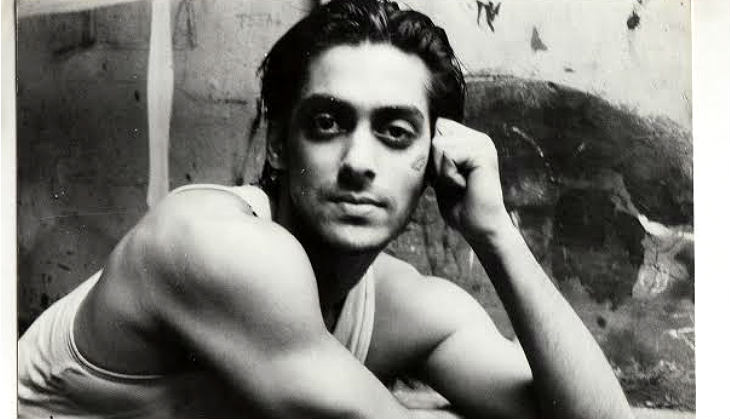 For five years between 1985 and 1989, I was a click-happy photo journalist before the exacting demands of a newly landed editorship drew me away. I have dug out a few pictures shot by me; I hope you like them.
I shot this picture of Salman Khan in the late 1980s at Natraj Studios. Salman was shooting for Maine Pyar Kiya with Bhagyashree and Alok Nath and took me out of the set to shoot the picture near a studio wall. It is one of my favourite close-ups of the incredible hulk and this picture enjoys a place of pride in my collection.
Salman would regularly hang out at my Movie magazine office (near Mahalaxmi temple) in the pre-release days of Maine Pyar Kiya. I would order mutton biryani from Noorani for lunch for us and he would volunteer to type articles for me. He would drop in around noon and jabber non-stop with my female staffers, who were slowly consolidating into a legion of fans. In his quieter moments, he loved to doodle (an early indication that he would paint eventually. After an interview, Katrina once casually mentioned that she shared Salman's passion for painting).
Salman had invited me to a special screening of MPK at the Rajshri preview theatre. I reached late and they were unable to accommodate me. So, next day, which happened to be a Sunday morning, he blocked the entire theatre for my extended family and me. The Rajshris had even graciously put up a board that read, "A warm welcome for Dinesh Raheja and his family." After the screening, I called Salman and told him he had a blockbuster on hand.
Coincidentally, during this phase, Amitabh Bachchan had begun talking to the Press after years of silence. That month, all the rival magazines had Amitabh gracing their covers. I decided to gamble and put Salman, and not Amitabh, on the cover. Movie magazine hit the stands around the first week of MPK and sold like hot cakes.
My gamble had paid off!
In this short phase that I knew Salman well (after MPK he fell out with me because of a story that displeased him), he was warm, friendly and funny. I miss those times - he was a brat with a heart.
-- Sourced from Dinesh Raheja, Bollywood News Service