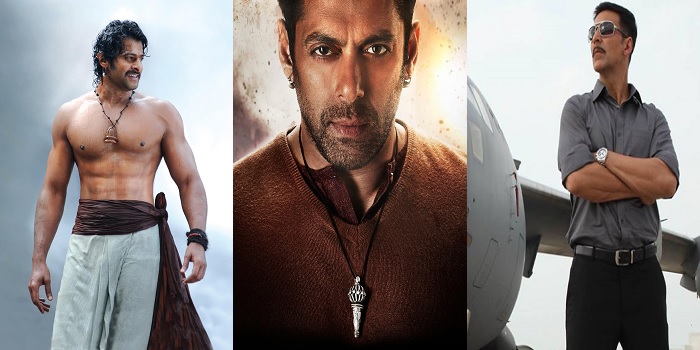 What classifies as a good film? Is it one that rakes in the numbers at the box office? Or is it one that enjoyed positive reviews? Better yet, what about a film that manages to do both?
When it comes to Bollywood, movies featuring the superstars have always opened to almost unbelievable collections. However, the initial hype wears off after three days. The film then survives solely on its word of mouth, and audience reaction. Let's look at the recent Khan blockbusters - Happy New Year and Prem Ratan Dhan Payo. While both films managed to find a place in the much hyped Rs 200 crore club, the films failed to trend well at the box office after the huge opening weekend - owing to largely negative reviews.
Also Read: Rs 200 crore would be impressive collections for most films, but not for Salman Khan's Prem Ratan Dhan Payo
As 2015 comes to a close, let's take a look at the Bollywood films that have worked purely on the basis of word of mouth. How can you tell that a film has enjoyed great word of mouth? When the lifetime collections of a film are at least three times the collections of the opening weekend, that's when you know that audiences have genuinely liked the film.
Going by that, let's calculate the Trending meter like so:
Trending Meter = Life Time Collection / Opening Weekend
Dum Laga Ke Haisha:
Yash Raj Films went old school on this sweet love story and gave it a platform release. After an opening weekend of Rs 6 crore, the film managed to record collections of Rs 30 crore. What worked? The gushing reviews about the film and its lead stars.
Trending Meter: 5
Piku:
This Deepika Padukone, Amitabh Bachchan starrer collected Rs 22 crore in its opening weekend. Not too bad, you say? It went on to collect Rs 80 crore. How's that for good word of mouth?
Trending Meter: 3.64
Also Read: Riding trains, turning barber: how much is too much in Bollywood promotion?
Tanu Weds Manu Returns:
One of the biggest openers of 2015, this sequel to the much-acclaimed Tanu Weds Manu collected Rs 38 crore at the box office on its opening weekend. The film's solid performances, catchy music and a taut script garnered some rave reviews. The film ended its box office run with collections almost touching Rs 150 crore.
Trending Meter: 3.94
Baahubali:
There's nothing small about this film. From its budget, to its box office collections - Baahubali truly is India's biggest film to date. Not only did the film shatter all records at the regional box office but also managed to set new benchmarks for regional dubbed films. After a moderate opening weekend of 22 crore in Hindi, the film ended its run at the box office by raking in Rs 120 crores - becoming the first Hindi dubbed film to rake in over Rs 100 crore.
Trending Meter: 5.46
Bajrangi Bhaijaan:
Salman Khan's Bajrangi Bhaijaan shattered box office records on its opening weekend. The Kabir Khan directorial collected Rs 102 crore in the first four days. The film went on to earn Rs 320 crore in its long run at the ticket window.
Trending Meter: 3.13
Also Read: Bajrangi Bhaijaan made the most money but isn't the most watched. Here's how
Pyaar Ka Punchnama 2:
The sequel to 2011's sleeper hit, Pyaar Ka Punchnama opened with a bang at the box office. After a good opening weekend of Rs 22 crore, the film ended its run at a huge figure of 62 crore.
Trending Meter: 2.81
Talvar:
Despite a clash with Akshay Kumar's commercial entertainer, Singh Is Bliing, Talvar held its ground well by performing well at the ticket window. After a below average start of a Rs 9 crore opening weekend, the film - based on the Arushi Talwar murder- held well for a couple of weeks before ending its box office run with Rs 30 crore.
Trending Meter: 3.34
Baby:
A film which deserves a special mention in the list is Akshay Kumar's Baby. Though the film failed to meet the criteria by a small margin, it won acclaim from audiences and critics alike. After its weekend collections of Rs 36 crore, it went on to collect Rs 96 crore in its lifetime run.
Trending Meter: 2.67
Also Read: Obsessed with Box-Office collections? Here's your guide to the entire number business
Bajirao Mastani:
The Sanjay Leela Bhansali magnum opus, Bajirao Mastani, which clashed with Shah Rukh Khan's Dilwale on 18 December, managed to shatter all expectations and rise above the Rohit Shetty entertainer. After an opening weekend of Rs 45 crore, the Ranveer Singh-Deepika Padukone-Priyanka Chopra starrer is looking to end its lifetime run at collections close to Rs 170-175 crore - which would be about 35-40 crore more than Dilwale.
Trending Meter: 3.7
Which one out of these was your favourite film? Do let us know.